The Intense Life of a Helicopter Medic
For the MedCenter Air crew, every minute is precious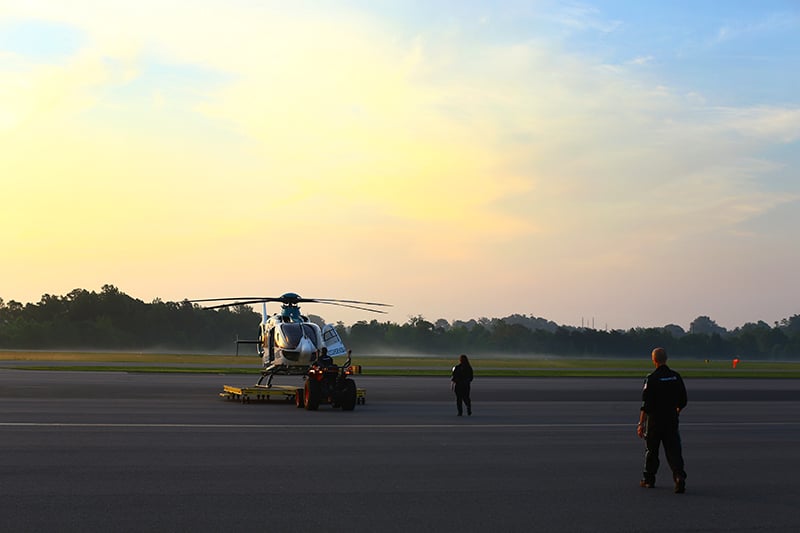 OUTSIDE THE KITCHEN at the MedCenter Air base in Concord, Bill Viar is wearing a black, fire-retardant jumpsuit and drinking a protein shake. It's 9 a.m. on a Thursday and this is his second meal of the day. Before his 6:45 a.m. shift began, he had oatmeal with peanut butter and almond milk. At noon, he'll eat lunch. At 3 p.m., he'll have another snack. His shift ends at 7 p.m., but there's no guarantee he'll be home in time for dinner.
Routines are important for a man who spends his days preparing for disaster. After he returns from a flight, Viar buckles the seatbelts in the helicopter so a stray belt won't get stuck in the door and slow down the next departure. He and the nurse he's flying with today, Katie Phillips, check to make sure all the necessary drugs and supplies are loaded in the back of the aircraft each morning. They don't run. They don't yell. They just follow the routine.
Viar's job—flight respiratory therapist and paramedic—is to treat and transport sick or severely injured patients to the hospital most equipped to help them. Sometimes he escorts them from a lower-level hospital to one that's more specialized. Sometimes he flies to the scene of a car wreck and back to the helipad on top of Carolinas Medical Center. Either way, it's unpredictable. If a call comes in at 6 p.m., Viar's shift won't end on time. There are only so many things he can control.
MedCenter Air has been flying for 30 years. Its fleet, owned by Carolinas HealthCare System, has grown from one single-engine Bell 206 LongRanger helicopter parked on the front lawn of Carolinas Medical Center in 1986 to three helicopters, three air bases, four planes, and a fleet of ambulances. It makes about 1,300 trips a month, including 200 by helicopter.
Bystanders who hear the turquoise and white helicopter roaring over uptown assume something terrible has happened. Maybe a dump truck hit a motorcyclist. Maybe a teenager was shot. They rarely think about the three people inside that small aircraft—the pilot, the nurse, and the respiratory therapist.
Their goal is to land at a scene and take off again within 10 minutes. They have to evaluate what the patient needs quickly: "What's gonna kill you? What can I fix? What can I not fix?" Viar says.
Trauma care revolves around the concept of the Golden Hour: the idea that you have 60 minutes after a life-threatening injury to get a patient the care he or she needs. After that, the chance of survival decreases dramatically.
"We try to think of everything that can go wrong, sadly," Phillips says. "What's the worst thing that can happen?"
***
ON THIS THURSDAY in April, the members of the crew spend much of their shift inside the base at Concord Regional Airport, waiting for the weather to clear. The pilot, who is employed by a company called Air Methods, stays in his office. Viar and Phillips answer e-mails in a small office with a row of communal computers, or relax in a lounge down the hall. This "charter office" is the biggest room on the base, with comfortable leather couches and an armchair where Viar sits, wearing camouflage Crocs, reading Men's Health.
He has intense blue eyes and a wrestler's build—smaller than you might expect for someone who weighs 180 pounds—and tries to eat his weight in grams of protein every day. In his free time, he competes in obstacle races and trains in a CrossFit gym he built in his garage. He and his wife, Crystal, who is also a respiratory therapist, grind their own peanut butter, make their own hummus, and try to grow much of the food they feed their two young sons. The Viars work on opposite days so that one of them is always home to cook dinner and take care of the children.
Three years ago, Viar donated half his liver to his stepfather, who had nonalcoholic-induced cirrhosis. Viar shows me a picture of the giant red scar that mars his abdomen. He brags about how he and his wife competed in a Tough Mudder race eight months after the surgery. But he won't admit the donation itself was a big deal. Perhaps for someone in his line of work, it isn't. A healthy liver grows back, he says.
Phillips has long, brown hair that matches her tortoiseshell glasses. Raised in a family of emergency responders—her father and two brothers are firefighters and her sister is a nurse—she exudes a kindness that puts strangers immediately at ease. It's a skill honed by years working as both a paramedic and a clinical nurse in surgical trauma and intensive care. "I had to find a job that was as cool as theirs," she says of her brothers.
She and Viar were supposed to do a public relations event this morning at a high school in Stanly County. The simulated emergency would have been part of a national initiative called Prom Promise, which shows students what can happen if they drive drunk. But heavy clouds hang low over the base, and their pilot says it's not safe to fly.
So they sit. They answer work e-mails, or keep up with online paperwork for the many certifications they are required to maintain.
"I cherish that downtime," Viar says.
"You never know when, five minutes from now, you will not be sitting," Phillips adds.
CMC houses a Level 1 Trauma Center that serves a roughly 15-county region of about two million people. If a patient is trapped at an accident scene, in a remote rural area, or desperately needs to reach a hospital in rush hour traffic, MedCenter Air gets a call. Its helicopter crews can respond anywhere within a 150-mile radius of its base, covering two miles a minute.
To do the jobs Phillips and Viar do, applicants need a minimum of three years of ER and ICU experience, plus Advanced Life Support training. They must pass a series of interviews, simulations, and testing before entering orientation—shadowing a member of the MedCenter Air crew for 12 to 16 weeks. That's followed by more testing and evaluation. If an applicant scores high enough, he or she can be interviewed by the medical director to receive final clearance.
Crew members such as Phillips and Viar can handle sick ICU patients and sick respiratory patients (those having trouble breathing). Most ambulance paramedic teams don't have respiratory therapists—they can't put in a breathing tube, and they don't carry blood on board. Viar and Phillips carry blood on every flight. They never know when a patient might need it.
"There's been times we've had to take the aircraft apart because there was blood everywhere," Viar says.
Phillips has worked here for nearly four years, Viar for 11. Before this, Viar was a traveling respiratory therapist and spent 13 weeks at the R Adams Cowley Shock Trauma Center in Baltimore—the hospital founded by the doctor who came up with the concept of the Golden Hour.
Many mornings, during her hour-long commute to work from York, South Carolina, Phillips listens to medical podcasts to keep up with the latest research. Like Viar, she'll work a 12-hour shift, staying longer if a call comes in late in the day. "It's very possible that sometimes we can leave and not come home," she says.
When she finally does leave, she drives home in silence.
***
JUST AFTER 2 P.M., the weather is clear and the Concord crew flies me out to the helipad on top of CMC.
Before we leave, Viar makes sure the visor on my giant, storm trooper-style helmet is lowered and my seatbelt is buckled. Phillips rides in the back with me, facing the stretcher in the rear of the aircraft. Our helmets muffle all sound except for the roar of the engines and the faint, tinny conversation between the pilot and the crew, broadcast on our headsets.
We lift straight up and glide over what look like Monopoly-sized houses and green trees. Sunlight glints off the windows as Phillips warns me to keep an eye out for birds, stray wires, cell phone towers. We're flying low, at 1,000 feet, and must warn the pilot if we spot hazards he might miss. There is a fire extinguisher in the cockpit; Viar has already shown me how to use it.
We soar over BB&T Ballpark and Bank of America Stadium, with their neatly mowed fields of brown and green. We pass the Duke Energy Center at eye level, as if we're on a highway lined with skyscrapers instead of strip malls.
At CMC, there's a special entrance on the roof for the helicopter crew, and an elevator that takes patients down to the hospital. Phillips and Viar show me how they load a stretcher into the back of the aircraft, ducking to avoid the helicopter's propellers while breathing in the heat and smell of fuel exhaust.
The ride back is bumpier. Turbulence and the lingering stench of exhaust make my stomach lurch. Viar says it's worse when they pick up a burn victim. The smell of burning flesh can make a person queasy. He's seen a medical resident throw up because of it. Or a patient vomits, and the mess gets on whoever is sitting in my seat, a seat in which the stretcher can reach right up to the crew member's lap.
Back at the Concord base, the day is approaching what the crew calls "the witching hour"—5 p.m. to 6 p.m. That's when accidents happen. That's when their days stop following the routine.
When a call comes in over the radio, they don't know what the emergency is—only the location, and whether it's a transport between hospitals or a flight to the scene of an injury. This ignorance is intentional. They don't want to know if there's a child in danger or a teenager is trapped in a burning car. That might sway their decision to fly. It might make them rush into a situation that isn't safe.
Instead, all incoming calls are routed through an off-site center that contacts the helicopter crews at three different MedCenter Air bases: Concord, Hickory, and Rock Hill. Pilots decide if it's safe to fly, based on the weather and flying conditions. Heavy clouds, fog, or high winds might make it impossible to land at an accident site, and they must evaluate that risk before taking off. Viar and Phillips often don't find out what kind of medical emergency they're dealing with until they arrive at a scene.
Perhaps it's better that way. Viar remembers one case in which a woman was in an accident and lost her leg. But they were able to save her life.
Then there was a case they worked on last Tuesday. "That was a three-year-old," Viar says simply. "I have kids."
Today, at 5 p.m. on the dot, the radio receiver in the charter office crackles. A voice comes on the line requesting their helicopter, Med 1.
The details of the case are hard to decipher—something about transporting a patient from a Gaston hospital to Levine Children's Hospital at CMC.
Viar stays calm, sitting in the same armchair where a few minutes earlier he was reading Men's Health. He takes off his camouflage Crocs, puts on the giant black work boots that he never, ever wears home. The helicopter's pilot is already on his way out the door.
Viar calls the charge person on duty that day, trying to verify that he and Phillips should go on the call. He hears something about the NICU—neonatal intensive care unit. They're going.
By 5:07, he's outside, walking to the helicopter on its raised launch pad. Phillips is already there. She has the blood and supplies on board. They have followed their routine.
At 5:08, the helicopter's blades start spinning. Viar and Phillips have their helmets on, but the doors of the aircraft are still open.
It is the witching hour. It is the Golden Hour.
At 5:10, a plane takes off from the concourse behind them.
A minute later, they lift off, rising straight up and heading south, toward whatever disaster or miracle awaits them.
Lisa Rab is the articles editor for this magazine. Reach her at lisayrab@gmail.com or on Twitter: @lisayrab.
---
This article appears in the July 2016 issue of Charlotte Magazine
Did you like what you read here? Subscribe to Charlotte Magazine »
---