The #KeithLamontScott Demonstrations and the Russians
Mueller indictment shows Russian 'troll farm' targeting Charlotte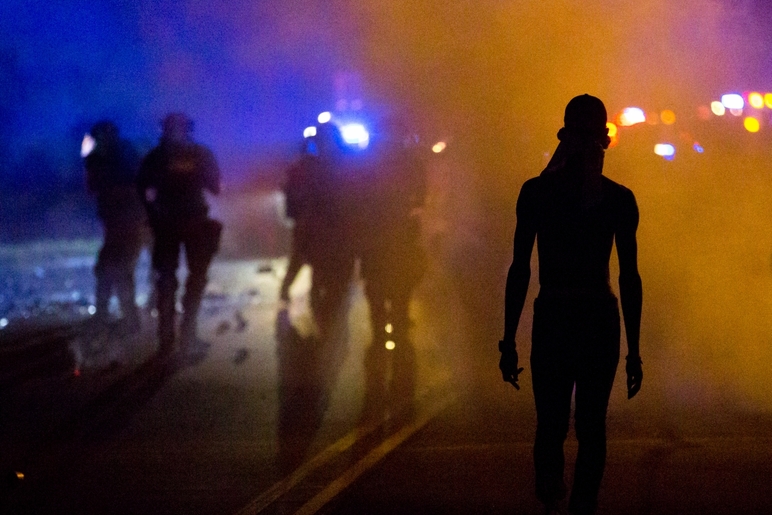 At 11:32 p.m. Eastern Daylight Time on September 20, 2016, a Twitter user, like so many others that night, sent a tweet about demonstrators pouring into  University City streets after the police shooting death of Keith Lamont Scott. "BREAKING," the user wrote, affixing the icon of a flashing red light. "12 police officers injured as 'peaceful' protests erupt in Charlotte!!!" The user included the #KeithLamontScott hashtag and a link that, as of Tuesday, was no longer active.
The Twitter user operated under the handle @TEN_GOP. The U.S. Justice Department made plain Friday, in an indictment of 13 Russian individuals and three companies, that it believes @TEN_GOP worked for the St. Petersburg-based Internet Research Agency, a "troll farm" that had its employees masquerade as Americans on social media "to sow discord in the U.S. political system."
"The @TEN_GOP account falsely claimed to be controlled by a U.S. state political party. Over time, the @TEN_GOP account attracted more than 100,000 online followers." That particular tweet was retweeted 262 times and favorited an additional 142, raising the possibility that a number of people learned about what was happening in Charlotte that night from someone whose job was to stir things up for a paycheck, tucked deep inside an office building in Russia.
Of course, @TEN_GOP wasn't the only denizen of the Internet passing on similar scraps of information that night, and the Scott protests were far from the only issue @TEN_GOP tweeted about; the user also had plenty to say about #HillarysLies, and #voterfraud in North Carolina and elsewhere, and Jill Stein saying Hillary was way more dangerous than Trump. @TEN_GOP is one of 10 influential Russian trolls whose tweets NBC News obtained and assembled in a database of more than 200,000 that Twitter has tied to "malicious activity" from the Internet Research Agency.
"These accounts, working in concert as part of large networks, pushed hundreds of thousands of inflammatory tweets, from fictitious tales of Democrats practicing witchcraft to hardline posts from users masquerading as Black Lives Matter activists," NBC reported last week. The network published a downloadable database of the tweets with usernames, tweets, and timestamps, along with full data from the 10 most "influential" troll accounts, based on Google PageRank. (That's the one I'm looking at. The tweets are time-stamped according to Coordinated Universal Time, which is the same as Greenwich Mean Time and five hours ahead of Eastern Daylight Time; the tweet I reference above was sent at 4:32 a.m. on September 21 GMT.)
As far as I can tell, @TEN_GOP tweeted or retweeted about the Scott protests 11 times, most on the night of the shooting. "Reports: those rioting continue to throw rocks at police officers in #Charlotte This needs to be stopped…..," is a typical entry. A search for "Charlotte" reveals another Russia-linked username that a few months back was exposed as a phantom: "Jenna Abrams," or Jenn_Abrams, whose account isn't mentioned in the federal indictment.
"Jenna" was a prolific pro-Trump tweeter with roughly 70,000 followers, and in the immediate aftermath of the Scott shooting, "she" served as a useful vector for Charlotte-related content. "If you don't want to be judged as a stereotype," @Jenn_Abrams tweeted the morning after the shooting, "stop being a stereotype #CharlotteProtests." The tweet received 240 retweets and was favorited 592 times.
The first-blush lesson would seem to be: Watch what you favorite or retweet on Twitter, because it's a place full of provocateurs and throwers of stink bombs. (That'd be true even without the Russians.) But there's something deeper and more disturbing at play here. "Seeing the sentences about Charlotte on that indictment was chilling," Braxton Winston, who turned his activism after the Scott shooting into a successful campaign for a City Council seat, wrote on Facebook this morning. "The way we use our words with one another, our very freedom of speech, has been weaponized against us." The bleak side of content "going viral" is that viruses are devoid of conscience, seek only amplification, and without treatment result in the death of the host.