The Last Plane to America: A Refugee Family's Journey to Charlotte
After four years of tests and screenings and near-death experiences, a Syrian family was approved to move to the United States. But they were stranded at the airport in January while a network of refugees in Charlotte anxiously awaited their arrival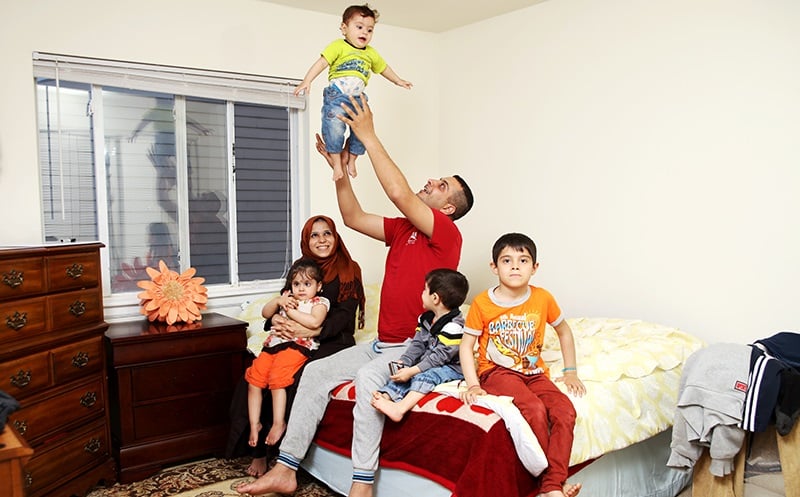 OSAMA SPENT NEARLY FOUR YEARS bringing his family this close to safety. He led them out of war in Syria and into Jordan as refugees. They endured violence, sickness, and financial hardship. What should've been the easiest part—the flight to Charlotte from Jordan—endangered the entire journey.
At first, confusion was the problem. On January 19, a miscommunication between Osama and the U.N. Refugee Agency office caused the family to miss their flight.
The next time, it was weather. On January 20—the day Americans inaugurated Donald Trump as president in Washington—Osama's family sat on a plane that couldn't leave the tarmac in Amman. Fog rolled in; the plane returned to the terminal at Queen Alia Airport.
Sickness came next. Osama's three-year-old daughter, Hiba, became very ill, so he postponed their January 25 flight to take her to a specialist.
Their next flight was set for January 30. It seemed like another minor delay in this years-long process. But on January 27, Trump signed an executive order barring all refugees from entering the United States for 120 days, and barring Syrian refugees indefinitely.
Osama's family had close to nothing by now. They'd left their home and sold almost all of their belongings to prepare for the move. They spent most of their money buying food during their 11 days living at the airport. So they sat in the terminal, a family of six without a home to return to or the money for a new one.
"I hear the story (of the executive order) and feel like my heart would stop," Osama tells me a few weeks later, through a translator.
Osama is from Baba Amr, a district in the city of Homs that was left in ruins during the Siege at Homs, a three-year confrontation (2011-14) between Syrian opposition forces and the Syrian government. Homs was at one point called the "capital of the revolution," because a number of its residents joined the movement calling for the removal of Syrian President Bashar al-Assad. In February 2012, al-Assad's Army bombarded Baba Amr for four weeks, regaining control of the district but not until nearly 700 people were dead. Many of them were civilians.
Osama fled the city with his pregnant wife, their two sons, and his parents. (He requested that only his first name be used in this story, out of concern for the safety of relatives still in Syria.) Desperate to keep his family together, he led them from city to city in search of a safe place. But his parents were too old and too weak to keep moving, so Osama decided to seek refugee status. A trafficker who saw profit opportunities in war offered them and other Syrians transportation to a refugee camp in Jordan. The man charged a fortune, but Osama didn't have a better option. He traded his savings for his family's passage to the camp.
They lived in the refugee camp for only two days. Rumors of robberies made him fear for his family's safety. Long lines for the bathroom—the camp had one bathroom per 20 tents—proved difficult for his weak parents. So he found a small home nearby with just a small mat on the floor, and he worked 16-hour days as a pastry chef to pay the rent. "After all these things, I need to work," he recalls thinking at the time. "I can't complain. I just need to work." But even this was problematic: Refugees lack many protections as workers in Jordan. So when Osama got paid at all, his pay was about half of what his coworkers received.
In April last year, the U.N. Refugee Agency called Osama with a question: Would he like to resettle his family in the United States? His response was immediate.
"Please."
His parents, though, didn't receive an offer. They had added new relatives to their case, which put them at the back of the line again. Osama couldn't imagine leaving them, if not for Hiba.
Hiba, the baby his wife carried as they fled from Baba Amr, was born in Jordan with a large mass on her brain, causing severe disabilities, including an inability to speak. A surgery in Jordan failed and only worsened her symptoms. Meanwhile, the offer to come to America came via the Carolina Refugee Resettlement Agency (CRRA) in Charlotte. The agency had agreed to give the toddler a caseworker to manage her care, someone to take her to doctors' appointments and get referrals for specialists.
Osama's choice: to keep his family together or to help his daughter.
"This is the hard part of the story," Osama tells me recently. He pauses as his eyes fill with tears, then walks over to a window. He shakes a cigarette from its pack, looks out the window several moments. He returns to his chair, lights the cigarette, and collects himself before motioning to his daughter. Hiba sits in a kitchen chair pushed beside her mother's, contentedly examining a plastic block. "Everything is for her."
He heard that U.S. doctors and hospitals were the best in the world. "We trust this country," he says.
But on January 30, instead of arriving in Charlotte, Osama's family remained in Jordan with less than they had before the U.S. agreed to resettle them.
That night in Charlotte, another man from Syria, Muwafak, didn't sleep. He and his family resettled here in May 2016, but before that, he and Osama became friends during their time as refugees in Jordan. Eager to pass on what he learned during his eight-month head start, Muwafak offered to sponsor Osama's family and help them with their transition to life in Charlotte. But instead of sharing a celebration that night, they shared quiet conversations over the phone. Osama wondered what would happen to them; Muwafak had few answers.
"There's no conversation. I can't explain more. I don't know what's going on," Muwafak told him.
***
THE EXECUTIVE ORDER sent a shock through the world's travel system. Refugees en route to American cities were stopped from boarding planes or detained upon landing. American border patrol agents didn't understand their roles. The Department of Homeland Security didn't analyze the legality of the executive order until after the president signed it. In cities across the country, including Charlotte, protesters chanted outside airports and in baggage claim areas, voicing opposition to the ban.
"It's working out very nicely," Trump said on January 28. "You see it at the airports. You see it all over. It's working out very nicely, and we're going to have a very, very strict ban, and we're going to have extreme vetting, which we should have had in this country for many years."
The United States' system of refugee background checks is among the strictest in the world. The refugee path is one of the most difficult ways to enter the U.S.
Refugees are people who are unable to stay in a home country safely—as the threat of war, violence, or persecution poses too great a risk to remain. Before the application process for refugee status begins, they must travel out of their country and into a second nation. There, they must register with the U.N., go through interviews, and claim fear of persecution to obtain refugee status approval. If the U.N. grants refugee status, those people wait for an opportunity to be resettled to a third country. This wait takes years, even decades, if ending at all. More than 21 million people have refugee status with the U.N.; more than half of them are children. Refugees have no control over which country will accept them, although they can request certain countries where they have friends or family.
Less than one percent of refugees (about 107,000 people in 2015) receive referral from the U.N. for resettlement. For those who are offered resettlement in the United States, the vetting process intensifies: State Department interviews and background checks; medical exams; fingerprint screenings that are run against FBI and Homeland Security databases. Syrians go through additional screening measures. After completing all the steps, the refugees still can have their acceptance reversed if they have a last-minute medical situation. This includes pregnancy, which can reset the case due to a new family member seeking resettlement.
Several former refugee families interviewed for this story were baffled by the administration's belief that refugees pose a risk to America. Why, they asked, would a man spend years putting his family through the arduous process of refugee resettlement, arrive in a new country to give his family a new life, and then cause harm to the country that sheltered them?
History backs their logic. The current system of refugee resettlement in the U.S. began in 1980, when a unanimous, bipartisan Senate bill became the Refugee Act of 1980. Since then, about three million refugees have entered the country, but none have been implicated in a fatal terrorist attack.
In recent years, Charlotte accepted about 700 refugees per year who completed the resettlement process through CRRA and Catholic Charities Diocese of Charlotte. In 2017, the refugee arrival figure was projected to increase to 800, but because of the presidential order, the total is now expected to be about 400.
Gabriella Ndawula grew up in Congo, and her journey from there to here shows both the intensity of the process and the horrors that lead people into it.
"It was terrifying the night things happened," Ndawula says of the night a dozen years ago that led her to flee her home in Congo. "All of a sudden, (Mom's) like, 'Tomorrow you have to pack your stuff and leave.' And (my sisters and I had) just a backpack. … We just left (our friends) behind and we walked."
Ndawula has a poise and quiet confidence unusual for a 24-year-old. When she talks about the night things happened—when she was 12 and her sisters were 10—she's stoic.
Her mother, a professional whom Ndawula believes worked for women's rights, became a government target. That night, soldiers with guns barged into their home. The soldiers yelled at the girls to lay on the ground with their heads facing down while other soldiers took their mother into the next room. For the next few hours, the girls stayed quiet and kept their heads down—too scared to look up to see if the soldiers were still pointing guns at them—while listening to their mother's screams through the wall.
"We were already told by other people, like neighbors who'd been through those things, if you scream, they shoot," Gabriella says. "They kill people. So just do what they say and you can survive. And that's all that we needed."
Ndawula's mother didn't leave with the girls the next morning; she stayed behind for a couple of days to sell their things. Her best friend took the girls to a refugee camp in Uganda, a trip that meant traveling into and out of Rwanda on the way. The girls lacked documentation and couldn't cross borders legally. So they traveled by bus during the day, then disembarked at the borders and waited to cross on foot at night. They eventually reunited with their mother at the camp, where the family obtained refugee status.
The girls worked off and on, selling clothes or inexpensive jewelry to make money for housing, food, and school. Ndawula continued to do this full-time while she attended school, helping her mom support her sisters' educations.
The news came in late 2012 that they could resettle in the United States. There, their mother told her daughters, they could get the education that would allow them to achieve the best lives possible. The process remained slow: They spent more than a year going through security check interviews, interviews with the International Organization for Migration, medical checkups, vaccines, and paperwork before they finally left for the U.S.
By this time, Ndawula had been a refugee for nine years. She walked out of Congo at 12. She flew into Charlotte at 21.
The resettlement process accelerates wildly after refugees arrive on U.S. soil. After a decade of waiting, Ndawula and her family had only 90 days to become financially independent. This is the expectation for all refugees who come to America. During the first 90 days, refugees receive money for rent of a modest apartment and utilities, and a small stipend for costs such as food and supplies. After that, they're responsible for their bills.
Ninety days until financial independence. It's an aspirational timeline for many middle-class American college graduates.
Ndawula began work as a housekeeper shortly after she arrived—a job that required three buses to get to work—while completing her GED and Certified Nursing Exam. Her two younger sisters now study engineering at Central Piedmont Community College, and she takes prerequisite classes for nursing school at CPCC while holding a full-time job with a mission close to her heart. She works for CRRA as a case aide, helping people arriving from Congo and other countries.
"They look at me and they say, 'She did this—that means we can do it,'" she says.
And new refugees need that encouragement, especially considering not all of their new neighbors are as welcoming.
"When you walk places, you hear people say, 'Oh you're here to take over my job.' And I always say, 'That job wouldn't be available if you had applied for it and they had accepted you,'" Ndawula says. "But you hear somebody saying that, 'You're not an American. You should go back to your country. Why do you come here? You just want to take our things away.'"
What these "get out of my country" people don't understand, Ndawula and other refugees say, is that they weren't intending to come to America at all. They'd rather be home safely with friends and family. But now they're here to survive and, like her mother said, to achieve the best lives possible.
***
OSAMA AND HIS FAMILY sat in the airport in Jordan on January 30, unable to board their flight and unsure what would happen next. They took a bus to reunite with his parents, and Osama went to his old boss to plead for his job back. But on February 4, he received a call: The executive order had been temporarily lifted, allowing Syrian refugees a window to enter the United States. No one knew how long the window would remain open. Would Osama and his family be able to fly out the next day?
He updated his boss: He didn't need the job after all. He was moving to Charlotte.
He and his parents exchanged a second good-bye, then his family took the long flight to the U.S. Ahmed Al Badri, a CRRA caseworker, picked up the family at the Charlotte airport late in the night of February 6. Their apartment wasn't ready, so Al Badri drove them to Muwafak's home to spend the night.
Shortly after they left the airport, Al Badri looked back to see the entire family asleep in the van, exhausted by the journey that had lasted 22 hours—or nearly four years, more accurately, since they left their home in Baba Amr searching for a safe place to live.
They were on their way to the home of a family that understands what they've been through. On one of his last days in Syria a few years ago, Muwafak and a friend went to bury the body of a man from their city who was shot beside them while buying bread. The trip led them across four checkpoints safely, but the fifth checkpoint was manned by a different army than the others. The soldiers blindfolded, beat, and robbed Muwafak and his friend. Now, less than a year after he had arrived in Charlotte, Muwafak's teeth are still broken as a result of blows from the butt of a soldier's gun. His focus, however, is not on hardship but gratitude. He wants to share what it was like to come here and find so many former refugees willing to help his family.
"This is the awesome thing in life. That you can move to a new country and have new friends," he says. "I should not ask for more."
When Osama walked into Muwafak's home, the two former Syrian refugees who met in Jordan reunited as Charlotteans.
***
THE EXECUTIVE AND JUDICIAL BATTLE over refugee resettlement continued. After a federal judge challenged the original executive order—creating the opportunity for Osama's family to arrive—Trump issued a revised order, set to take effect on March 16. This order did not single out Syrian refugees, but did reinstate the 120-day halt on all incoming refugees as well as reduce the number of refugees the U.S. would resettle by more than half. Hours before it took effect, federal courts blocked the 120-day halt, but allowed the overall reduction to proceed. Instead of the U.S. accepting 110,000 refugees, it would accept just 50,000 in fiscal 2017.
For the refugees who do resettle here, the business of transition happens almost immediately. During the initial resettlement period of 90 days, CRRA or Catholic Charities helps refugees arriving to Charlotte get Social Security cards, enroll children in school, apply for Medicaid and food stamps, begin employment counseling and cultural classes, and find work. For refugees who have spent years in camps, this schedule can be dizzying. Adding to the stress are culture shock, language barriers, separation from loved ones, lack of a car, and big changes in climate and time zone.
Through it all, those 90 days to financial independence wind down.
Finding a job is the first concern for most new arrivals. The refugee resettlement agencies offer employment placement assistance to their clients for up to five years after they enter the country. Hari Dhimal, a former refugee from Bhutan, works as an employment specialist at CRRA. He connects new arrivals with job opportunities around Charlotte—often in warehouses, retail, and manufacturing—as well as the transportation to get them there. Former refugees have proven to be a reliable labor source valued by companies: Dhimal boasts that employers now come to the CRRA office to request his clients for job openings due to the success of previous employees.
"As a former refugee, I feel honored," Dhimal says. "I'm defending the right people in the right community."
Former refugees—many of whom live in apartments near each other—create a support system, sharing advice, information, and meals. Perhaps the most important thing that awaits families when they first arrive is a hot meal in their new kitchen. CRRA tries to find a family from the same country to prepare a meal that will greet them with familiar tastes and smells. The hot meal is part of State Department guidelines.
Al Badri, the CRRA caseworker who greeted Osama at the airport in February, arrived here from Iraq in 2013. One of his many tasks is arranging the meal preparation for the new families' arrivals. He laughs that the biggest problem can be too many people wanting to cook for a new family at once. Many of the families Al Badri works with come from Syria and Iraq, cultures of hospitality and graciousness. He jokes that sometimes he tries to keep the names and addresses of new families a secret for a couple of days because the Syrian and Iraqi families all want to bring food immediately. Some new arrivals have different families cook for them each night of their first week here.
The courtesies extend beyond neighbors and friends and to writers, as I can attest. Reporting on this story brought me into the homes of seven families from Syria and Iraq, all of whom arrived in Charlotte from refugee camps within the previous year. At each home, the entire family welcomed me at the door and offered me the most comfortable seat. The wife or daughter would disappear momentarily, only to return with a tray. She'd place it before my seat. Depending on the home, a variety of hot tea, Arabic coffee, juice, cookies, and pastries would be placed in front of me. What they had they shared. One woman offered me the ring from her finger when I complimented it. (I politely declined.) Offers for dinner were extended: not if I would join them, but when. As I left each home, the family stood at the doorway until I drove away.
Al Badri, who translated, told me that all of this was customary: the welcomes, the trays brimming with food, the invitations to return for dinner, the extended good-byes. They're just the polite things to do for a guest, he said with a shrug.
When it comes to Southern hospitality, these Syrian and Iraqi families don't only fit right into life in Charlotte—they should inspire us to keep up.
***
TEN DAYS AFTER their arrival, Osama's family sits in their East Charlotte apartment. The walls are still bare, and only a few pieces of furniture sit in the living room: a couch, an oversized chair, a table, some toys. Syrian music and the laughter of their two older sons fill the room. Osama offers a warm welcome into his home, his hand pressed to his heart in greeting. The boys play while clinging to their mom, a beautiful woman generous with smiles. Their fourth child, a boy now nine months old, sleeps in the next room. The couple's daughter sits silently in a small child's chair by the window, her face basking in sunlight. They look like any other happy, young family. Their faces don't reveal what they endured the previous month.
Osama and his family have been busy this past week and a half: They've obtained Social Security cards, applied for Medicaid and food stamps, and explored their new neighborhood on walks. Their oldest son will begin school soon, their daughter will begin her medical appointments, and Osama will meet with employment specialists to find a job, a task he's impatient to tackle.
"I want to get involved in American society, and I want to learn more and more," Osama says. "I want to work hard. I don't like to get benefits without working."
He has high hopes for his family in Charlotte. He wants his daughter to get medical treatment that will allow her to live the best life possible. He hopes that one day his parents, still in Jordan, will be offered the chance to join them here.
"For my boys, I want them to be good people, to become specialists in their fields," he says. "Perhaps I am not a super father, but I wish for them to be more successful than me."
One wonders at his definition of a "super father." Here is a man who led his family out of war and into peace. A man who worked long days to provide a comfortable home, a man who built his savings and traded it—twice—to bring his family to safety. A man who led his family on a journey that both broke his heart and saved his daughter, whose dogged perseverance and insistent optimism bridged his family from Baba Amr to East Charlotte.
Osama has already found reason to smile here. An unexpected knock came at the door shortly after they arrived. Two women from a nearby church dropped by to welcome them and to offer a gift of diapers for their infant son. He said that Pampers might not be a big deal to others, but they were to him. It was a gift of welcome, of hope, of a sense of his family's belonging in their new community.
"We see smiles on faces all the time and this makes us feel better. We are in a good spot in the world," he says. "United States is the dream land, and we need to be a part of this dream."
Jen Tota McGivney is a freelance writer based in Charlotte. Reach her at jennifer.mcgivney@gmail.com or on Twitter: @jen_mcgivney.