The Liberty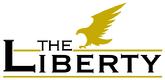 If you haven't been to South End's newest gastro pub, The Liberty, you should. Sooner rather than later. The pub (in the old McIntosh's location) features a bustling dining room, cozy bar area, and patio complete with a fireplace. The food steals the show though.
I haven't had anything on the menu that wasn't good (and I've had a lot), but there are two items you should absolutely order:
1) The "Devils on Horseback." These are tender grilled dates, stuffed with blue cheese, and wrapped in bacon. They're savory-meets-sweet and perfect for sharing over a pint next to the bar's fireplace. ($5)
2) "The Lucky Gastro Pig." Yes, it sounds strange. It's slow-roasted black berkshire pork shoulder served with crepes, pickled pineapple, spicy peanutes, jalapenos, and lettuce cups. It looks like the most bizarre lettuce wrap set-up you've ever seen. But then you taste it (after a bit of assembly) and realize that pork should never be eaten any other way than with pickled pineapple and wrapped in crepes and lettuce. This is just the way it was meant to be. ($18)
Anyone else have any favorites to share?