The Library's Verse & Vino 2020 Goes Virtual with India Hicks & 4 More NYT Bestselling Authors
Celebrate literacy and support the Charlotte Mecklenburg Library on November 5, when seventh annual fundraising event Verse & Vino takes to the screen.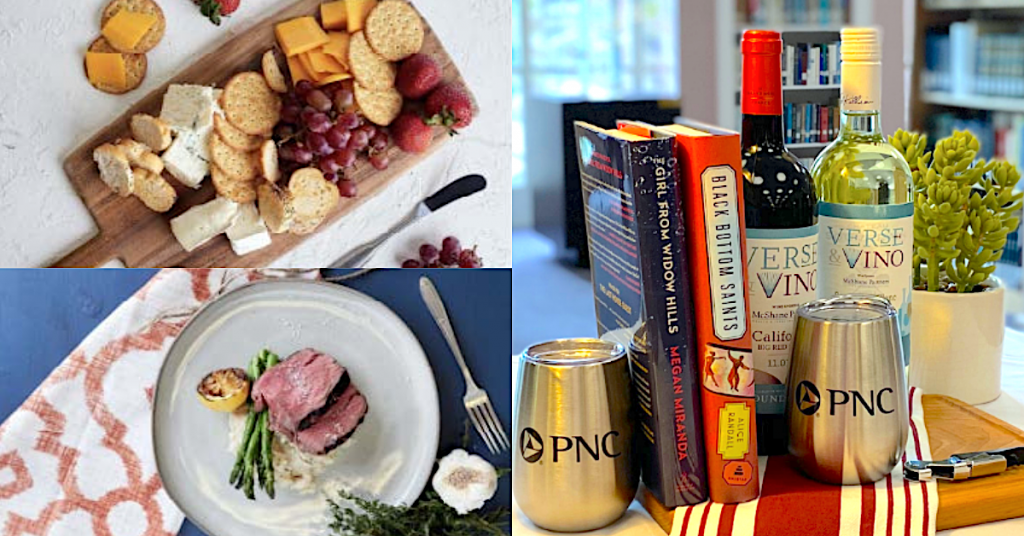 Supporting and celebrating literacy in Charlotte has never been so simple (or so delicious).
Verse & Vino 2020 is the Charlotte Mecklenburg Library Foundation's signature annual fundraiser event, which raises money to support the Library's mission to improve lives and build a stronger community. As the Library aims for the new Main campus in uptown to open in 2024, supporting literacy in our community matters this year.
Celebrate the joy and importance of libraries with the seventh annual Verse & Vino. The event will be taking place virtually this year on November 5, 2020, and guests can enjoy the authors and festivities just the same—if not even more comfortably than years past!
Featuring five New York Times best-selling authors—India Hicks, Megan Miranda, Christopher Paolini, Alice Randall, and Christina Baker Kline—the event will be a highly produced 90-minute online program emceed by radio personality Sheri Lynch. It will be hosted on a secure, interactive platform (not Zoom!).
The virtual nature of this year's event means book and wine lovers from Charlotte and beyond are encouraged to tune in.
Ideal for date nights, book clubs, girls' nights, or far-away family "outings," Verse & Vino 2020 is the (socially-distanced) book lover's party that directly gives back to the Charlotte community. Plus, with party boxes and autographed book bundles available to be delivered locally, there are many ways to enjoy the November 5 event.
"We're excited and hope the community will be too," Jenni Gaisbauer, Charlotte Mecklenburg Library Foundation Executive Director, says. "We've retained the elements that make Verse & Vino what it is – the authors, the festive atmosphere, the community – but we've added interactivity and bonus features only possible in a digital format."
Working with Todd Murphy Events and national streaming media experts to completely reimagine the event, Gaisbauer says: "This is an opportunity to show our innovation and make this year's Verse & Vino a memorable celebration of libraries and literacy."
How to Purchase Verse & Vino Tickets and Party Packages
Yes, you read that right: Party Packages!
Celebrate literacy and support the Charlotte Mecklenburg Library however you prefer with variety of ticket options available. "We encourage guests to participate in the way that makes them comfortable," an organizer of the event says.
Individual tickets include an autographed book from one of the featured authors, and larger ticket packages have a host of local goodies.
The Date Night Box package, for example, delivers an autographed book plus a three-course meal for two complete with a bottle of wine and simple serving instructions. Other ticket options range from the Party Box (for 10 people) to the Party Package to event sponsorships.
A portion of the price for an individual ticket, party package, or premiere party package is tax-deductible. To purchase individual tickets, party boxes, and other types of Verse & Vino tickets, click here.
Last year's Verse & Vino event, which marked the start of the Library Foundation's ongoing CommonSpark campaign, boasted a record 1,350 attendees at the Charlotte Convention Center and netted nearly $350,000 for the Library. The CommonSpark campaign addresses an integrated set of needs: a new Main Library uptown; a Support Services Center for behind-the-scenes operations; systemwide technology, innovation and programming; an endowment for the future, and annual Library operating support.