The Melting Pot: Southern & Not-Southern Food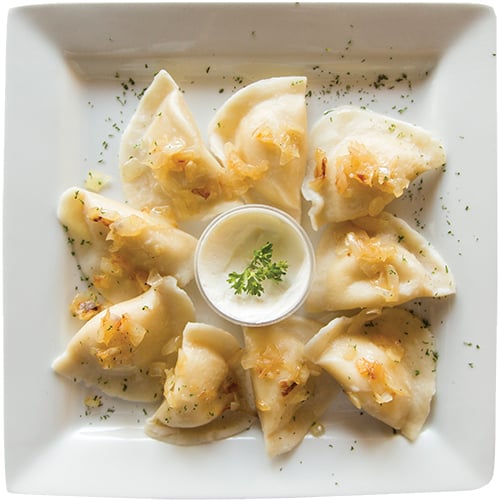 A city's food scene is a reflection of its residents, which is probably why it's easy to find regional favorites from across the country on menus throughout Charlotte. Of course, classic Southern dishes also abound. Here are five Southern favorites and five not-Southern favorites to try.
Southern Food
Aunt Beaut's Skillet-Fried Chicken, $15
Passed down by chef/owner Jim Noble's great-aunt, this recipe makes for juicy and crispy—but not greasy—fried chicken. After a 24-hour brine, the chicken is dredged in seasoned flour, then cooked in a little bit of oil in a screaming-hot cast-iron skillet. Made to order, it takes about half an hour to arrive at your table. And it's worth the wait.
King's Kitchen, 129 W. Trade St.
---
Hoppin' John, $20

The Asbury's elegant take on the Southern classic is made with Carolina gold rice, Sea Island red peas, roasted tomatoes, and peppers but gets a modern twist with the addition of smoked shiitake mushrooms and leeks.
The Asbury, 237 N. Tryon St.
---
Étouffée, $18.95

This quintessential Cajun dish starts with a flavorful roux and packs a little heat. For the most authentic experience, order yours with crawfish, not shrimp—and a cup of gumbo on the side.
Cajun Queen, 1800 E. 7th St.
---
Lemon Chess Pie, $3

Like several of the dishes on the menu at The Mayobird, the recipe for this classic Southern dessert came from owner Deedee Mills's mother. The dainty, no-frills pie is easily adaptable, so if the barely tart lemon variety isn't available, opt for the alternate (like chocolate!).
The Mayobird, 1531 East Blvd.
---
Lowcountry Boil, $18

Traditional Lowcountry Boil is simple and rustic: red potatoes, sausage, corn, and shrimp boiled together with crab boil seasoning and Old Bay. The Liberty's version adds mussels and clams, but it's just as hearty and satisfying as the original.
The Liberty, 1812 South Blvd.
---
Not-Southern Food
Original Philly Cheesesteak, $7.99

Duckworth's menu was founded on the cheesesteak; the eight versions the restaurant serves were created following owner Rob Duckworth's research trip to the City of Brotherly Love. If you're going for authenticity, order the original, which is just thinly sliced, juicy rib-eye and sautéed onions—not cluttered with mushrooms, peppers, and ketchup—plus Cheez Whiz, of course.
Duckworth's Grill & Taphouse, multiple locations
---
Beef on Weck, $8.75

This Buffalo standard piles slow-roasted beef on a weck roll. Weck, short for "kummelweck," is a soft roll sprinkled with kosher salt and caraway seeds. At Lebowski's, it's served with horseradish or horseradish sauce—a side of jus for dunking is an extra 49 cents.
Lebowski's Neighborhood Grill, 1524 East Blvd.
---
The Pittsburgh, $15

In Pittsburgh, steak salads come with fries on top. If you try to order this Steel City concoction in the land of sweet tea and fried okra, chances are you'll get some odd reactions. So if you're craving this saintly-meets-sinful dish, head north (to Cornelius), where The Pittsburgh at Alton's tops grilled beef tenderloin with chopped bacon, tomato, blue cheese, and, yes, fries.
Alton's Kitchen & Cocktails, 19918 N. Cove Rd., Cornelius
---
Spiedie, $7.95 (chicken) or $9.95 (steak)

The Spiedie has been imported to Charlotte from central New York. In this sandwich, cubes of chicken or steak are marinated, grilled on skewers, and then tucked into a soft hoagie. No lettuce, no cheese; just bread and meat.
Dilworth Neighborhood Grille, 911 E. Morehead St.
---
Pierogi, prices vary

A Polish import, pierogi are small, half-moon-shaped dumplings commonly stuffed with meat, potato, spinach, cheese, or mushrooms. It's not hard to find them in the Northeast and Midwest (particularly Buffalo, Chicago, Cleveland, Pittsburgh, and Detroit), but they can be difficult to find in the South. To get your fix, head to Taste of Europe in Matthews. Founded by Polish immigrants, it serves six kinds.
Taste of Europe, 10915 Monroe Rd., Matthews