The Naked Tart's Raw Approach
The local treats are vegetarian and gluten-free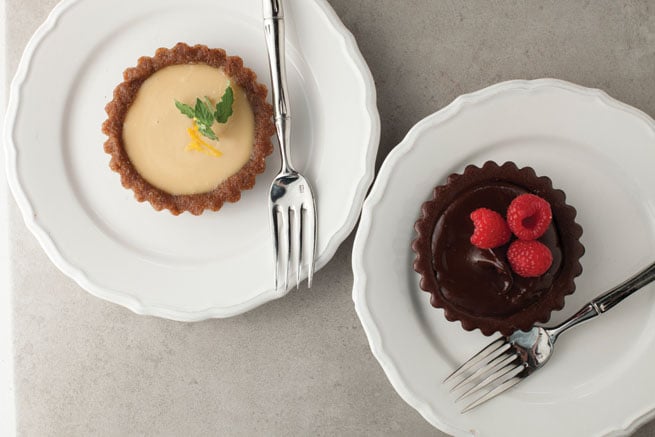 After doctors diagnosed her with a "nervous stomach," Diane Hughes created The Naked Tart, a raw, vegetarian, dairy-free, and gluten-free line of tarts.
"I went off processed foods, gluten, and dairy. I completely changed my diet, and that's when I saw a difference," Hughes says. Switching to the food rules laid down by a naturopathic doctor gave her a solution to her digestive woes, but Hughes's sweet tooth felt neglected. Her tarts are sweetened with honey, coconut nectar, or maple syrup.
Hughes decided they were too good not to be shared. She launched The Naked Tart as a dessert item at HarvestMoon Grille. "They ordered seven large tarts a week, and it just grew from there," Hughes says.
Each tart is made with ingredients that are in season in North Carolina. "I support local farmers, eat local, and buy local," says Hughes, who currently makes blueberry, strawberry, peach, fig, raspberry, and lemon tarts along with a few other flavors as they become available. Tart fans can look forward to pumpkin, pecan, and sweet potato as the weather turns cooler. Prices start at $5.25 for a four-inch tart. Find them at Ecolicious, Reid's Fine Foods, Beverly's Homemade Goods, Modpaleo, Nourish, Queen City Pantry, Healthy Home Market, and online at thenakedtart.com.