The Nurses You Never Want to See
They may not have their own TV show, but Presbyterian's forensic nurses aren't afraid of the dirty work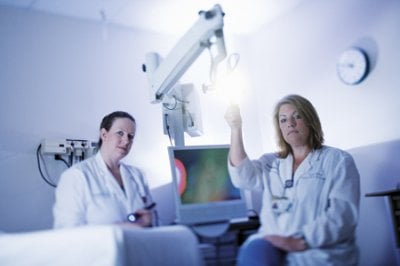 Exclusively @charlottemagazine.com
Listen to Presbyterian's forensic nurses describe what it's like to do their jobs.
Nestled inside the labyrinth of hallways, corridors, and nursing stations of Presbyterian Hospital's emergency department is a nondescript exam room. Hand-painted flowers run along the walls from the floor to the ceiling. A large floor-mounted camera sits next to a squat table. There's a lonely clock on another wall, a fake tree in the corner.
If you're in here, it's probably the worst day of your life.
It could be that you've just been raped. Maybe one of your parents has just beaten you. It's probably something you don't want to talk about. Whatever it is, it's Stephani Lilly's job to know. "I had a seventeen-year-old with huge knife wounds in her arm, and she said, 'Oh, I accidentally cut it with a glass,'" she recalls, before shaking her head and saying, "Uh, no. You didn't."
Lilly is one of thirty-one nurses at Presbyterian trained in forensic nursing. Thirteen are also trained in sexual assault cases. You've seen Law & Order. You've seen CSI. You know what police and attorneys do. But in that tiny out-of-the-way room, forensic nurses are doing the dirty work. Their job is not only to care for patients, but also to get to the bottom of what really happened. They're so good, says Charlotte-Mecklenburg Police Sgt. Darrell Price. "They're able to just hand us a bag with all the evidence." His sexual assault unit is in contact with them daily.
Sexual assault nurse examiners (or SANE nurses) handle rapes and other sex crimes. Forensic nurses gather evidence of abuse and other crimes. Many nurses are trained to do both. They use orange goggles and black lights to find fluids and DNA left behind by an attacker. They meticulously take pictures of every injury, every bump, bruise, or gash. Each one has a story to tell. "People can fabricate things," says Sharlene Capstick, who's been a forensic and SANE nurse since 2004. "Evidence doesn't lie."
Five years ago, Capstick was on call when a woman came in saying she'd been sexually assaulted. Capstick started asking questions. The man who did it had kissed her on her breast. Capstick found his saliva, took swabs, and sent it off to a crime lab.
Then the test results came back.
The FBI matched up the DNA to a sample collected after the murder of a nanny in Boca Raton, Florida. It was also the same DNA left behind when a fourteen-year-old girl was raped in an apartment in Coral Springs. The woman who said she'd been assaulted in Charlotte identified Jerry Wiggins as an acquaintance of her boyfriend. She dropped her case against him so he could be extradited. He's now in the middle of a fifteen-year sentence for the Coral Springs rape, and awaiting trial on the homicide in Boca Raton. It wasn't just the DNA that cracked the case, but also the questions Capstick asked. "If she wouldn't have done that," says Sgt. Price, "the whole case would have gone unsolved."
Same thing happened again in March 2005 when a high school student came into that out-of-the-way exam room. As she cried, she told Capstick she'd been kidnapped from a bus stop in Charlotte and forced to perform oral sex on a man. He had kissed her in several places. Capstick found the DNA. She took the stand as an expert witness in the trial. Now, Eric Washington is serving a fifty-three-year term in prison for that rape, and cases for several other crimes are still pending.
If you are a forensic nurse, this is what you prepare for. In a way, you never stop preparing. Each of Presbyterian's specialized nurses started with a week of coursework, followed by months of shadowing police, prosecutors, doctors, and other nurses. It's an ever-evolving program, says Kellie Harney, the nurse in charge of the forensic program.
The nurses know how to check a victim from head to toe for evidence. They learn how to operate a large camera called a culpascope, which can find the smallest of cuts. They're trained to ask questions that solve crimes. And their work is needed now more than ever. Nurses seem to think the economy is bringing out the worst in people. They say some people are using their frustration as an excuse for abuse. In the first seven months of 2009, CMPD says rape cases were up 16 percent over the same time last year.
This aspect of nursing really only came into being in the mid-1990s, and detectives say the work of forensic and SANE nurses saves them time and money. "Things that weren't being done years ago," says Sgt. Price, "are now really taking the bad guys off the street."
On the worst day of your life, if you're brought into the tiny room with the clock and the flowers and the fake tree, you'll be subjected to three to five hours of invasive poking and prodding, not only physically but also mentally. You'll be asked to relive every awful moment of your worst day. The culpascope, that giant hulking camera in the corner, will whir to life and be pointed directly at everywhere it hurts.
Yet it's in that room where abuse can end and empowerment can begin. Rea Buie, a SANE and forensic nurse for four years, lets her patients dictate the flow of the exam. She lets them do a lot of it themselves. Buie asks them for a lock of their own hair. She has them put it in an envelope. By helping them help themselves, she says, she can help them heal.
Still, maybe you don't want to press charges. Maybe you're too afraid right now. After all, unless the injuries are severe enough, only you can decide whether to get the police involved.
Harney has seen it before. "Somebody comes in and tells us they had this specific injury, but it doesn't match the story that they're telling us," she says. When they are ready to tell the truth, the proof will be there to back them up.
The nurses have to make sure that when the emotions and turmoil and adrenaline are boiled away, the evidence speaks for itself. Because cases can take months and even years before they head to trial, the facts need to be solid. Defense lawyers can ruthlessly pick away at even the most infinitesimal detail, and the nurses know this. They've been coached on how to testify clearly and accurately. Specialized nurses have to prove on the witness stand that they're experts. They have to prove that they're not taking sides. That can be hard for people who are trained to be both caretakers and crime-scene technicians. "Sometimes, you don't know what to believe," says Lilly. "You're trying to be their advocate, you're trying to help, you want to be their friend, but you have to be the nurse, and you have to be objective."
Even after all of their training, many nurses have to deal with an emotional pounding that doesn't always revolve around medicine. On this day, that seventeen-year-old girl with the knife wounds is still weighing heavily on Lilly's mind. "She said to me, 'You know how most men beat their women?' " Lilly draws a deep breath. "No. They don't. And it's hard to hear."
Other cases even get to people who have been doing this for years. Harney remembers a girl who was sexually abused in a particularly horrifying way. The pain was so searing that doctors and nurses couldn't get her to calm down. Every nurse has a story about the aftermath of abuse. Each is terrifying in its own way. A boy comes in, beaten so badly with a strap that it's hard to find a part of his body without a welt. A girl comes in and asks a nurse if she's still a virgin after being raped.
"We read it in our books and we see pictures of it," says Buie. "But when it's standing in front of you, you close your eyes for days or weeks, and that's what you see."
And yet these thirty-one nurses keep at it. Some say it's a calling. Others say they just want to help.
"If you make a difference just one time, you've done it," says Buie.
For the January issue of this magazine, Jeremy Markovich profiled Trevor Thomas, a blind man who hiked the Appalachian Trail.