The Optimist: GreenLight Fund's Carrie Cook
She solves the city's challenges with a smile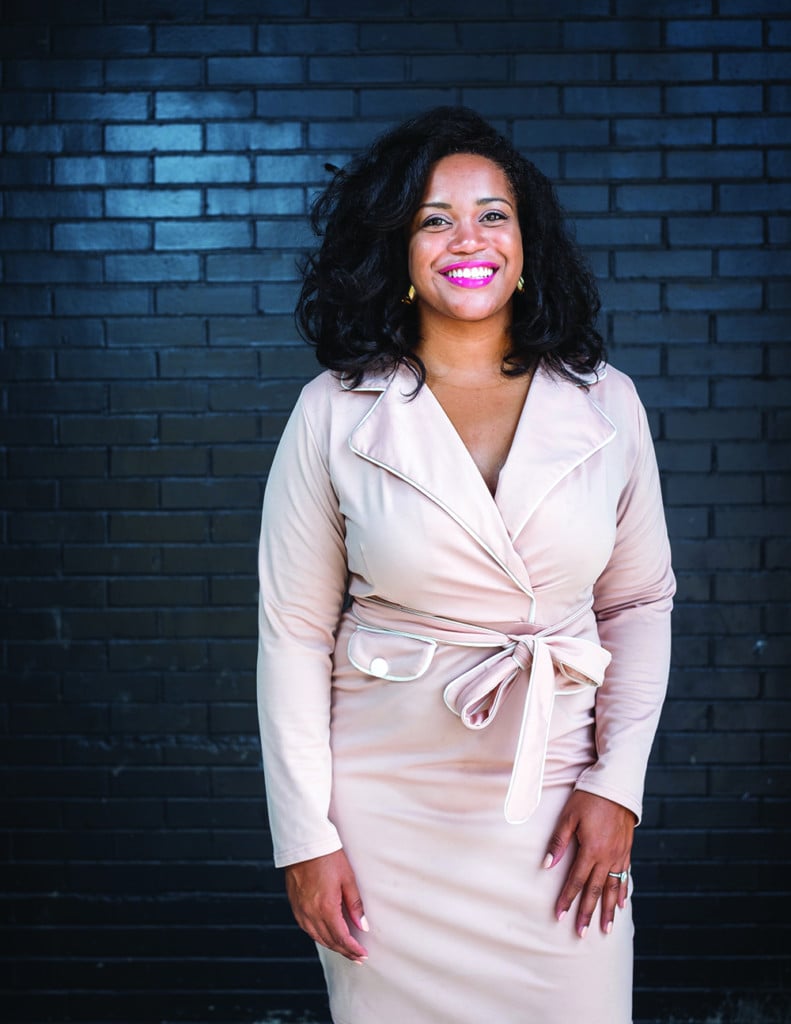 CARRIE COOK IS BUSY talking to someone in person, of course, so my call goes to voicemail.
"Hello! Are you smiling?" the greeting begins. "This is Carrie. Leave a message."
I'm standing outside Cook's office around 9 a.m. on a Friday. She's the executive director for the local branch of GreenLight Fund, an organization with offices in seven cities that aims to help solve those cities' problems. She's only 34, but she's already one of Charlotte's most prominent civic entrepreneurs. In 2012, she founded EmpowHERment Inc., a nonprofit organization that provides mentors to teen girls and advocates for them, in hopes of producing more female leaders. She's also worked for the Charlotte Chamber and a U.S. senator.
GreenLight hired Cook in November 2017 to launch the Charlotte site. It arrives at a time when groups here are ramping up efforts to combat the city's dismal social mobility ranking. In her role, Cook pulled together a cast of nearly 30 community members—from government officials to former felons—to form a selection committee that will determine where the organization should devote its time and money next year.
As of the spring Friday I'm standing outside her office, Cook is GreenLight Charlotte's only full-time staffer. Many visitors to her Camp North End office get lost in the 76-acre industrial site's winding driveways, so she's gone to greet me closer to the front gate. But somewhere along the way, she gets pulled into a conversation. I call from outside her door, wondering if our schedules are crossed, and hear the voicemail greeting: "Hello! Are you smiling?"
It's hard not to smile. When she eventually arrives, my first question is about the message. She tilts her head back and laughs.
"It's probably just the essence of who I am," she says. "It has been on my phone for 10 years. It's encouraged me through good times and bad times."
***
GROWING UP IN CHARLOTTE in the 1990s, Cook believed her life with two parents and a brother was normal. When she got to Ranson Middle School, though, her father was incarcerated and her parents split up. She's never looked up his charges—she doesn't want to know—but he's been in and out of jail on a regular basis throughout the 20 years since.
She now sees her teenage years as a time when she made the choice between becoming a person who gives or a person who takes. Her mother, who grew up the youngest of 10 children in Warrenton, North Carolina, told Carrie and her brother that they were loved and that they would overcome it. Her father slipped out of contact. Cook says she hears from him once every couple of years now, often from a blocked number.
"It let me know that I should do whatever I could do in my life to help others," Cook says. "I've seen what very selfish choices look like in parents, and I've seen what very selfless choices look like."
At Vance High School, she played basketball and joined the Future Business Leaders of America. Assistant principal Jametta Martin-Tanner saw promise in her and mentored her. The two remain close today. Martin-Tanner became principal at Ridge Road Middle, and in 2014, CMS named her principal of the year.
Cook went on to graduate from UNC Greensboro and earn a master's in public administration from UNC Chapel Hill in 2009. She joined the staff of U.S. Senator Kay Hagan, as a liaison to the 14-county area around Charlotte.
During her time with Hagan, Cook says she felt called to help girls. She was 28 years old in 2012 when she founded EmpowHERment. The girls in the program meet their mentors at the start of ninth grade, then stay with those same women for four years. Many relationships carry on past high school.
"Our girls, most of the women leaders they see are on Instagram," Cook says. "They don't have connections with women in their own backyard who are chemists, roboticists, teachers. That's a gap we can fix, to connect them."
EmpowHERment recently hired an executive director, Tiffany Allen, and now that Cook has the job with GreenLight, she insists she's "just a board member" with the nonprofit she founded.
The awards and opportunities keep coming, though. She's been named the Maya Angelou Young Leader Award recipient, the regional YMCA organization's Emerging Leader Woman of Achievement, and the Harvey Gantt Community Service Award recipient.
***
A COUPLE OF YEARS AGO, Cook wrote an eight-page letter to her father. It detailed the tough times she's had on his account, and it addressed the confusion: How could you do that?
Often, kids need mentors not to answer that question, but to help them become OK with not knowing the answer. Cook had people who did that, from her mother to Martin-Tanner to her basketball teammates.
In the letter, she forgave her father. A few months later, in December 2016, she started dating a man named Marc. They got engaged over Memorial Day weekend this year, and Cook believes the letter of forgiveness helped set her free to have a committed relationship.
In a way, that's what she's done with her career—relieve young people of troubles. You can see it in her current work. GreenLight Fund's selection committee has narrowed its focus to two issues facing Charlotte. The members will choose the fund's primary mission late summer; then they'll find an organization in that realm somewhere else, and work to expand it in Charlotte.
Those two issues being studied by the committee? Families in poverty who need help building assets, and kids who have adverse experiences at an early age.
"My perspective now is, thank God for the things I do have," Cook says. "Mentors, coaches, teachers—all of those things shaped and nurtured the natural optimist in me. Life is very good, and things could've been very different. I want everybody to experience that."