The Outside Money in Charlotte Politics
Contributions reflect Charlotte's growing political profile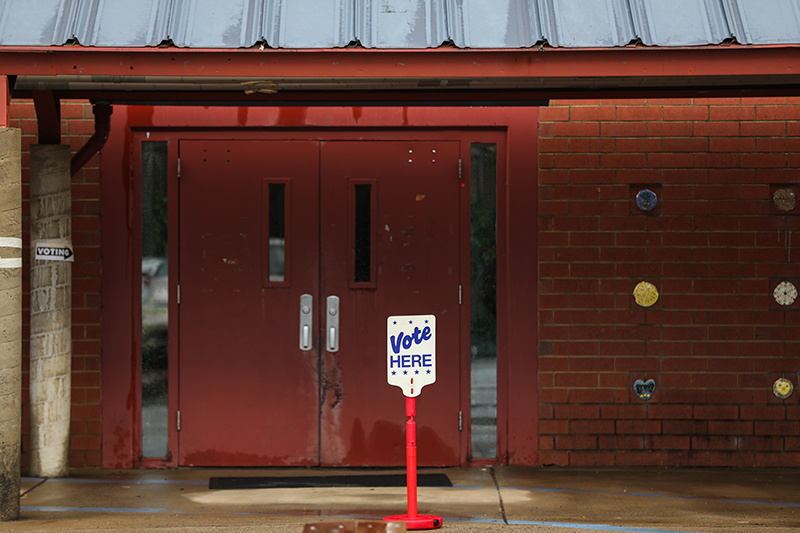 DAN MCCORKLE, a veteran Democratic political consultant in Charlotte, was working on a pair of City Council campaigns over the summer when he learned of an unexpected endorsement for one of them, at-large candidate Dimple Ajmera. "People For the American Way endorsed Dimple," McCorkle says in September, a week after Ajmera survived a contentious Democratic primary. "I was like, 'What? That's Norman Lear's group, isn't it?'"
PFAW is a Washington-based liberal advocacy group, founded in 1981 by longtime television and film producer Lear and the late congresswoman Barbara Jordan as a counterweight to the Moral Majority. It donates millions to liberal candidates and causes, but isn't known for involvement in local elections. That, like so much else in American politics, has changed this year—and in a way that highlights how politics in Charlotte and other cities increasingly carry consequences felt far outside city limits.
In May, PFAW launched a program, Next Up Victory Fund, to "support young progressive candidates running for state and local office across the country by providing endorsements and direct contributions," according to a news release. The organization had endorsed 23 candidates as of late September: six for New York City Council; 13 for Virginia legislature; one for Florida governor; and three, including Ajmera, for city council seats in North Carolina. (The others are in Rocky Mount and Durham.) The program particularly targets races in states such as North Carolina, where Democrats can potentially win back legislatures gerrymandered to favor Republicans in time for the next round of redistricting in 2020.
"We definitely want to invest in that state so we have leaders like Dimple, who can then run for higher office—for state legislature or maybe even for federal office—someday," says Lizet Ocampo, PFAW's political director. PFAW itself hasn't contributed money to Ajmera's campaign, but the organization's endorsements connect Ajmera and the other candidates to a nationwide member network of more than a million people who can make individual donations. The endorsement of Ajmera, a 31-year-old Indian immigrant, fits PFAW's efforts to promote more female candidates of color, and ongoing legislative battles over transgender rights, gerrymandering, and voting restrictions heighten the need for PFAW to cultivate progressive candidates here. "We're really excited to be involved in municipal elections in North Carolina, given what we've seen in that state," Ocampo says.
To McCorkle, who has run local campaigns in Charlotte since 1984, the endorsement signals the city's growing influence on the national political stage. "We are a big city now, and people have to grasp that," he says. "With the current political division between urban and rural populations, we're a prize, and known as a very progressive city in a state that's purple to red. So we're gonna be a target for all kinds of stuff. But we're gonna be noticed, too."
NOT THAT YOU'D be able to tell by voter turnout in Charlotte. The September municipal primaries drew less than 8 percent of registered voters, and turnout for the general election this month will probably land somewhere near 15 percent, the rate two years ago. The lack of interest locally belies the growing interest nationally. Until this year, Charlotte city elections resembled those in virtually every other city in the United States—centered mainly on the traditional local issues of policing, taxing, transportation, and growth, and funded almost exclusively by local donors.
That's still true, mostly. But this year's elections have pulled in an unusual amount of money from individuals, organizations, and political action committees throughout the country, contributing to a record for the most expensive mayoral race in Charlotte history. Even before the primary, the four main contenders—incumbent Democrat Jennifer Roberts and fellow Democrats Vi Lyles and Joel Ford, plus Republican Kenny Smith—had raised nearly $1.3 million. By Election Day (November 7), primary winners Lyles and Smith will have raised thousands more. The previous record, set in 2009, was $1.2 million—the total through the general election.
The external spending is sprinkled among the individual contributions of $100 and $200 common to a local campaign, state Board of Elections campaign filings show. Smith received a $1,000 donation in May from First In Freedom PAC in Athens, Georgia, which supports conservative candidates. Roberts, whom Lyles defeated in the Democratic primary, received a $2,500 donation in August from HNTB Holdings Ltd. PAC, a committee formed under the Kansas City-based infrastructure company HNTB. (The company has a Charlotte office.) HNTB Holdings donated $1,000 to Ajmera's campaign the same month.
"As a member of the business community, HNTB is supportive of the best possible economic and business environment for our company and our employees," company spokeswoman Lydia Steinberg says in an email. "In Charlotte and around the country, we support those programs and people we believe best understand the needs of the community and the state's transportation system."
Those were direct contributions to candidates' campaigns, with their amounts and names of donors open to the public. They don't include so-called "dark money" contributions from 501(c)(4) nonprofit "social welfare" organizations, which can spend unlimited amounts of money without disclosing amounts or individual donors. For the first time in a Charlotte city election, two such groups formed in the months before the primary: Queen City Leadership, which supported state senator and third-place finisher Joel Ford in the Democratic primary, and Forward Charlotte, led by a Republican strategist.
TYPICAL CONTRIBUTIONS to local campaigns come from friends and associates of candidates and businesses, such as construction firms and taxi companies, trying to win influence in City Hall. In Charlotte, they still are, but the outside money has added a new layer.
"I think the amount of money this time is unprecedented, but it's because Charlotte's drawn more national political attention than it ever has," says Eric Heberlig, a political science professor at UNC Charlotte. "What's different this year is that we've had the battle over House Bill 2, which has drawn attention from activists for gay equality, and Charlotte got a lot of attention for the riots after the Keith Lamont Scott shooting. In those instances, there was reason for people who don't care about issues that are Charlotte-specific to pay attention to them."
House Bill 2, in particular, reflected a growing national cultural battle over so-called "bathroom bills" that's spread to other states, such as Virginia and Texas. National organizations invested time, energy, and money in Charlotte's (and North Carolina's) fight. The Arizona-based conservative Christian organization Alliance Defending Freedom provided opposition to Charlotte's nondiscrimination ordinance—the city action that prompted HB2—with pro bono legal assistance. The Washington-based LGBTQ advocacy group Human Rights Campaign, which was instrumental in rallying support for the ordinance and opposition to HB2, contributed more than $5,000 worth of staff and volunteer work to Roberts' mayoral campaign, according to her state campaign filings.
"The reason we have so much national attention on this race now is because—and blame might not be the right word, but credit isn't, either—Mayor Roberts has on her agenda adopted national issues: challenging the city on its views on discrimination, immigration, clean energy, and all this other stuff," says Larry Shaheen Jr., a Republican political consultant in Charlotte. "The folks who run these outside money groups need issues on which to fundraise to keep their organizations relevant. I work with some of these outside groups, and I can tell you that the only people who benefited from the conflict of HB2 were the lawyers involved and the consultants. They had no interest in a compromise because their pipeline of funds came directly from the conflict."
The local observers I spoke with disagree on whether the interest in city elections this year will extend to future elections. McCorkle thinks so, Shaheen doesn't, and Heberlig doesn't know. But all three say that the potential now exists for what seems to be a local issue to explode into a national one—in Charlotte or in any city, at any time. "Those opportunities have always existed," Heberlig says, "but groups have gotten a lot more intentional about finding the weakest link, so to speak, in achieving their policy goals." In a political universe governed more and more by big money and social media, anyone's issue can quickly turn into everyone's.