The Piedmont Culinary Guild Event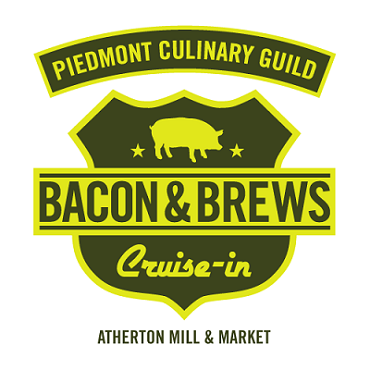 There exists a group called the Piedmont Culinary Guild, and they're here to help. The PCG, a grassroots collective of chefs, farmers, teachers, and artisans, aims to strengthen Charlotte's local chef and culinary community by sharing resources, educating consumers, and establishing regional recognition. The PCG is focused on supporting a local food economy through fostering educational opportunities, connecting chefs to the abundance of local producers in the area and shaping the story of Charlotte's culinary community.
All that being said, the PCG will host the inaugural Bacon & Brews Cruise-In on Sunday, June 29, 2014 from 3-7 p.m. at Atherton Mill & Market. The fundraising event will feature Charlotte's best chefs sampling bacon dishes from locally sourced pork, craft beers from local breweries, and a classic car cruise-in complete with a $500 cash prize for best in show. Celebrity judges Kathleen Purvis (Food Editor/Author, Charlotte Observer), Craig Diehl (STAR Chef, Charleston, SC) and Ashley Batey (Meteorologist, WBTV) and attendees will vote on best bacon dish, best beer and best classic-car for prizes in each respective category.
"We wanted to create a quintessential summer event with a few of our favorite things," says Chris Coleman, PCG member and Executive Chef at the Asbury. "We hope to see this event grow into a Charlotte favorite."
In addition to music and local vendors, STAR Chef Craig Diehl will be on-site for a local hog butchering demo. Diehl is Executive Chef at Cypress in Charleston, SC and has made a name for himself through his involvement with local food initiatives with the Butcher's Guild, Slow Food Charleston and the American Livestock Conservancy.
Fundraising efforts will go toward building a sustainable communications platform and for funding future projects to propel the Charlotte culinary scene forward.
Tickets for the Bacon & Brews Cruise-In are $35 per person and can be purchased online at www.baconbrewscruise.ticketleap.com. Classic car registration is $15 per car with the approval of classic car submission.