'The Real Issue Here Is Guns.'
It's easy to forget sometimes.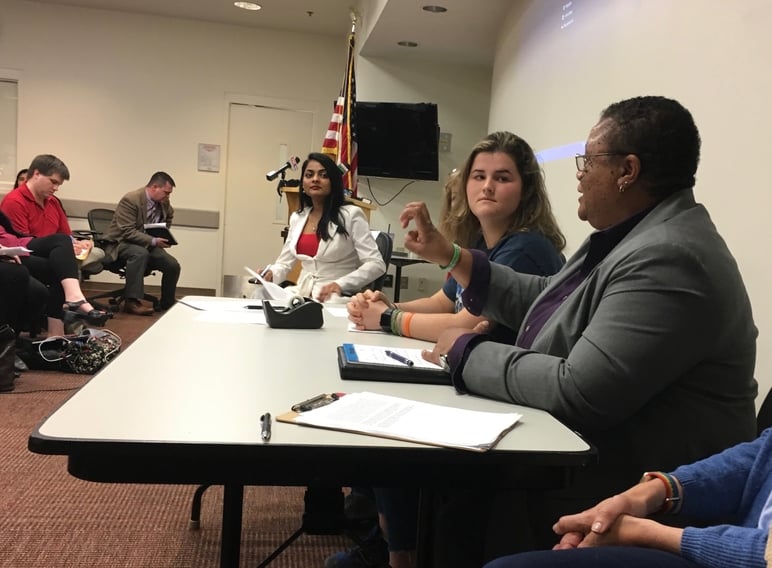 Toward the end of a two-hour town hall meeting Tuesday on the subject of protecting schools from people with guns—a meeting that covered everything from the availability of school counselors to the efficacy of locking classroom doors as a deterrent to mass murderers—a Rocky River High School junior named Amya Burke stood up and got to the root of things.
"My head is on a swivel while I'm trying to learn about chemistry," Amya, 16, told a roomful of about 50 police officers, public school officials, teachers, and parents at the Government Center in uptown Charlotte. "I want to be thinking about my education, not about if I'm going to die or not."
She hadn't even planned to attend the town hall, showing up for another meeting that ended up canceled. Someone told her about the meeting downstairs on classroom safety. It's a subject Amya cares about more than nearly anything; she and her family took part in the March For Our Lives protest last month in Washington. Downstairs she went.
"This is not OK, for us to be sitting there in class and wondering if I've going to live to see my family, and I'm tired of it," she told me afterward. "So me being here was just God's plan, apparently."
Charlotte City Council member Dimple Ajmera organized the meeting to share information about the Charlotte-Mecklenburg Police Department's and school district's efforts to make CMS' 176 campuses safer. (The city doesn't directly oversee CMS, a Mecklenburg County function. But two months after Parkland, constituents care little for bureaucratic distinctions.)
Police Chief Kerr Putney said he and CMS officials are working on ways to tighten security with more staff, volunteers, and training—and perhaps more physical restrictions. "We have to take precautions I could never have imagined growing up," said Putney, 49. "We have open campuses, because when I was growing up, that was OK. We're going to have to rethink some of that." The department has updated its training for mass shooting incidents, which it began offering to schools and businesses after Columbine in 1999, and will begin a fresh round of the training for teachers and administrators over the summer, Putney said.
CMS Communications Director Tracy Russ said Superintendent Clayton Wilcox plans to ask for more funding to pay for additional school counselors and psychologists to help troubled students before they potentially turn violent; and for more physical security tools, such as surveillance cameras. The notion of arming teachers, mercifully, appears to be not just off the table but in some other house.
But another student in the audience—Maddie Syfert, a 17-year-old Myers Park High School senior—asked a pertinent question: How can you ensure safety at a school like Myers Park, with its 62 acres and 13 buildings? Install a fence? A wall? Monitors at the campus perimeter? "You're right," responded Russ, himself a Myers Park High graduate, Class of '86. "It is challenging at Myers Park." Updated security plans will vary school to school, he said, adding a caveat: "We can't secure and lock our way to total safety … It's not the total solution and never will be."
"They call us 'the School Shooting Generation,'" Maddie told me afterward. She was born in 2000, Amya in 2001; they don't know the world before Columbine. The town hall Tuesday revealed a clear distinction between their generation, represented most vividly by the Parkland student activists, and the ones that preceded it: Older generations seem to accept the possibility of mass murder in schools as a regrettable given that needs to be accommodated. The School Shooting Generation does not. Maddie delivered some prepared remarks during the town hall that included a statement no one else was willing to make so bluntly: "The real issue here is guns." All else, no matter how effective or well-intentioned, is secondary.
"Everyone's kind of dancing around it," Maddie told me. "It was a local kind of thing, so I understood that they're coming at it from a local perspective, so they're kind of doing the right things. But from a national perspective, it's not going to change until the change is bigger than that."
A certain clarity comes when, as Maddie put it in her prepared statement, there's a target on your back. It's hard for older generations to fully grasp that because it's something they never had to contend with, as Putney said. They remain, at least in part, abstractions. In talking with the two girls, I tried to put myself in their shoes, dredge up whatever existential horror I could remember comprehending during my high school years in the 1980s. My generation had the risk of nuclear annihilation by the Soviet Union hanging over our heads, no small worry. But it was too big, too abstract, too impersonal to prompt us to take to the streets, and it's not like we'd have had much influence on Premier Gorbachev. The risk hung over everyone, anyway, and we would all go together if we went.
School shootings bring the horror down to Earth. Even if a high school student has never lived through one, it takes little imagination to conjure up the image of thousands of kids screaming and running, the sound of gunfire echoing down the hallways, the sight of teachers and classmates lying prone and still. Under those circumstances, the political system's failure to adopt even minimal restrictions on the use of AR-15s and the like feels like a personal insult, and should.
"Why am I allowed to get an assault rifle at the age of 18, but I can't drink? Why can I not vote right now, but people can decide for me whether my life is valid?," Amya told me. "The fact that I've had to keep living through it, and it was like, Sandy Hook, you're going on lockdown … another situation, another situation, another situation. And there's nothing happening. It feels like nobody cares that I'm even here."
So they, along with the Parkland students, march, and they make sure they care for each other. Amya and Maddie had never met before Tuesday. Amya is black, Maddie white. "Good job," Maddie told Amya when they did meet a few minutes after the town hall concluded. Nearly everyone had left the conference room in the Government Center. But they were still there.
"You're awesome," Amya told Maddie.
"You're awesome," Maddie replied.