The Red Pump/Red Tie Affair Brings Awareness to Important Cause Year After Year
Observe World AIDS Day Saturday, December 1 during a stylish event presented by The Red Pump Project-Charlotte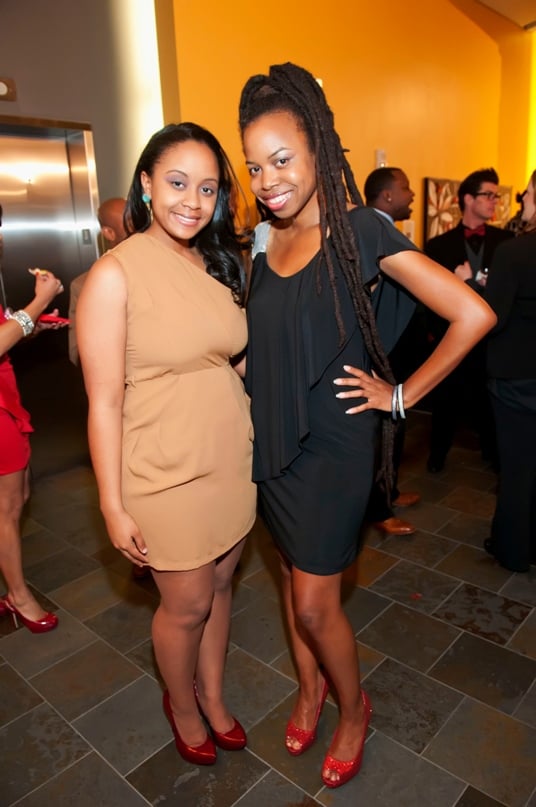 Do you know what December 1 is? It's World AIDS Day, an observance that's been recognized in the U.S. since 1995. Yet, it doesn't get quite the level of recognition it deserves considering the number of people who are infected with HIV/AIDS each year. Fortunately, in Charlotte, we have an organization that's championing the cause. The Fourth Annual Red Pump/Red Tie Affair takes place this Saturday, offering you an evening of entertainment, cocktails, and fashion in addition to education and awareness.
The Red Pump/Red Tie Affair is a signature event of The Red Pump Project-Charlotte, the local chapter of the national, nonprofit organization that raises awareness about the impact of HIV/AIDS on women and girls. A portion of the proceeds from the Red Pump/Red Tie Affair will go to The Trinity Project, a program of Regional AIDS Interfaith Network (RAIN). There will also be a presentation of The Red Pump Award to honor a female community leader who has dedicated her time and energy to fighting the battle against AIDS.
Each year the event has a theme, and this year it's "Play Safe," which guests will see illustrated in the evening's fashion show. And it's an important message.
"This year we wanted to really emphasize safe sex, and do it in a fun way," says Jameka Whitten, Red Pump Ambassador and organizer of the event. "The theme with all of our marketing materials has been if you're going to play, play safe. If you're going to engage in activities, make sure you protect yourself, and know that you can take control of your reproductive health."
I attended last year's event and had a great time. I expect nothing less this year as The Red Pump Project takes over Levine Museum of the New South (200 E. Seventh St.) this Saturday, beginning at 7 p.m. Women are encouraged to wear red pumps, and men are asked to wear red ties—regardless you'll want to dress to impress. There will be a red carpet hosted by fashion connoisseur Ryan Jor El, and the event itself will be hosted by award-winning spoken word artist Bluz and Power 98 FM's A Dot. New this year is the creation of a social media lounge, designed by Will Smith of HGTV's Design Star and owner of Interior Motives, and hosted by blogger/media personality Christen Rochon of DivasandDorks.com.
Throughout the evening guests will enjoy a live performance by singer/songwriter Jessica S. Macks and music by DJ Tequila. The "Play Safe" fashion show will feature the collections of Vivian B Boutique, Blank Canvas, Figure of Speech (F.O.S), Infinite Style, and more. Attendees will also have the opportunity to do some holiday shopping in the silent auction, where 100 percent of the proceeds will be donated to charity.
That lineup is why The Red Pump/Red Tie Affair has become the leading annual Charlotte event bringing awareness to a disease that affects 1.2 million people in this country. It's also estimated that one in five of those people (20 percent) living with HIV is unaware of their infection.
"AIDS is a horrible, horrible disease but it doesn't have to be a death sentence," Whitten says. "So you have to celebrate life. We're celebrating life on December 1st. And we're celebrating education so that can bring awareness so we can promote more life—people not having to succumb to this disease unnecessarily because of lack of education or lack of exposure."
General admission is $35 and VIP is $60; tickets can be purchased in advance online at 2012redpumpredtieaffair.eventbrite.com or in person at Wilson Secret Tickets, 901 N. Tryon St., Suite F. An after-party will follow Saturday night at 10 p.m., with music by DJ DR, and Ciroc Red Berry drink specials, just around the corner at Re:Public nightclub, 314 N. College St., thesolkitchen.com.
Also be sure to visit theredpumpproject.org to learn more about the organization.
See photos below from last year's Red Pump/Red Tie Affair.

The Red Pump Project co-founder Lovette "Luvvie" Ajayi and Stevenson Jenkins.
Be sure to bookmark www.charlottemagazine.com/Blogs/Dusk-Till-Dawn to stay plugged into Charlotte nightlife. Follow me on Twitter @HollidayInk; email me at jarvish@grownpeopletalking.com.