The Ritz-Carlton Charlotte's Lobby Lounge Is Haven for Socialites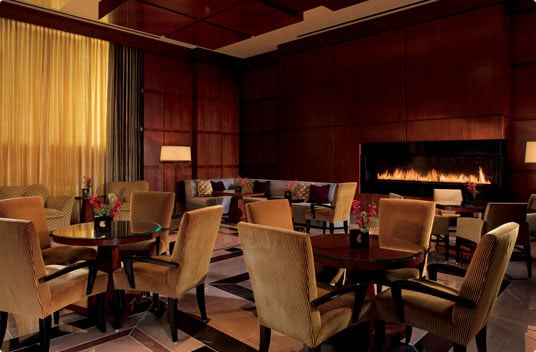 I took a friend out Saturday night to help her celebrate a special occasion. I decided on The Ritz-Carlton Charlotte because I like their dining/bar options and how the choices vary enough that we would certainly find one whose atmosphere we liked.
We started out at Urban Sip, which is on the hotel's fifteenth floor. Urban Sip opened in December and is lauded for its list of more than ninety wines and thirty-five scotches by the glass. There's also a great selection of meats and cheeses to pair them with, in addition to the wonderful views you get from the floor-to-ceiling windows (read Sarah Crosland's review from the March issue of this magazine). We spent about an hour and a half there, leaving wine flights and several small plates in our wake (as well as a hefty bill–this bar ain't cheap). Top-40 music played softly in the room, but other than that it's rather cozy and serene. Couples flowed in, including Mayor Anthony Foxx and wife Samara, but the place didn't get too full.
About a quarter after nine we headed downstairs where the Lobby Lounge was bustling. On Friday and Saturday nights, there's live entertainment from 9 p.m. to midnight. On this night there was a duo—a guy playing acoustic guitar and a female vocalist. As I expected, the lounge had filled up quickly. Although there's plenty of seating, most of the tables and couches were filled with couples and groups of friends. We were lucky to get a table, which actually was close to the band.
I'd seen how in recent months the Lobby Lounge has become a popular destination for people, particularly Charlotte's socialites. It's becoming known for a place where people hang out before and after dinner and shows. Last month, my brother went there after the Prince concert and said he was surprised how many people were pouring in there from the show as well. The lounge also draws people from BLT Steak, which is located next to it. BLT Steak, by the way, offers a great "5 At 5" happy hour that features several appetizers and drinks for $5 from 5 p.m. to 7 p.m. each evening.
While The Ritz-Carlton is directly across from the hustle and bustle of the EpiCentre, the hotel is relatively quiet from the outside, with the only noticeable activity being the valet parking in the roundabout out front. The Lobby Lounge, which also features live entertainment on Wednesdays from 8 p.m. to 11 p.m., is the kind of place I like. Its popularity spreads through word of mouth and not through advertisements. The kind of place the "in crowd" knows about–and readers of Dusk Till Dawn.
The Ritz-Carlton Charlotte, 201 E. Trade St., 704-547-2244, ritzcarlton.com/charlotte.