The Ritz-Carlton's Sweet Changes
Heidi Kabath brings a wealth of pastry knowledge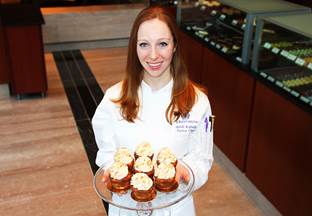 The Ritz-Carlton, Charlotte and Bar Cocoa have made a few changes just in time for the holidays. Yes, I know its October.
Award-winning culinarian Heidi Kabath has been named Pastry Chef for The Ritz-Carlton, Charlotte and Bar Cocoa dessert boutique. A native of Parsippany, NJ, with a Bachelor of Science degree in baking and pastry arts from Johnson and Wales University, Kabath joins The Ritz-Carlton, Charlotte and Bar Cocoa from The Ritz-Carlton, Amelia Island, where she served as Pastry Cook and Supervisor for the resort, its restaurants and its event operations. During her tenure at The Ritz-Carlton, Amelia Island, the resort gained a AAA Five Diamond rating as well as consistent accolades for its culinary experience.
Kabath will direct the pastry kitchens of the hotel and Bar Cocoa, including Cocoa Lab cooking school and the property's high-profile Lobby Lounge, wedding/wedding cake, banquet, catering, spa café and In-Room Dining dessert offerings. She will also play a pivotal role in the creation of the hotel's new multi-scene holiday visual experience, much of which will be focused on dramatically edible décor.
Kabath will also head a new series of Cocoa Lab cooking classes, to be open to the public as well as hotel guests ages 18 and up. The Saturday morning hands-on classes are priced at $75 per person per session and may be reserved at 704-547-2244. Students are able to taste the day's creations at the end of each session, and they receive included recipes for the day's selections, a keepsake apron, and complimentary parking during class hours.
Cocoa Lab classes for November and December 2014 are as follows:
Home for the Holidays: Saturday, November 8, from 9 a.m. to noon. This class will feature Chef Heidi Kabath's favorite dessert – apple tarte tatin. Chocolate will be on display as well, as will Bar Cocoa's new holiday specialty, Sweet Potato Cheesecake. Did you know that North Carolina produces more sweet potatoes than any other state? The menu includes will include apple tarte tatin, chocolate mousse cake, and sweet potato cheesecake.
Great Gatsby Gala: Saturday, November 22, from 9 a.m. to noon AND December 20, from 9 a.m. to noon. Glamorous dining awaits, as this divine class will turn novice cooks into sophisticates, ready to wow the most discerning of guests. Instruction in the fabulous art of dessert presentation will be a highlight of the session. The menu includes: Chambord syllabub, baked Alaska, and rum pineapple cake.
Christmas Cookie Social: Saturday, December 6, from 9 a.m. to noon. This is the ultimate cookie class, allowing students to combine truly different ingredients and stand out in the holiday cookie crowd. The day's creations range from warmly nostalgic to simply extraordinary. The menu includes pumpkin brown butter cookie, peppermint mocha bar, a Linzer tart sandwich, and Grand Marnier macaron.