The RNC In The CLT: Romney Campaigns, Fundraises in Charlotte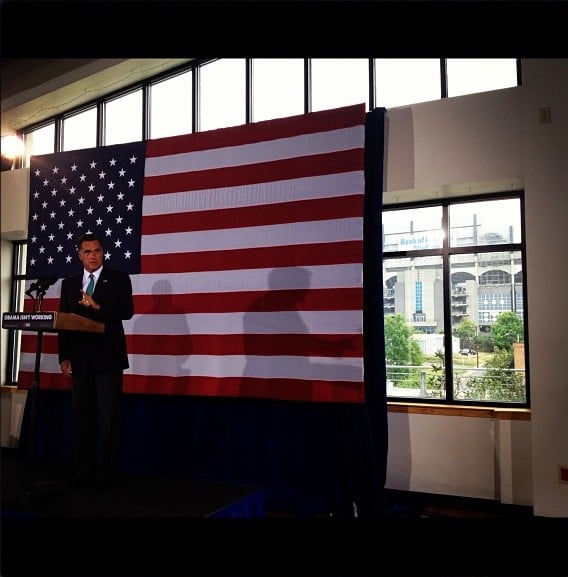 Republican presidential candidate Mitt Romney visited Charlotte yesterday, giving a speech at a public event in the afternoon, and later attending a private fundraiser in his honor that evening.
His speech, which his campaign had touted since the beginning of the week as a "prebuttal" to the Democratic National Convention speech President Barack Obama will give less than five months from now, garnered lots of national media coverage for two reasons. First, because this is considered the first week of Romney and Obama campaigning head to head (after Rick Santorum dropped out of the race last week); and secondly because Romney delivered his speech at a special event hall (Roof With A View) that overlooks Bank of America Stadium, the NFL field where Obama will deliver his acceptance speech in September.
Romney's campaign stop here and the subsequent press coverage further illustrates Charlotte's political importance as the largest city in North Carolina, a key swing state in the 2012 presidential election. Obama is scheduled to visit Raleigh next Tuesday.
While little has been reported on Romney's fundraising event last evening, understandably so since it was closed to media and only open to Republican Party leaders and campaign donors, the interesting nugget of information that has been reported is that the fundraiser at Myers Park Country Club was co-hosted by former Bank of America CEO Hugh McColl. McColl, an influential businessman and Charlotte philanthropist, endorsed Obama in 2008.
Here's a list of links to some of the many news stories about Romney's campaign stop in Charlotte yesterday:
BlogCon CLT
And in other Charlotte national media political news, BlogCon CLT, being put on by FreedomWorks, a Washington, D.C.-based organization that "fights for less government, lower taxes, and more freedom," is taking place this weekend in uptown. Hundreds of conservative bloggers and media personalities from around the country are expected to attend the two-day conference.