The Secret's Out: Underground Kitchen Is Coming to Charlotte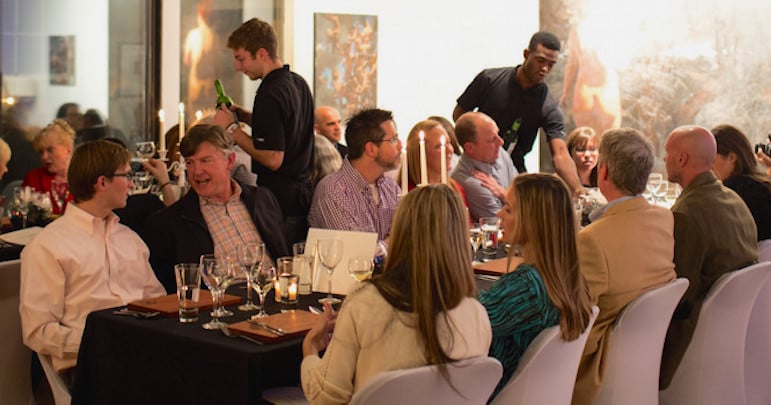 The hosts of Underground Kitchen, a dining event for the adventurous, have set their sights on Charlotte. Beginning in late February, the traveling supper club will host special dining experiences throughout the Queen City, roughly once a month and for one night only. Invitations to each event divulge just three pieces of information: the date of the dinner, the date and time that tickets go on sale, and a hint about the event's location. Space is typically limited to around 40–75 seats. The lucky few who snap up a ticket won't know the location until 48 hours beforehand, nor will they know the name of the chef or the menu until they arrive.
The gourmet pop-up concept, called UGK for short, has its roots in Richmond, Virginia, where creator Micheal Sparks turned his penchant for creating memorable neighborhood dinner parties into a full-fledged business. Sparks has an extensive background in design and branding, one that has taken him to New York, London, and Spain to work with world-class clients such as Louis Vuitton. The dinners benefit from his designer's eye, with past attendees making note of the careful attention given to the details.
Sparks understands what food-lovers today are seeking from their dining experiences. Regardless of generation or income, they all have expectations that go beyond the plate. "We live in an experience economy right now," he says.
While his design experience helps to shape the UGK dinners, it is a genuine love for food that inspires them. "Food, fashion, and lifestyle has been in my life since I was 14," he says. High on his list of influences are his grandmother, an exceptional home cook who worked as a housekeeper, and large family gatherings over the holidays. "Our family dynamic is built around the family dinner," he says. "Our lives have always circled around food and cooking." These days, he notes, it's the men in the family that are doing most of the cooking—usually with a bottle of bourbon being passed around. Perhaps most important to Sparks is the opportunity that people have to connect in the relaxed, intimate environment of a UGK dinner, one that feels more like a cozy dinner party and less like a crowded restaurant or networking event.
Since their first dinner in December 2012, Underground Kitchen has hosted pop-ups in eight cities, including Washington, D.C., Charlottesville, Williamsburg, and Richmond. In 2016, they plan to expand to Charlotte, Raleigh, and Durham, with a goal of operating in 25 cities by this time next year. Dinners are typically comprised of five to seven courses and usually involve cocktails or wine and beer pairings. All have a unique theme, such as the "Into the Wild" dinner, which had guests foraging for mushrooms in the morning and enjoying them that evening as part of their meal.
Past courses include such temptations as a lemon-plum-glazed short rib with a golden scallop and shiitake miso polenta. Past venues have ranged from a 200-year old farm to the Virginia Fine Museum of Arts to an apartment in D.C.'s trendy NoMa neighborhood. The re-imagination of each location at the hands of the UGK team is just part of the fun.
Given how popular these events have proven to be elsewhere, it's probably not too early to join the Underground Kitchen mailing list to learn when tickets go on sale for the first Charlotte event, and those that will follow. What we do know about that first dinner in February: it will have a French theme and a French chef at the helm.