The Skinny on Toxic Nite Club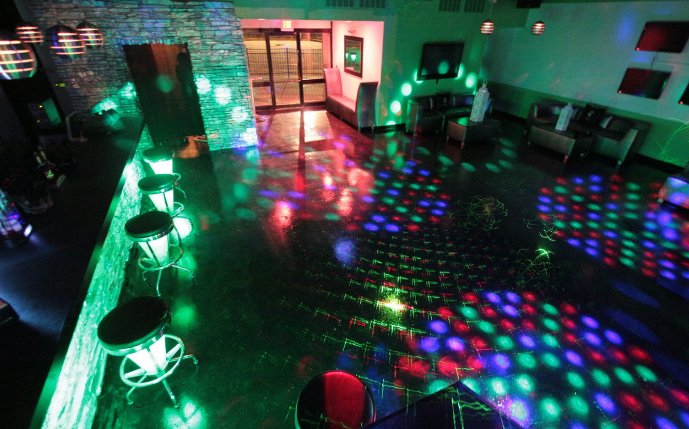 I checked out Toxic Nite Club for the first time last night. It opened in late February in the former space of Rustic Martini, which is the box-shaped building in uptown on North Tryon Street between Ninth and Tenth streets. You're probably like "Where?" That's the thing. Uptown nightlife doesn't extend much past Seventh Street, which I think is one of the challenges the previous bar had at this location. But Toxic is something new and we'll see how it does.
The inside is one open room, literally a perfect square, and while it's not a big space the owners make good use of the size. The stonework along the bar and walls from when it was Rustic Martini is still present, which I always thought added a nice touch. And they've added color such as the signature neon green to convey the "toxic" image, along with plenty of lights. The stools at the bar glow, which is cool, too. And this place has to have the highest flatscreens-to-square-footage ratio around. I counted 12 TVs in the main room, and not including the ones in the bathrooms. All the TVs were tuned into the NBA playoffs.
I can't quite figure out Toxic's angle just yet. I think it should be positioned as a bar/lounge like similar-sized places Apostrophe Lounge and On the Roxx, but it seems to actually want to be a small nightclub, as the name states. There are a few reserved seating areas, which are now standard in Charlotte clubs, and those are along the back wall, which leaves the middle of the room completely clear for dancing. And while the interior itself is small, it's able to extend out through the large patio in the front and back of the building.
Last night was "Wasted Thursdays," hosted by Power 98's No Limit Larry, and there was no cover charge and all drinks were only $3 all night. The DJ was spinning hip-hop and the crowd rolled in steadily between 11 p.m. and midnight, though several people had come and gone earlier in the night. It was a pretty good female-to-male ratio, but the club wasn't enforcing a dress code, which I prefer to have in place. But maybe they don't want to be that pretentious nightspot, and want people to be more relaxed (I'm a nightlife snob, sorry). I think you'll find a different atmosphere on different nights. Six Figure Entertainment has just started promoting Fusion Fridays with DJ Incognito and Old School Saturdays with DJ Justice there each week. Those nights feature free admission as well.
I think the no cover charge aspect will help Toxic a lot because people will be more likely to give it a shot. Plus, it has its own parking lot and there's plenty of free-at-night street parking near it as well. That's beneficial because the club is located too far up Tryon for most people to hop from a previous nightspot.
Toxic Nite Club, 616 N. Tryon St., toxicnc.com