The Sobering Failure of Project LIFT
The best intentions of community and school leaders can't overcome poverty, segregation in public schools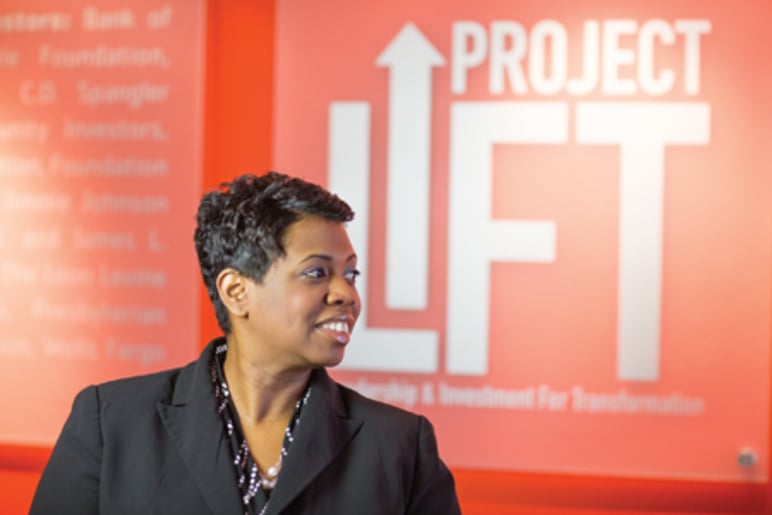 In retrospect, Project LIFT and the Beacon Initiative—a pair of efforts aimed at improving outcomes in Charlotte's low-performing public schools—seem like the product of a more naive city, one still in thrall to its own creation myth. That myth led corporate, nonprofit, and Charlotte-Mecklenburg Schools leaders to believe that the right combination of goodwill, enthusiasm, dollars, and civic pride could work miracles for children left behind.
"I think the kids who are in these schools deserve a chance, and this is their chance," Denise Watts, chosen in 2011 as Project LIFT's superintendent, told this magazine's Adam Rhew more than four years ago. "So why would we not take advantage of that opportunity?"
They tried, Watts in particular—and they failed, as a report over the weekend by the Observer's Ann Helms (on the heels of state school grades and test-score results) makes clear:
Of the 23 schools that are part of Project LIFT or Beacon, only one topped a 50 percent pass rate on state exams last year. And that one, Project LIFT's Statesville Road Elementary, regressed slightly from the previous year.
Four of the schools rated an F, and Bruns slipped backward to become the lowest-scoring school in CMS. Bruns and Byers School, both part of Project LIFT, are among the state's lowest performers, on a list of 48 statewide being scrutinized for possible takeover by a charter school operator.
The number of CMS schools rated low-performing on the state ratings released Thursday rose to 40, up from 25 the year before. That includes 13 schools that are part of Project LIFT or Beacon.
None of this is the fault of Watts or the CMS administrators or principals who kickstarted Beacon. It's not the fault of the corporate and foundation donors who have spent nearly $50 million on Project LIFT for the past six years—it was initially a five-year project, extended for the 2017-18 school year—and now have to watch it close up shop. There's no doubt that the programs did some good for some students. But toward the end, their advocates have simply learned a hard lesson, one that American education reformers down through the years have had to choke down: Even the best teachers and programs can't scale the wire-topped wall of an effective resegregation of schools and the economic fragmentation that accompanies it.
"The achievement gaps between blacks and whites, Hispanics and Anglos, the poor and the rich, are hard to erase because the gaps have only a little to do with what goes on in schools, and a lot to do with social and cultural factors that affect student performance," David Berliner, a professor and education researcher at Arizona State University, wrote in a widely publicized essay in 2012. "Policymakers in Washington and state capitals throughout the USA keep looking for a magic bullet that can be fired by school 'reformers' to effect a cure for low achievement among the poor, English language learners, and among some minorities. It is, of course, mostly wasted effort if the major cause of school problems stems from social conditions beyond the control of the schools."
This is not exactly news. A federal judge's ruling in 1999 ended Charlotte-Mecklenburg's 28-year-old busing program; that helped usher in a new era of "neighborhood schools" that, in broad strokes, led to good schools with ample resources in affluent areas and underperforming schools in poor ones. For years, former UNC Charlotte researcher Amy Hawn Nelson (who still lives in Charlotte but now works as a research associate for the University of Pennsylvania) compiled data showing the direct link between racial and economic segregation and the declining academic performance of poor and minority students. Half of CMS' 168 campuses are segregated by race, which means at least 80 percent of the student body is of one ethnicity; a fifth are hyper-segregated by race, which means 90 percent of one ethnicity. A third are segregated by poverty. Those numbers have remained constant for the last several years.
So what now? The Charlotte-Mecklenburg Opportunity Task Force, an otherwise laudable effort, deliberately steered clear of school reform in its celebrated report to the community in March. (If the community makes progress on pre-K care and education, college and career readiness, and family and child stability, the task force said, "dramatic improvements on school outcomes will result.") CMS' student reassignment plan, which was supposed to break up concentrations of poverty throughout the district, ended up largely keeping in place the system of neighborhood schools that enabled them.
It'll take more than quarter-steps. "I think they attempted to institute a series of reforms on what was politically palatable and not what the data and research shows would actually improve student achievement," Nelson told me Tuesday, adding that any substantial change "is going to take a while." We all know, as public officials are fond of saying, that every child deserves a great education. Those words are as hollow as a paper balloon if children lack a firm foundation to build that education on, and if the system they work within is designed to benefit some of them at the expense of the others. Slowly, painfully, the people who make decisions in this city are learning just how insufficient their good intentions and contributions are.