The Soccer Stadium Deal Doesn't Add Up
Too rushed, too much money—and Charlotte has bigger needs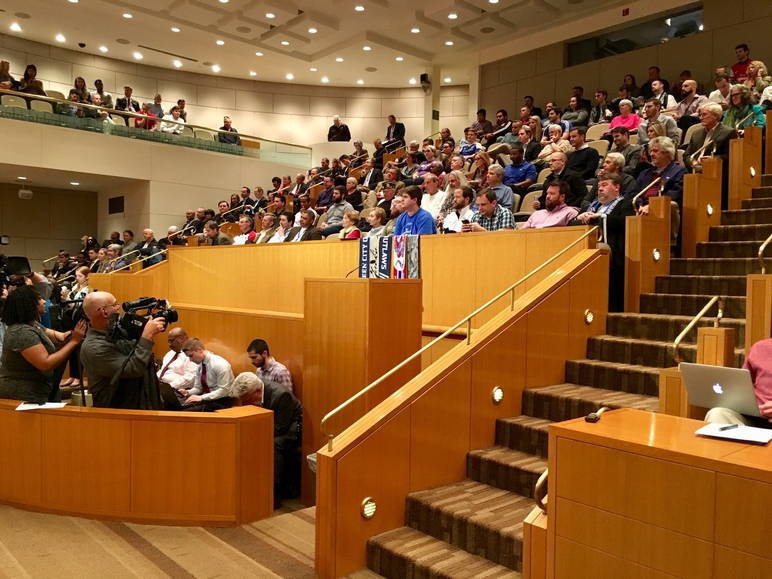 Until late last week, the rushed discussion about whether Charlotte and Mecklenburg County should devote nearly $90 million in public money to a Major League Soccer stadium* centered on the particular and practical: Where should it go? Is it worth tearing down historic, decaying Memorial Stadium and the Grady Cole Center for a new stadium? Is there a market for it?
But then, in a classic example of "the gentleman doth lobby too much, methinks," Michael Smith, the president of the uptown booster organization Charlotte Center City Partners, took the discussion into the worst imaginable arena (from the Observer):
"We really wish we had more time to do this," Smith told the Observer. "To have this kind of a conversation and consider this kind of investment for the community, we would never do it this quickly. However, this is a competitive situation."
Smith also said the new stadium would offer an opportunity to help heal the racial divisions in Charlotte that erupted following the September 20 Keith Lamont Scott shooting by a Charlotte-Mecklenburg Police officer.
"This is a $175 million public project," said Smith. "We as a city were changed last September … This is an opportunity for us to have a really large investment and think through how do we do it differently?" The project could offer chances for worker apprenticeships or greater minority-owned business participation, Smith said.
"We think landing an MLS franchise is nothing short of the the defining accomplishment of our generation," he said.
I don't know how you reacted to that, but I facepalmed hard enough to give myself a mild concussion. (It went national, too, after Deadspin picked up the story.) There's a point to be made about increasing economic opportunity for contractors, etc., but "defining accomplishment" is the kind of stretch that undermines its own point. Worse, it has the effect of insulting a demographic still smarting from the Scott shooting, people who might otherwise be persuaded to support a soccer team. One of the drivers of the post-shooting demonstrations, and one of the subjects we want to discuss in the #discussCLT series, is that community's perception that Charlotte's wealth accumulates in and serves the luxuries of uptown at their expense. Smith's comments, intentionally or not, poured alcohol on that wound.
The county Board of Commissioners held public hearing Tuesday on the soccer proposal. "Major League Soccer fits in Charlotte, and now is the right time," said Marcus Smith, the president of Speedway Motorsports and leader of the group bidding for the MLS team.
That first part's a maybe; the second is questionable at best. If the past six months in Charlotte have revealed anything, it's that this city's public officials have to act now to direct money and resources toward affordable housing, job training, and other necessities that will chip away at Charlotte's glaring income disparity problem.
Michael Smith's comments "seem like cynical and manipulative grandstanding," Charlotte resident Pepper Hair told commissioners. If that's really what he thinks, "then the income inequality that plagues us will only get worse. Wealthy developers have far too much influence in our local politics. It is time for that to stop."
Hair made another couple of keen observations: She said this marks the first time she's ever considered voting against countywide bond packages, because she's not convinced city and county officials would spent the money wisely. (And this is coming from the daughter of the county's first female commissioner, the late Liz Hair.) Also, "This whole process has been rushed and secretive," she said, and it has.
If you're reading this and think there's an argument for the city and county accepting this deal, have at it. Comment below or reach out on social media. That's what #discussCLT is supposed to be about—you know, discussion. Maybe there's something I'm missing. (It's happened before.) But If pro soccer is such a fast-growing sport of the future, as its advocates are fond of citing, then it seems another, more carefully considered proposal will come around when its time and justification warrant the investment. And if we happened to lose an MLS bid to, say, Tampa or, heaven forbid, Raleigh, would we really kick ourselves over the lost opportunity?
*Update, 1/27/17: I wrote this Wednesday. On Thursday, county commissioners voted 5-3 to accept the Smiths' bid and contribute their half of the $87.5 million. The City Council demurred. "[W]hile this is very promising," Mayor Jennifer Roberts said in a statement, "it is clear that we are not prepared to move forward at this time on the current soccer proposal." It remained unclear at week's end whether this would scuttle Charlotte's bid for an MLS team.