The Story Behind All of Those Quonset Huts on Atando Avenue
They hark back to 1940s and '50s America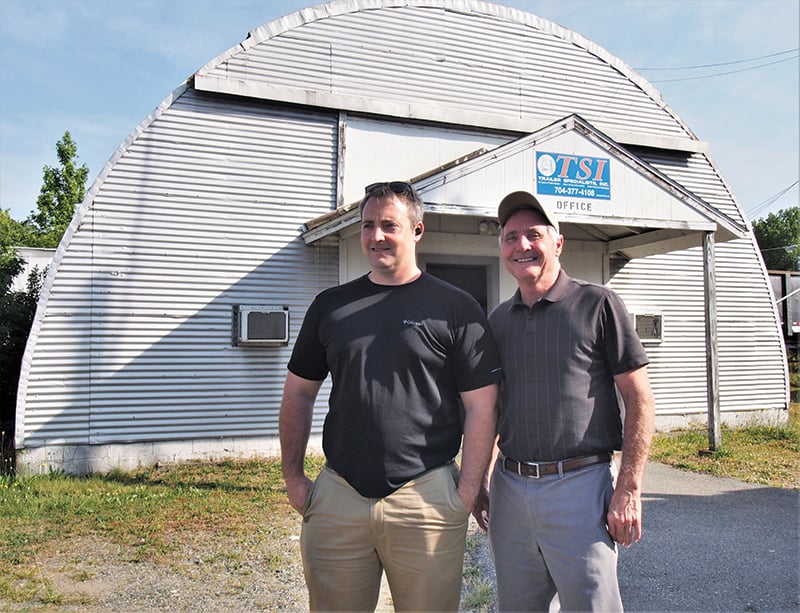 "Do you have any idea why there are so many Quonset buildings on Atando Avenue?" Charlotte photographer Nancy O. Albert wrote me recently. Bored during COVID, she launched a Facebook group called Roadside Carolina. It now has 2,500 members who share photos of backroad buildings and industrial landscapes—including the remarkable constellation of Quonset huts off North Tryon Street near NoDa.
What's a Quonset hut? It looks like half of a tin can cut lengthwise and enlarged to create a building. A continuous curve of corrugated metal forms the sides and roof—a simple but sturdy geometry that requires no interior columns. The Navy developed the design during World War II, when it deployed more than 150,000 Quonsets wherever it needed to set up an outpost, especially in the South Pacific, where the structures stayed stable in gale-force winds. They were first developed and built at Quonset Point Naval Air Station in Rhode Island, thus the name.
I've always admired Quonset huts. Their stripped-down simplicity feels like a workaday counterpart to the "midcentury modern," high-style architecture of the 1940s and '50s. So my eyes lit up when I saw a Quonset hut on my left just as I turned off North Tryon onto Atando Avenue. And another at Ivey Exterminating on my right. Then more at a recycling yard. And still others at Trailer Specialists Inc. up the street.
Nancy Albert's camera fell in love with the Quonsets' parabolic lines, she says: "They defy perpendicular architecture." What's their history on Atando Avenue?
The tale starts in 1946, when businessman Howard R. Biggers platted Atando Avenue as an industrial district. A railroad spur grandly called the Atlantic, Tennessee & Ohio Railroad inspired the street name. A, T, and O—Atando, get it?
Among the lot buyers were two energetic, young WWII veterans. I found a bit of their story in a 1947 newspaper article headlined, "New Quonset Hog House Announced." (That must have been a slow news day.) "When E.H. Newcombe and (K.R.) Shupp got out of the Navy, they decided to go into business together. … In February of this year, they organized Piedmont Steel Buildings Corporation, having secured the Quonset franchise from the Great Lakes Steel Corporation." Aha! There's the Navy connection. And these weren't war-surplus structures, as I'd imagined, but newly manufactured at the Michigan plant that had won the Navy's wartime contract.
Piedmont Steel Buildings indeed would sell Quonset hog pens to farmers, but their client list ranged far and wide. World War II and the Korean War caused a shortage of building materials during the late '40s and early '50s, so lots of local companies bought the pre-fab Quonsets, including Johnson Motor Lines and Interstate Milling. In posh Myers Park, Christ Episcopal Church put up a Quonset for its initial worship services in 1946 (though I'm not sure Newcombe and Shupp sold it to them).
Along Atando, the partners' workers erected a whiskey warehouse for the ABC board, a soft drink bottling works for Nesbitt's Orange, and another for Nesbitt's competitor Orange Crush. By 1948, "twelve different types" of Quonsets faced Atando, reported The Charlotte News. Great Lakes Steel sent all its regional sales staff to visit, declaring Atando "the most compact and diversified" cluster of its kind "along the Eastern seaboard."
Today, at least nine Quonsets still line the Atando corridor. At Trailer Specialists Inc., which has repaired truck trailers since 1979, owner Rick Gibson says the open-span design allows him to efficiently maneuver vehicles in and out. And it's sturdy. "When Hurricane Hugo came through, no problem," he recalls. The 1989 hurricane upended trailers and blew out doors, but, as in the South Pacific, the Quonset hut stayed solid: "Hugo passed right on by."
---
Building History is a monthly series that highlights Charlotte's historic buildings. Tom Hanchett, a local historian since 1981, is the author of Sorting Out the New South City: Race, Class, and Urban Development in Charlotte and former staff historian at the Levine Museum of the New South. Follow him on Twitter at @historysouth.