The Story Behind Boutique Woodshop Cut Chop Serve
In David Rudel's hands, trees headed for the landfill become something beautiful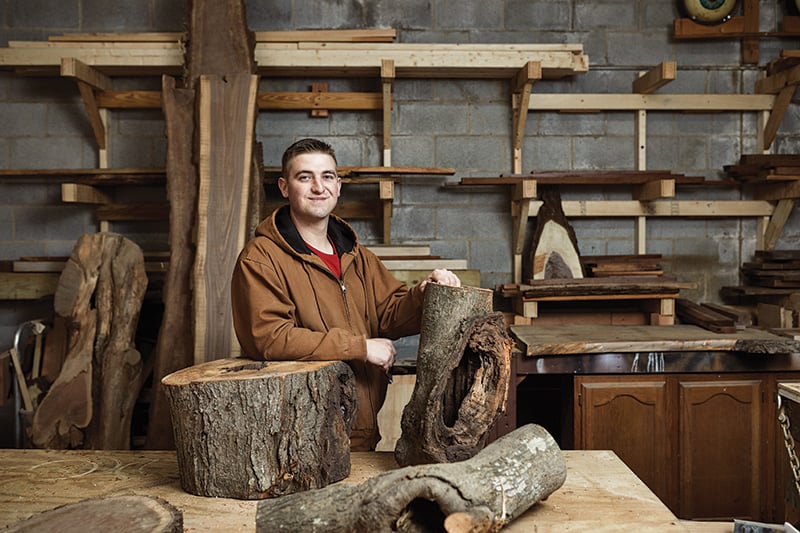 BAHRAIN, KUWAIT, the United Arab Emirates—David Rudel has worked in some of the most important oil countries in the world. Until two years ago, he traveled the globe developing new business for American oil and gas companies. His undergraduate degree from N.C. State's College of Natural Resources equipped him to set up trade shows and events, and he excelled, making connections from Paris to Singapore, and Algeria to Australia. Gregarious and straightforward, Rudel worked hard to open doors for U.S. energy.
But as he approached his 30th birthday, he thought about where his life was headed. "On paper, it looks good," he says, "but I'm helping companies pillage the world for its resources." He stands at a table in his woodworking shop on the west side of Charlotte as warm air wafts from an open warehouse door. "I didn't want to be a part of that anymore." So he turned to a natural resource that had received little attention: scrap wood. He'd make things under the label Cut Chop Serve.
Comfortable in a flannel shirt and work pants, he gestures to a plank of black walnut leaning against the wall. "It's from a tree in Plaza Midwood," he says. Eight feet tall, its uneven edges show chunks of bark—a "live edge." On a shelf close by are stacks of wooden disks cut from the trunk. "Those cookies up there are from that same tree," he notes. Caterers, including his girlfriend, use them to hold candles and food at rustic events. He's also made hundreds of charcuterie planks and flight boards for area restaurants and breweries.
Last summer, Rudel met Charles Read at a Triple C Brewery festival, and they talked about the restaurant Read planned to open in Ballantyne, Queen City Craft & Gourmet. He placed an order for 30 cheese boards and 60 beer and wine paddles made from discarded wood, all of which, Read says, were made in record time. "We didn't want them all to look identical, because we're a craft place," he recalls. "He did a phenomenal job."
Other clients have asked Rudel to turn an old piece of furniture into something new. Scott Banks, a Charlotte engineer and president of White Knight Engineered Products, inherited his grandmother's pie safe in the 1990s and gave Rudel creative license to restore it. The woodworker crafted four serving trays and coasters for every member of Banks' family, incorporating the pierced tin panels from the cupboard's doors.
Banks is pleased with the result: "We've all got this stuff," he says, referring to hand-me-downs from older generations. "You may not want what it was originally, but we all want the memory."
***
SHIFTING FOCUS FROM OIL TO WOOD fits both Rudel's career and interests. "I'd always had a hobby and fascination with woodworking," he says, "and I noticed that there was this supply chain that was quite neglected." He discovered through research that many trees from cleared land go to dump sites. "We're spending fossil fuels on heavy machinery to get the trees, to drive them to a dump site. We're spending money and energy to put them through a tree chipper. The worst part is when you chip a tree and it decomposes, it releases all the carbon it's stored over the course of its life," he says.
Diverting trees from the landfill is gaining advocates in Charlotte, a city known for its canopy. Carolina Urban Lumber in Pineville reports it's kept three million pounds of wood from landfills since it launched five years ago. The city lost about 500 acres of trees between 2012 and 2016, says Erin Oliverio, the tree canopy program manager for the City of Charlotte. Finding new uses for these trees is one way to reduce carbon emissions and make the most of the city's natural resources. It's also on trend, because chunky wood tables and live edge products are popular interior design elements.
Doing work that benefits others is a family tradition. Rudel's parents work in medicine in Winston-Salem, where he grew up. His father is a pioneering scientist at Wake Forest School of Medicine, and his mother is an advocate for patient rights. His two older brothers have had notable careers in teaching and art. "Everyone's had this really positive impact on the world around them," he says. His ambitions are displayed in stacks of cutting boards and long planks of green wood set to dry.
He's intent on being a successful entrepreneur who's grounded in reality—he worked hard to end his first year, 2018, in the black. This may not be the best-paying job on the international market, but for a man who loves to mountain bike and hike through forests, he's doing for trees what animal rescues do for dogs. He's giving them a second life.