The Story Behind Dakshin Indian Grill in Ballantyne
Couple works with software by day, cookware by night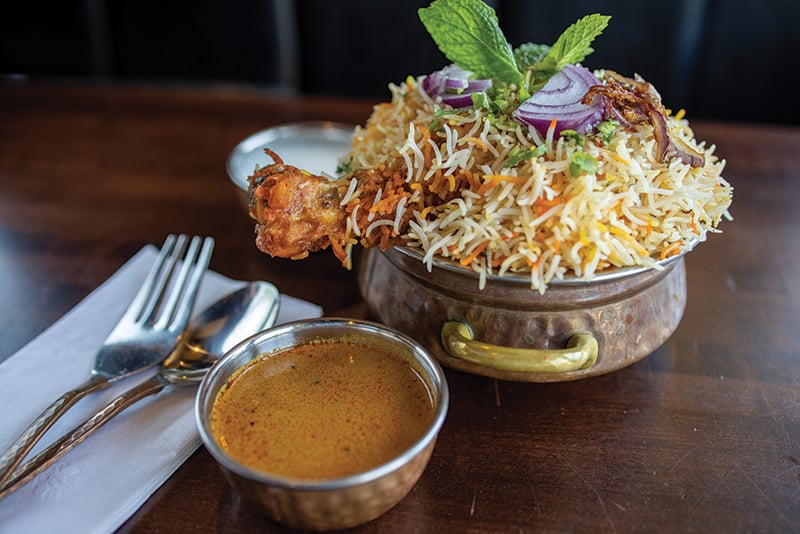 In 2017, Vignesh Boya and Mounica Battula left Visakhapatnam, a southeastern Indian port city on the Bay of Bengal, for job opportunities and a better quality of life in the United States. They earned their master's degrees in computer science from Chicago State University the next year. Boya had visited a cousin in Charlotte and liked the city, so they applied for jobs here—and, within a few months, landed app developer positions at Bank of America.
They were married in October 2019, having accomplished their main goal. They had another: open a restaurant that served the dishes they'd left behind in India. Both describe themselves as foodies. "Good food and conversations with people really get me excited," Boya says, "and the restaurant business was a combination of these two."
A bit of good fortune enabled Boya, 28, and Battula, 27, to buy an established Indian restaurant, Dakshin Indian Grill, in fall 2021. Dakshin, Hindi for "south," occupies 3,500 square feet in The Shoppes at Ardrey Kell, a Ballantyne strip mall anchored by a Harris Teeter and a T-Mobile store. Two of the restaurant owners decided to sell their interest and use the proceeds to start a construction company; Boya and Battula bought them out and joined the other two partners, fellow Indian immigrants they'd befriended.
Neither Boya nor Battula had restaurant experience. But the head chef and one sous chef stayed on, and the new owners hired two additional cooks. They concentrate on the food while Boya and Battula maintain the business. To their surprise, they discovered that running a restaurant requires some of the skills they'd already developed: an ability to think analytically, juggle tasks, and serve customers—"end users" in their line of work. (Boya now develops apps and programs for MUFG Union Bank, and Battula is a software engineer at Wells Fargo.)
"I try to think like our customers would," Boya says. "What would they want? Great food, everything clean, water glasses filled. … It's all about anticipating their needs."
They retained the previous owners' menu at first. But after a few months, they streamlined it to focus on top-selling southern Indian dishes like Chicken Tikka Masala, Lamb Vindaloo, and Garlic Naan. Dakshin serves a variety of vegetarian dishes and several coconut milk-based vegan options. Other menu highlights: Butter Chicken Masala, Shrimp and Vegetable Biryani, and Gajar Ka Halwa, a carrot-based pudding.
Dakshin prepares everything fresh daily, and the chefs use halal meat, prepared according to Muslim dietary law. Dishes make use of ingredients like cumin, cardamom, cloves, and chili peppers and range from sweet to savory to spicy. The spiciness level depends on end user preference, but Boya and Battula say they've been surprised at how many patrons opt for extra spicy. Those who do usually need a palate extinguisher afterward. Mango Lassi is typical of Indian dining, but Dakshin's take on the yogurt-based drink is especially fruity and rich, not diluted as in some other eateries. The restaurant uses only mango pulp, yogurt, milk, and a touch of sugar.
On weekdays, Boya and Battula usually finish work between 5 and 5:30 p.m. Then they head to the restaurant, less than 10 minutes from Indian Land, where they live. The staff is already prepping for dinner service. Boya inventories the refrigerator, reviews catering orders, and makes sure the bar is stocked while Battula greets customers. "We spend most of the day staring at computer screens," Boya says, "so it's energizing to be around people."
ALLISON FUTTERMAN is a freelance writer in Charlotte.