The Story Behind Jewelry-Maker Worthy + Badass
Justine Wiggins crafts delicate pieces inspired by tough times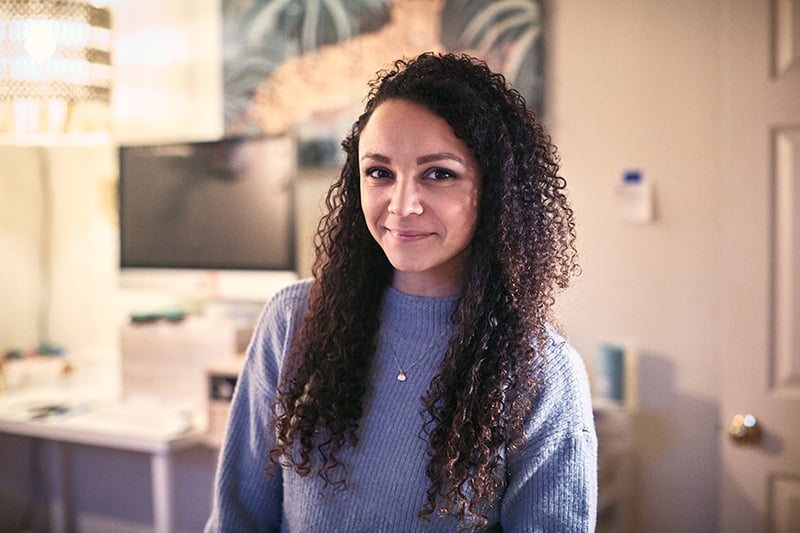 Justine Wiggins creates delicate, hand-stamped jewelry under her worthy + badass brand. But there's a tough, "badass" side to the 29-year-old designer, too. In addition to founding her jewelry company nine years ago, Wiggins serves as a military police officer in the Army Reserve. She met her husband, Michael, at a motorcycle education class. Though she failed the class, which Michael still teases her about, the couple got matching motorcycle tattoos to commemorate it.
The "worthy" part is a nod to her childhood abuse before her aunt adopted her when she was 8. "Because of the things I went through, I didn't believe I was worthy of a lot," she says. "But I believe in turning your monsters into your ministry." She says she hopes worthy + badass serves as "a reminder that all women carry worth innately."
Wiggins discovered a passion for jewelry as a student at East Carolina University, where she crafted beaded bracelets for her friends. ("They were true atrocities," she says with a laugh.) Wiggins taught herself the hand-stamping technique that's become her brand's signature: She uses a hammer and steel stamp to engrave metals like rose gold fill, gold fill, and sterling silver with letters, numbers, and designs.
The collection's minimalist pieces are in dainty contrast to the chunky "bubble" necklace trend of the 2010s. Wiggins stamps small discs or bars with subtle engravings that hang on thin chains. Each makes a statement of its own, but the pieces are designed to layer, too. Some of her best-selling items, which range from $25 to $50, include the hand-stamped worthy + badass disc necklace, hand-stamped cuff bracelets, and customizable initial necklaces. Last year, Wiggins expanded her product line to include coasters, ornaments, and engraved cheese boards, all priced under $100.
Wiggins often finds inspiration on Instagram or Pinterest. "I'm not there to steal someone's idea, but I get inspired," she says. "My best friend calls it a 'bee in my bonnet' moment. I'll run to my laptop because I have to design something or cut it on the engraver."
She also uses her work to bring attention to social justice. After the police killing of George Floyd last year, she created buttons emblazoned with "I Can't Breathe." She's sold nearly 700 and donated the proceeds to The Movement for Black Lives.
Before the pandemic, Wiggins relied on pop-up markets—she attended roughly 100 in 2019—to reach customers and sell her jewelry. Last year, she had to shift all of her business online. Now, she says, worthy + badass products and equipment have taken over her three-bedroom home near Plaza Midwood "If I had to open my oven right now," she says, "it wouldn't happen."
To date, worthy + badass has shipped to all 50 states, Canada, Europe, and South America. The company's footprint continues to expand, but Wiggins says the support from fellow Charlotteans has been essential, particularly during the last year. "The Charlotte community is freaking amazing," she says. "I'm blown away by how people come behind small-business owners."
LAUREN LEVINE CORRIHER is a freelance writer whose work has appeared in Conde Nast Traveler, American Way, Elemental, Charlotte Agenda, U.S. News & World Report, and other publications. Follow her on Twitter and Instagram at @latestbylauren.