The Story Behind Park Road Joint Sir Edmond Halley's
Over 26 years, it's become one of Charlotte's most beloved watering holes—even if you do need a map to find it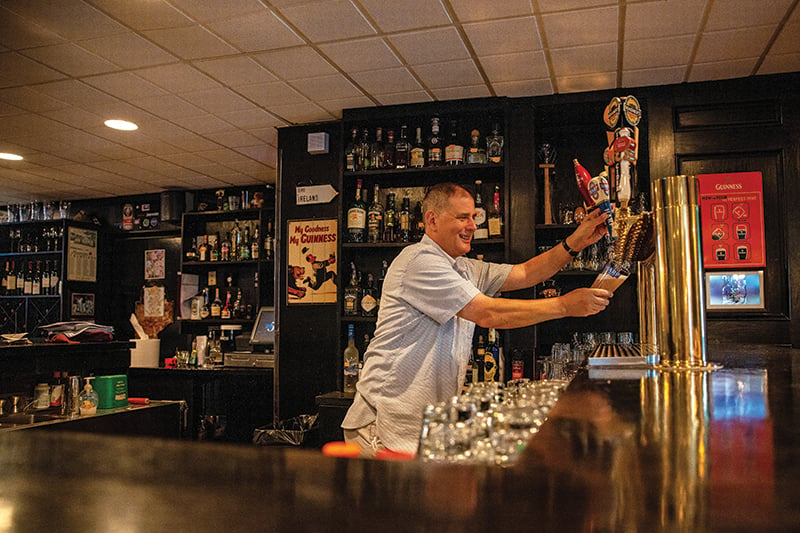 Here in Charlotte, we like to be on a first-name basis with our restaurants. There's Al Mike's—Alexander Michael's in Fourth Ward. There's Leroy Fox, Eddie's Place, Arthur's, and Gus'.
Then there's Sir Ed's. That's one of the ways you know the regulars—they don't bother with the full name, Sir Edmond Halley's. Another way? They know where it is. It may be the least conspicuous restaurant in the city. "The worst thing is, we don't get off-the-street traffic. The best thing is, we don't get off-the-street traffic," says longtime co-owner Svend Deal. "If you're coming, you know what you're going to get."
Sir Ed's has been tucked behind Park Road Shopping Center for 26 years, since before the area was officially named The Backlot, when it was just the place where you dropped off your kids for dance or taekwondo. You have two choices: Drive into the upper area of the shopping center and look for a small sign next to Co, which points down a steep flight of stairs; or go around back into The Backlot—and keep going. Past Amelie's and Dot Dot Dot, past the expanded lower level of Blackhawk Hardware, past Midwood Smokehouse and Flour Shop. Keep going, until you're about to run into the dumpsters, and look under the trestle bridge that runs to The Kimberlee condominiums (where residents have a special key to cross the bridge).
See the green umbrellas on the patio and the half-timbered entrance that looks like the German restaurant it used to be? That's Sir Ed's.
Inside, even at lunch, it's dark and cozy, the kind of place that makes you want to tuck into a pint and a plate of shepherd's pie. Sir Ed's is a faux English pub, right down to the wood paneling and the dart boards. But that's OK, because the real Edmond Halley was a faux lord. He was never knighted, though he made major contributions to science, beyond being the guy who gave his name to Halley's comet. (It's HAL-lee's, not HAY-lee's—tuck that away in case you're there on trivia night.)
When Deal, chef Tobin McAfee, and their friend Jeff Roberts decided to turn the old Bavarian Haus space into an English-style pub in 1996, Halley was right up their alley. But they had to hit on the right name. Deal, who took astrophysics in college, pulled an old textbook from the shelf and spotted Halley.
Halley reshaped astronomy—and more. When Sir Isaac Newton wrote Principia Mathematica, overturning much of the scientific research of the time (including Halley's), Halley put up the money to have it printed. In 1676, when Halley went to St. Helena, the volcanic island in the South Atlantic, he mapped the stars of the Southern hemisphere, which enabled the Royal Navy to navigate. "Tobin looked at me," Deal says, "and said, 'That's the name.'"
***
Navigating the early years of Sir Ed's wasn't always easy. McAfee could be mercurial, and he and Deal often clashed when, for example, McAfee introduced menu items like duck spring rolls and almond-crusted, sushi-grade tuna with papaya pico de gallo. Back when Charlotte wasn't on anyone's food map, McAfee became a regular at the annual Taste of the NFL, traveling all over to cook for football VIPs.
Eventually, Deal went to law school but kept working at Sir Ed's when he could. His law career under way, McAfee bought Deal out in 2002. McAfee had some struggles and closed the restaurant in 2010. Today, he lives in Georgia, and he and Deal remain friends.
But Deal didn't want to close Sir Ed's. It had been his idea. As a young man, Deal had traveled the world playing rugby and noticed the role of English pubs as "a third place," the place between your home and your job, where you hang out with friends. At the time, Charlotte had casual places like Selwyn Pub on one end and high-end places like the Epicurean on the other. "There wasn't much in the middle, where you could get a nice dinner and not get dressed up," Deal says. "That was based on my experiences overseas."
Deal had established his law practice in Tuxedo, North Carolina, but still came to town to see his mother. In 2010, when McAfee closed, Deal put together a small group, including general manager Andy Hollis, to reopen Sir Ed's. This time, they went through all the menus and picked out the bestsellers. He calls today's menu "the greatest hits of Sir Ed's." It includes vegan and vegetarian items, and the cooks make their own beer batter for Fish & Chips.
"We still get a box of fresh cod and butcher it ourselves and batter it to order," Deal says. "I would call it an upscale pub."
***
Sir Ed's has established its own traditions. Take the "staumtisch," German for "stump table," which Bavarian Haus had left in a back room. A big group can hang out there, or strangers can share it and get to know each other. The staumtisch used to have a bell on it, but it kept getting swiped. Sir Ed's finally stopped replacing it. "We can't have nice things," Deal jokes.
Another tradition: The kitchen stays open late, until midnight on Sundays, Mondays, and Tuesdays, until 2 a.m. Wednesdays through Saturdays. Deal says other restaurants' chefs and line cooks often come by after their own shifts to eat.
After a couple of generations, Sir Ed's plans one more big change this year. Deal, whose mother died several years ago, will sell his end to Hollis, who'll be the sole owner. Deal doesn't make it to Charlotte as often anymore, and Hollis is delighted to take over. He was a regular for years before he worked there.
"There were too many places closing. Mr. K's, Price's, Zack's. Legendary places. I couldn't stand it. So I thought, Let's keep this thing going, Hollis says. "I love the atmosphere, the vibe. It's just different. It's different from any place else in Charlotte."
KATHLEEN PURVIS is a longtime Charlotte writer who covers Southern food and culture.