The Story Behind … Sam Allen's Dark Chocolate Silk Torte
Plus: A recipe for her Chocolate Pot de Crème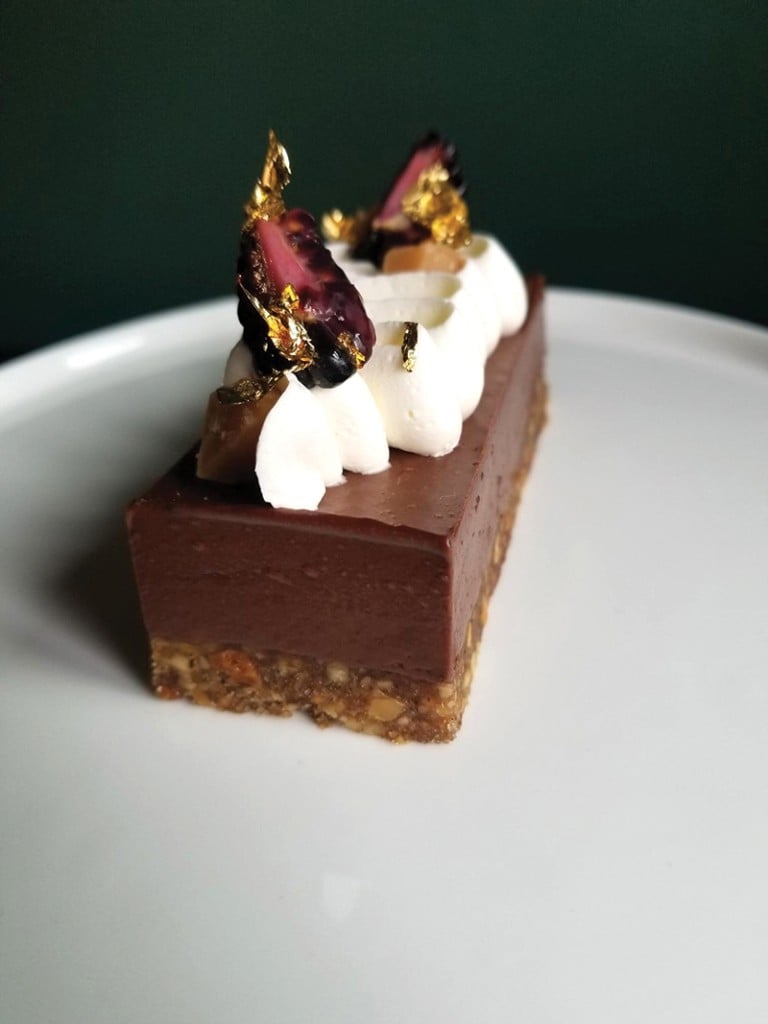 When Sam Allen was pastry chef at The Fig Tree, her Dark Chocolate Silk Torte was a top seller. After she left the Elizabeth restaurant to launch Wentworth & Fenn, customers would track her down at her mobile bakery, and later at her Camp North End storefront, to ask if she still made the popular dessert. Allen decided to make it a fixture on Wentworth & Fenn's menu, but with one caveat: She would vary it each season. "I change the base of the crust to hazelnut in winter, or something lighter like cashews or pecans in spring," she says, "and I always put a different garnish on top." In the fall, she might do a dark chocolate and cherry version topped with candy pearls or edible flowers; for summer, an orange-raspberry variety with sweet drizzle. Last Christmas, she made a Dark Chocolate Peppermint Torte garnished in gold leaf, and this spring she's rolled out a Dark Chocolate Blackberry Toffee Torte. "Every time we switch it up, the appearance gets a little more extra," she says. "Even though it's a singular pastry, it looks like something you would get on a plated dessert in a restaurant."
---
RECIPE:

Sam Allen's Chocolate Pot de Crème

Pot de crème ("pot of cream") is a traditional French custard typically served in ramekins. Sam Allen's dark chocolate version is silky, rich, and easy to make at home.

Servings: 30 (Feel free to halve, or even quarter, the recipe if you want to serve this dessert on a smaller scale.)

Ingredients:

36 ounces dark chocolate, minced

6 cups whole milk

4 cups heavy cream

24 egg yolks

1 cup plus 4 tablespoons sugar

1 teaspoon salt

Directions:

1. In a saucepan over medium heat, whisk milk, cream, egg yolks, sugar, and salt until almost boiling. Cook, stirring constantly, until the mixture is thick enough to evenly coat the back of a spoon.

2. Immediately pour mixture over minced chocolate in a heatproof bowl. Mix until chocolate is melted and evenly distributed.

3. Pour into ramekins and refrigerate until set, at least four hours but ideally overnight.