The Story Behind the Handmade Treasures at Twenty Two West
Mary Hamby creates at her new west side studio and storefront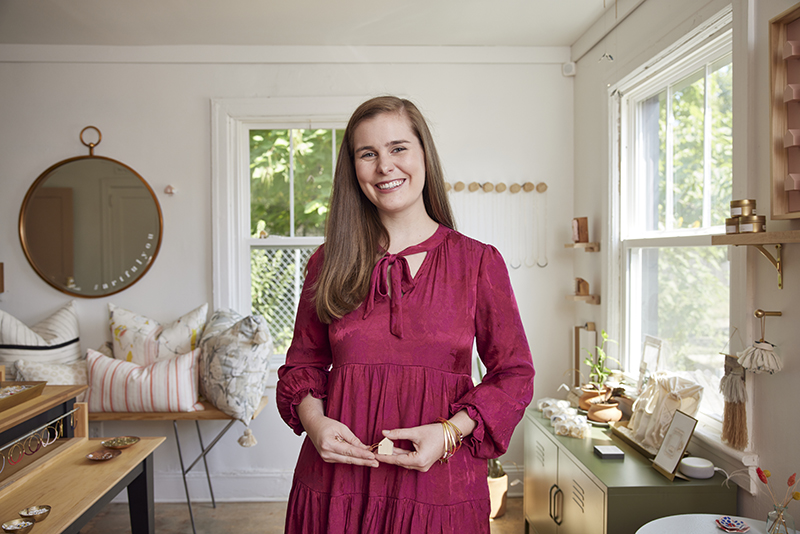 Mary Hamby is thoughtful and unhurried with her words, but her fingers rarely stop moving. "I have busy hands," she says with a laugh. "I literally feel my blood pressure lower when I'm working on something. If you catch me at a coffee shop, I usually have a necklace or hoop earring in my hands that I'm working on."
The 29-year-old Greenville, South Carolina, native opened her first storefront, Twenty Two West, on Tuckaseegee Road in February 2021. The building, which had been boarded up for years, was set to be demolished when Hamby and her filmmaker husband, Daniel, found it. "The landlords believed in me and what I was doing," she says, "and that's what makes the west side so great."
Twenty Two West (the address of Hamby's childhood home in Greenville) began as an online jewelry and home decor business. Hamby, who studied interior design at Carson-Newman University in Jefferson City, Tennessee, made the leap to business owner after an apprenticeship with a ceramicist. "She showed me what it looked like to be a full-time artist," she says. "When I found ceramics, fiber, and metalwork, my hands were like, yes, yes, yes!"
Hamby signed the lease on her first studio in Chattanooga in 2015. "I started with $500 and never took any outside money," she says. For the next five years, she showed her work at festivals and traveled to more than 40 shows a year. She and Daniel lived frugally and poured every dollar back into the business before they established roots on Tuckaseegee Road.
After two months of renovations, Twenty Two West opened as a studio-retail hybrid where customers can find everything from handmade necklaces and napkin rings to pillows and candles. "We sell things in front and make things in the back," Hamby says. "I love helping people understand how it's made."
Today, she employs a team of five artisans who specialize in jewelry, ceramics, and fiber. "I think of myself as the orchestra leader," she says. "We're all musicians working together. It's giggle giggle, work work … that's the soundtrack of this studio."
Most jewelry is under $100, and home decor can go up to $300. A few longtime customers collect Hamby's decorative loom blocks, which she introduced six years ago, and her macramé hoop earrings, which come in a rainbow of colors. Custom pillows with handwoven trim feature reproductions of an original painting, "like a piece of art for the sofa," Hamby says. "I want these pieces to say, 'This is so Charlotte.' You can take home a piece of Charlotte that won't feel like a typical souvenir."
Hamby also sells a series of $10 safety pin houses and donates all sales to Foster Village Charlotte, a local resource center for foster families. "The idea was to create a 'safe house,'" she says. "You can put them on keychains or hang them on a wall as a reminder of these people who need our support. As a small-business owner, it was never just me, and there's that same mentality in foster care."
Hamby looks forward to hosting workshops inside the store and open-air markets in the parking lot, where she'll string up lights and invite local food trucks. As an artist, she says she'd love to master metalsmithing and perfect the tassel necklace she's been tweaking for three years. As a business owner, she wants to continue to create fulfilling, financially stable jobs for people.
"I want to change that stereotype of the starving artist," she says. "One of my greatest joys has been opening creative jobs to other people and giving them a consistent income. I want more people to talk about art as a career."