The Story of Charlotte, Part 10: Fights for Independence
A battle over Sunday blue laws yields to a much larger war after news reaches Charlotte that Pearl Harbor's been bombed. But when that's over and the soldiers return home, racial tensions rise and a new, controversial expressway cuts through east Charlotte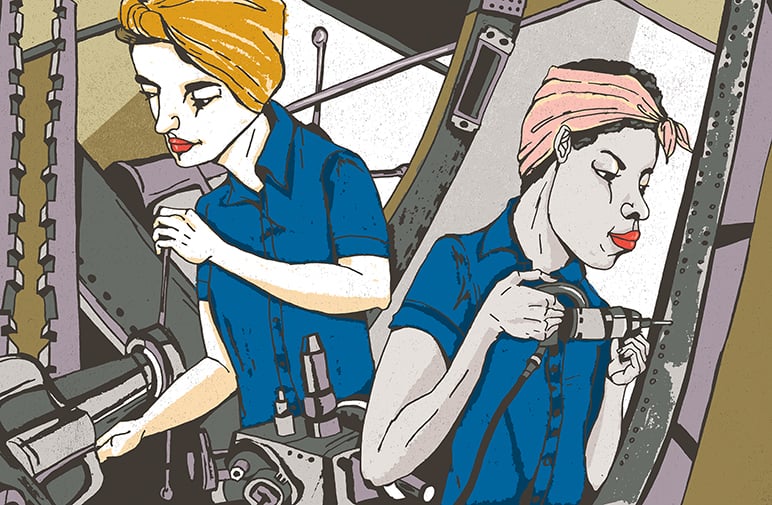 Spring 1941—For W.J. Cash, Sundays in Charlotte are gloomy. Or maybe Cash is just a gloomy guy. From his room at the Frederick Apartments on North Church Street, where he writes anti-Hitler editorials for the Charlotte News and finishes the manuscript for his biting takedown of Southern culture, The Mind of the South, Cash can hear dozens of church bells ring. But he can't walk to the Carolina Theatre for a movie or take one of the new Duke Power buses along the old streetcar lines out to Dilworth for a baseball game at the new stadium. Even the Ivey's Department store on Fifth and Tryon has its shades down to keep passersby focused on church and not the store's window displays. Restaurants, pharmacies, and hotels are about the only businesses open on Sundays. For Cash, life in Charlotte "is one continuous blue law."
Herbert Baxter is less gloomy than Cash, but the Sunday closing laws have him down, too. Baxter, who first came to Charlotte as a soldier stationed at Camp Greene during World War I, speaks with a Boston accent. But he's a good businessman, and in Charlotte, that's what matters. Baxter built a lumber business and joined the city council in 1935. These days, he stays busy gathering signatures for petitions supporting Sunday movies and ball games. He argues with his fellow council members and religiously devout businessmen like Henry Belk who warn against "giving up the Sabbath." Those European countries treat Sunday like any other day, says Belk, and "you see where they are now."
Baxter is so frustrated that he drops his re-election campaign for city council that spring. Soon, though, he'll get some help from The Charlotte Observer and an anonymous source "close enough to Washington," who tells the paper that the new Charlotte Army Air Base on the west side of town might move unless the city gets rid of its Sunday closing law. Soldiers need to "let off steam," the source says. "And if they can't do it at baseball games or movies or some other form of harmless entertainment, they'll do it in the back alleys and the third-rate saloons." And although the military leaders at the base deny the claims made by the Observer's source, the council members seem convinced. In May, they rush through the petition to change the law to allow ball games and movies on Sundays, but only after 1:30 p.m. On June 8, the first day the new Sunday law goes into effect, 6,000 people, including the many soldiers arriving in town, crowd the Carolina Theatre for sold-out shows. The next weekend, about 2,000 people head to Griffith Park in Dilworth to watch the Charlotte Hornets, a Class B farm team for the Washington Senators, beat the Richmond Colts, 11-6.
About 2,000 soldiers trickle into the Army Air Base, which in early 1942 is renamed Morris Field. At the same time, dozens of young men from Charlotte leave for Fort Bragg. Some are volunteers, but most are selected in the reinstated draft. The fall will bring thousands more to North Carolina as the Army prepares for war. The Carolina countryside becomes the backdrop for a massive war game. About 300,000 soldiers face off against each other in a mock war set in the hundreds of thousands of acres between Fort Bragg and Fort Jackson, South Carolina, near Columbia. On the weekends, the soldiers stream into Charlotte to catch a movie and let off that steam the anonymous source mentioned. A group of soldiers from Fort Bragg drives into town in a hearse. Scrawled into the dust and grime on the back windshield, "We Ain't Dead—YET!!" With soldiers pouring into Charlotte, the city sets up tents in the parks and the Charlotte Theatre opens its doors all night so the men have a place to sleep.
On November 26, the war games march into Charlotte. A cavalry unit and a Jeep and motorcycle unit meet each other at the corner of Providence and Queens. As they fire blanks and hurl smoke bombs at each other, residents pour out of their homes to watch the horses gallop through flowerbeds and the motorcycles zip through alleyways. A newspaper deliveryman finds himself in the middle of the action. "[It's] better than a movie," he says.
***
ABOUT 8,000 FANS fill the stands at Memorial Stadium on Sunday, December 7, to watch the city's first professional football team—the Charlotte Clippers—play the Norfolk Shamrocks in the Clippers' inaugural season as part of the Dixie Football League. The team is pretty good for a start-up; it's on its way to a second-place finish. Just before kickoff, an announcement comes over the crackling speakers: "All servicemen report back to your bases immediately. This is an urgent message. The United States of America has been attacked by the Japanese. Pearl Harbor has been bombed."
By dinnertime, newsboys hawk special sections with block headlines announcing "WAR!" on uptown street corners. Those who haven't heard are stunned. Some get hysterical, and the police department is deluged by calls from people who want to know if the water is still safe to drink. Meanwhile, a busybody reports seeing a "Japanese man" prowling around town in a blue car with California plates.
As the war heats up, uptown goes dark. The neon show lights at the Carolina Theatre and the bright lights in department store windows are shut off, part of a partial blackout over fears of a German air strike. "I wouldn't be surprised to see [the Germans] attempt a raid upon Charlotte," former mayor Ben Douglas says as the city prepares for its first air raid drill in the spring of 1942. When the federal government announces gasoline and rubber rationing, counterfeit gas coupons become a lucrative business. Lang's Service Station uptown sells so much illegal gasoline that the police shut it down.
More and more men are leaving Charlotte as the draft expands to include married men and men with children in 1942 and 1943—a total of nearly 12,500 are drafted from Mecklenburg County alone. That means more and more women start working in factories and as woodworkers and welders. Dot Cornwell, an 18-year-old from Lincolnton, takes a two-hour bus ride both ways from her home to the new shell-loading plant the U.S. Rubber Company has built near Pineville. There, she and thousands of others, mostly women, load anti-aircraft missiles into casings in around-the-clock shifts for almost $30 a week—twice what Cornwell has been making as a dime store clerk in Lincolnton. Because the plant has a contract with the federal government, it honors an antidiscrimination requirement, which means blacks and whites work side by side for equal pay.
Out at the old Ford plant on Statesville Avenue, the Army sets up its Quartermaster Depot, where workers load and unload trucks and trains full of blankets and uniforms and other supplies for far off battlefields. As the war drags on in 1944, the trains bring grimmer cargo—the bodies of thousands of soldiers make their last stop until being shipped home after the war to crowded city train stations and desolate rural depots, where grieving families await them.
On August 14, 1945, after the atomic bombs have destroyed Hiroshima and Nagasaki and Japan's surrender seems inevitable, Charlotte celebrates. Office workers on the high floors of uptown skyscrapers dump confetti onto Tryon Street, where drivers honk their horns and "a mass of milling humans" shouts and whistles on the sidewalks of the Square.
***
LUCIEL MCNEEL welcomes the end of the war, but not the end of her job at the shell plant. She knows she and the other black women there will have to "go back out into segregated society making $3 a week." The jobs available—"domestic work, washin' silver at Honey's Restaurant, pickin' up dishes"—don't compare.
Many black veterans, returning from decent wages and better treatment in the military and other areas, also find the transition to "segregated society" difficult. The city has made some concessions to leaders like Brooklyn neighborhood minister Nathaniel Tross and Charlotte NAACP leader Kelly Alexander. Back in 1941, the Charlotte police force hired its first black officers since Reconstruction. Of course, they're only allowed to patrol Brooklyn and other black areas, and they can only arrest black suspects. They don't have full pay, either. Even the new Freedom Park on the edges of Dilworth, which opened in 1948 after being built to supposedly honor the sacrifice of all veterans, is off limits to blacks—except for black men who were laborers and women who were nannies with white children.
As the economy picks up after the war, Charlotte is increasingly divided. To the south, developers build a new subdivision that draws in white veterans and their G.I. Bill mortgages. Out Beatties Ford Road to the west, neighborhoods like Oaklawn Park and University Park offer new homes for blacks.
In the old Brooklyn neighborhood, the streets are still unpaved and many of the small wooden shacks use coal and wood-burning stoves for cooking and heat. Off McDowell Street near Little Sugar Creek, a smoky haze fills the air, earning the area the nickname "Blue Heaven." When the federal government announces new grant programs for "smoke abatement and slum clearance," Charlotte leaders make quiet plans for major changes to the neighborhood.
In 1949, a new six-lane expressway, Independence Boulevard, brings cars and trucks and buses through Brooklyn, then north past Memorial Stadium and on to the east. It slices through the Chantilly and Elizabeth neighborhoods, where rose gardens and houses and schools once stood. East side residents have been mad about it since the plans came out in 1946. They say the new road cuts through their old neighborhoods in order to steer clear of Myers Park. Then, they say, it cuts across Elizabeth Avenue near some businesses and land that former Mayor Ben Douglas just happens to own. "Isn't it a little absurd," asks lawyer Frank Sims at a tense city council meeting in October 1946, "to build a highway that winds and twists and turns across a park and baseball diamond and over a rose garden and through a thickly populated residential section just to reach Ben Douglas's property?" But there's not much residents can do. Mayor Herbert Baxter and his Chamber of Commerce friends chose the expressway's route through Elizabeth over dinner at the Myers Park Country Club one night in 1946. And though city leaders offer a different route cutting across Randolph Road and the Eastover neighborhood, the federal government decides that route is unsuitable for an expressway.
Downtown is a little quieter now as shop owners take their stores to suburban shopping centers along the new expressway or to former farmland just south of town. Not far from Independence, in an old house on Elizabeth Avenue strewn with books and papers, a rotund man sits at a typewriter chomping on a cigar and pecking at the keys. Harry Golden, real name Herschel Goldhirsch, works on this week's edition of the Carolina Israelite. The newspaper, made up mostly of Golden's jokes and thoughts and memories of childhood in New York City, makes barely enough money to keep the lights on. The Civil Rights movement grows in the 1950s. In Charlotte, black veterans attempt to desegregate the parks in the early 1950s. Protests and demonstrations increase after the Supreme Court's 1954 decision banning "separate but equal" public schools. And Golden's influence grows along with the movement.
Golden's satirical "solutions" to segregation leave readers red-faced with laughter or anger or a strange mixture of the two emotions. They include the "White Baby" plan, which would use the loophole that allowed black nannies to enter whites-only parks and theaters by borrowing white children to accompany them. His 1956 "Vertical Integration Plan" gets the most attention, earning Golden regular spots on national TV and the Carolina Israelite thousands of new subscribers. "The white and Negro stand at the same grocery and supermarket counters. … It is only when the Negro 'sets' that the fur begins to fly. … I think my plan would not only comply with the Supreme Court decisions but would maintain 'sitting-down' segregation. … All the next [General Assembly] session needs to do is pass one small amendment which would provide only desks in all the public schools of our state—no seats. … [Students] are not learning to read sitting down, anyway; maybe standing up will help."
As funny as Golden's commentary is, the backlash to the Brown decision and Civil Rights protests is serious. On September 1, 1957, the Visulite Theater shows Island in the Sun, which includes two interracial love stories. Meanwhile, the Charlotte city schools prepare to register for the first time a small group of black students at all-white schools. The Ku Klux Klan pickets the theater and backs down only after a tense standoff with Police Chief Frank Littlejohn. Later that day, Klan leader John Kasper and his White Citizens' Council come to Charlotte to fight against school integration. Kasper shouts inflammatory language, trying to incite the city's white citizens to rise up against the school board. Even native son and televangelist Billy Graham earns Kasper's scorn for integrating his crusades back in 1953.
Three days later, 15-year-old Dorothy Counts walks up the sidewalk near Harding High School. Surrounding her, a crowd of 200 angry white students, urged on by parents, hurls rocks and sticks at her feet while screaming racial slurs. "Spit on her, girls," shouts one mother and member of the White Citizens' Council. After teachers ignore Counts in class, students break the window of her brother's car, and her parents receive threats of violence, Counts withdraws from school.
Photos of Counts walking through the mob make the front pages of papers throughout the world. The writer James Baldwin, in self-imposed exile for years in France, sees her face on a Paris newsstand. He decides it's time to come back to the South to help. It's not the type of publicity Charlotte wants. Still, the desegregation movement advances slowly over the next few years. By 1960, only a handful of black students have attended formerly all-white schools in Charlotte.
In 1961, the school board announces plans to build a new Harding High School and convert the old Harding into an all-black junior high school. Reginald Hawkins, a dentist, minister, and activist, along with his newly formed Mecklenburg Organization for Political Action, calls for parents to boycott the school until the school board announces desegregation. "We can't send our children to school when they're sick," Hawkins says on the eve of the 1961 school year. "So on Tuesday morning, let's everybody be sick—sick of segregation and hand-me-down-it-is." And even though the NAACP denounces Hawkins' tactics, preferring a behind-the-scenes approach to desegregation in the courts, he gets results. After nine days in which half the seats at the new junior high are empty, the school board agrees to limited desegregation beginning in 1962. For Hawkins, though, there's more work to be done. The hospitals are still segregated, with black patients confined to the outdated Good Samaritan Hospital, built in 1881. On May 20, 1963, the anniversary of the Mecklenburg Declaration of Independence, Hawkins leads hundreds Johnson C. Smith University students, who are carrying signs and chanting slogans, to the Mecklenburg Courthouse steps. "We want freedom," Hawkins says, "and we want it now."
Meanwhile, in the Brooklyn neighborhood in Second Ward, where hundreds of black families have lived and worked and built businesses for three generations, the bulldozers are busy.
Chuck McShane is a frequent contributor to this magazine and the author of A History of Lake Norman: Fish Camps to Ferraris. Contact him at chuckmcshane@gmail.com. On Twitter: @chuckmcshane.