The Story of Charlotte, Part 5: Blood's Bedroom
Charlotte avoids becoming a battlefield during the Civil War. But as the South is decimated, the city becomes a place of refuge for the Confederacy—including, in the end, the fleeing president from a nation that never was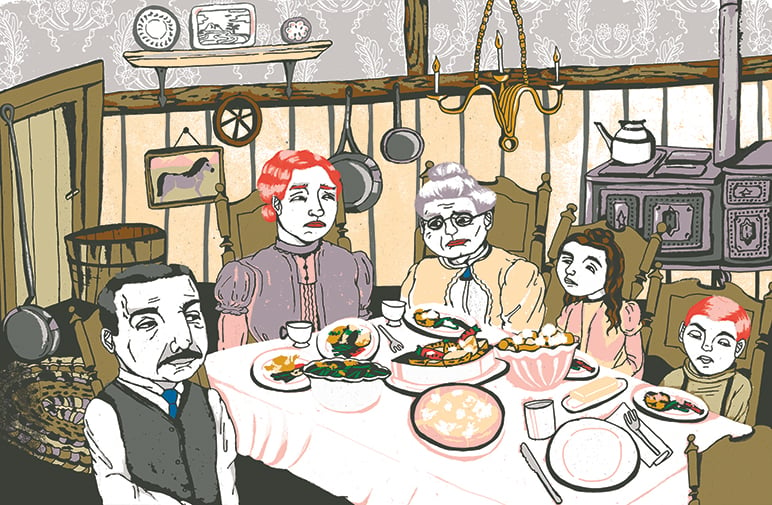 Last year, Mecklenburg County celebrated its 250th anniversary. This year, Charlotte magazine is looking back at life in the region through the years. From Charlotte's beginnings as a rural crossroads to its current status as a major U.S. city, this 12-part series traces the city's growth and highlights some of the turning points that made the city what it became.
Spring 1861—The mood in Charlotte is giddy. In town and around the county, farm hands and shop clerks rush to recruiting stations at churches and schools. They are boys and young men in their late teens and early 20s. One militia group, the Charlotte Grays, marches into the U.S. Mint on Trade Street. The federal officer there gives up without a fight. If the rest of the war is this easy, the recruits think, they'll be home by Christmas. The newspapers and town leaders agree. They boast of a confident and powerful South and weak Union forces that will soon surrender. "The war spirit will soon subside with them," the Western Democrat predicts of the Northern troops now assembling in Maryland and Maine. "And it will not be long before they will gladly acknowledge the independence of the South."
One voice is less certain. General Daniel Harvey Hill, the principal and professor at Charlotte's North Carolina Military Institute, knows war. He served with distinction in Mexico 15 years ago. Hill is no fan of the Yankees. He even mocks Northern soldiers in word problems in the math textbook he writes: "Two Indiana volunteers ran away from the field of battle at the same time. One ran half a mile per hour faster than the other …" one of the questions begins. But Hill knows war is no joke. And it won't be fun. "Recruiting sergeants, with their drums and fifes," Hill writes of recruiters on both sides. "…never allude to the hot, weary marches, the dreary night-watches, the mangled limbs, and crushed carcasses of the battle field."
If the cadets have read Hill's warnings, they don't pay much attention. On April 26, the young men march north through the city to the train depot. The governor has called all Charlotte troops to Raleigh for more training. Crowds gather along Tryon Street to wish them well. The women of the town present the regiments with flags and make speeches praising the young men's bravery. Among the Charlotte Grays, 19-year-old Louis Leon marches proudly in his clean, pressed uniform. To Leon, the war seems almost like a paid vacation, a break from work as a clerk at Jacob Rintels' Tryon Street clothes store and a chance to explore the South after a boyhood in New York City. The train to Raleigh is a trip of "joy and pleasure. At every station where our train stopped, the ladies showered us with flowers and Godspeed."
For Leon, the first sign that this trip is no vacation comes when he's assigned sleeping quarters in Raleigh—the horse stables. "We all thought it a disgrace for us to sleep in such places with our fine uniforms," he writes in his diary. Another shock greets him a few weeks later when he gets his work assignment in Yorkmont, Virginia—shoveling trenches for training exercises. "To think of the indignity … I never thought that this was work for soldiers," he writes in his diary. Along the way, harsher shocks meet the young soldiers. Private James Hudson catches pneumonia in Raleigh. He dies on May 11, before North Carolina has officially seceded.
Hudson is Charlotte's first casualty in the Civil War.
***
Back in Charlotte, the newspapers mock U.S. President Abraham Lincoln, painting him as an evil mastermind or a blundering drunk. One week, Lincoln's the "chief of pirates." The next week, he's that "Illinois baboon." The papers urge Charlotte shoppers to boycott Northern goods and cut back on luxuries to support the North Carolina troops. "Let our people plant corn," the Western Democrat urges in May 1861. "Let them stop wearing silks and satins. … Let them stop buying Northern goods of any and all kinds. Let them wear jeans and homespuns as their ancestors did before them." That winter, the Democrat asks subscribers in the colder mountain counties to stock up on ice so the state can avoid paying Northern traders for it when the weather warms. "We shall have no more of the Northern commodity. … Even if peace could be made, which is very uncertain, we ought never buy anything of the North, even that only product in which they [outproduce] us and which is as cold and hard as their own wintry natures."
As poetic as the calls for sacrifice can be, they won't be necessary. By the end of 1861, Union troops have blockaded Confederate ports. Sugar and coffee disappear. Some stores close and others stop offering credit. Merchants take out ads announcing their stores accept "cash and cash only." Prices skyrocket and food of all kinds is in short supply. Newspapers switch to cheaper ink. "Hard times is the cry at every corner," one local paper remarks. Charlotteans have no choice but to sacrifice.
Throughout Mecklenburg County, chairs at farmhouse family tables sit empty. The classrooms at the North Carolina Military Institute are silent. The students are off at war. On the northern side of the county, Davidson College struggles to hold classes because so few young men remain. Throughout Mecklenburg, 921 men have left for war by 1862. "The town is really deserted," Mecklenburg Iron Works owner John Wilkes writes in August 1861. "Day after day adds to the absentees."
It won't stay that way for long.
***
As the war approaches its second year, Charlotte women gather to sew cloth for winter uniforms and blankets and bandages. "No lady should be satisfied with herself if she does not devote one half her time towards assisting in the manufacture of the necessary amount of clothing for our soldiers," one Charlotte woman writes. Others start hospital associations and nurse the growing number of wounded soldiers returning on railroad cars each day. The "Colored Ladies of Charlotte" offer a $25 donation to the war effort, but still the gift won't prevent town leaders from putting even more restrictions on slaves and free blacks. A new ordinance requires free blacks 12 years or older to appear in front of the mayor so he can assess their "peaceable character and industrious work habits."
In March 1862, 300 miles away, Union naval forces build up strength in the rivers around the Virginia Peninsula, east of Richmond. The Confederate Naval base in Norfolk doesn't stand a chance, and the Confederate Navy captains and admirals know it. They start scouting locations far away from the battles on the coasts but easily accessible by railroad. Less than a decade after the first train arrived in Charlotte, the town is now a railroad hub with three connections. Wilkes, whose Iron Works is along the railroad tracks in downtown Charlotte, is a former Navy man himself. In fact, he was once shipmates with the two Confederate captains in charge of finding the new Naval Yard. When those captains visit Charlotte, they decide to buy Wilkes's property. In May 1862, Norfolk surrenders to U.S. forces and the trains roll out of town, heading here with steel and steam hammers, lathes and other tools for weapons and engines. Workers soon follow. About 300 crowd into newly built wooden houses in the city's First Ward. Locals dub the new neighborhood "Mechanicsville" for all the machinists and foundry workers now living there.
The Navy Yard billows smoke as workers make marine engines and anchors and propellers for navy ships at far off ports. Other industries spring up near the railroad as struggling merchants seek government contracts to cope with their business losses. The Confederate States Acid Works smells of sulfur as workers make telegraph batteries. Out along the Catawba River in the western part of Mecklenburg County, workers at the Rock Island Woolen Mill weave uniforms and the North Carolina Powder Manufacturing Company stores gun powder for cannons and other explosives.
More newcomers pour into Charlotte. Desperate refugees flee battle-scarred countryside in Tennessee and Virginia. They fill hotels and attics in town and barns and fields in the country. As the fighting intensifies, more and more wounded soldiers stop at the Wayside Hospital constructed along the railroad tracks uptown. "The town is about all filled up, and it is almost impossible to accommodate more," advises the Western Democrat in May 1862.
Healthy, traveling soldiers are sometimes more difficult to deal with. One drunken Georgia regiment steals "everything they could lay their hands on," local boy Dandridge Burwell writes in a letter to his brother. "It is said they would jerk your hat off and walk off with it."
Some locals are tired of war. In the counties surrounding Mecklenburg, many residents call for peace and reunion, especially after the Confederate government's Conscription Act of 1862 requires every white man between 18 and 35 to enlist in the Confederate Army. Every white man, that is, who doesn't own 20 or more slaves or can't afford to pay a poorer man to fight in his place. One bitter letter writer from Charlotte, a man calling himself only "Confederate," lashes out at the wealthy war-dodgers, calling them "that class of political leaders and speechmakers who promised the people peaceable secession, and if there was any fighting, they would do it. … They are at home, and now that they have urged their neighbor's children to fight, they refuse to go and stand by them."
Charlotte railroad man William Johnston, an early secession supporter, remains at home. In fall 1862, he runs for governor against Asheville lawyer Zebulon Vance.
Although Vance is a colonel in the Confederate Army, on the campaign trail he takes issue with Confederate President Jefferson Davis's suspension of civil liberties during the war effort. Helped by an endorsement from Raleigh newspaper editor William Woods Holden, Vance crushes Johnston 58,070 to 14,491. But Mecklenburg County is still a secessionist stronghold, and the county supports Johnston, 1,335 to 425.
***
In 1863, railroads and newspapers bring nothing but bad news from the front lines. The daily papers carry a new column, "The Killed and Wounded." It's a steady parade of suffering—"Killed: … Privates WS Deal, FT Clodfelter. Wounded: Sergeant G.W. Condry two fingers off." After Confederate losses at Vicksburg, Mississippi, to the south and Gettysburg, Pennsylvania, to the north, more wounded arrive here. So many come that a second military hospital rises on the Charlotte fairgrounds—large enough for 500 beds. Disaster strikes closer to home in May when 700 pounds of power explode at the North Carolina Powder Manufacturing Company along the Catawba. The blast kills five people and is so strong it rattles windows 10 miles away in Charlotte.
Lincoln issues his Emancipation Proclamation at the beginning of the year, but it does little for the slaves here in North Carolina. Slaveholders still run ads for buying and selling or offering rewards for runaway slaves. The Confederate government even announces its plan to "impress," or draft, slaves to work on forts along the coast. North Carolina farmers start to resent the Confederate government's "impressment" policies. The Confederates announce that farmers will be required to give 10 percent of their produce to the government to feed the troops. More food shortages mean higher prices. Up in Salisbury, a group of women angry over the high prices for flour and molasses loot the town, breaking down one shop door with hatchets to carry off 23 barrels of flour.
In the Long Creek community in northwestern Mecklenburg County, Thomas Gluyas, son of a Cornish immigrant gold mine supervisor, tries to organize a "peace committee." Charlotte leaders, though, announce at a meeting in late August that they remain committed to the "justice of the [Confederate] cause." The Charlotte Bulletin calls peace advocates the "scum of society." By early 1864, the depleted Confederate Army drafts soldiers as young as 17 and as old as 50.
The soldiers grow tired of war, especially as it becomes clear that Union forces are too powerful to beat. Confederate deserters lurk in the woods or flee to their homesteads and farms. One night in December 1863, two suspected deserters rob a local farmer at gunpoint.
In November 1864, news reaches Charlotte that Union General William Tecumseh Sherman and his 62,000 troops have burned the warehouses in Atlanta and destroyed that inland city's railroads. Sherman and his troops head for Savannah, Georgia, leaving a trail of smoldering homes and slashed fields behind. He reaches Savannah that winter. The Union decides now is the time to break the Confederacy's will. So Sherman turns north for South Carolina. What better place to break the rebels than in the state that started the war?
A steady stream of refugees flees the South Carolina countryside in winter 1865. Desperate and starving, they flood Charlotte, arriving in wagons on the railroads and by foot. The Western Democrat writes, "It is almost impossible to obtain shelter. … Go to some other place than Charlotte." But hundreds more arrive after Sherman sacks Columbia. "We are importuned every day to take Boarders," a Charlotte woman writes. "I hate to hear the bell ring."
As rumor spreads that Sherman is headed for Charlotte in February 1865, more flee westward to Lincolnton. Sherman moves east toward Fayetteville, but not before his troops destroy miles of the Charlotte and South Carolina Railroad north of Columbia. The severed line cuts Charlotte off from mail service. So many Confederate soldiers—2,600 at Bentonville alone—are wounded in eastern North Carolina battles during the spring that Charlotte shopkeepers convert parts of their stores into makeshift hospitals as the wounded arrive by train on the still-intact North Carolina Railroad.
By April 1865, the war is all but lost for the Confederacy. Jefferson Davis retreats from the Confederate capital in Richmond, Virginia, and heads south toward Mississippi, where he was raised. A spattering of Confederate officials follows. On April 9, Robert E. Lee and the Army of Northern Virginia surrenders at Appomattox Court House. Ten days later, on April 19, Davis arrives in Charlotte. With Union troops lurking on the western side of the Catawba, most Charlotte residents are afraid to take in Davis. Lewis Bates, a Massachusetts native and telegraph agent, offers Davis a room.
While Davis stands on the front porch at Tryon and Fourth streets, someone hands him a telegram. It carries news from Ford's Theatre in Washington. President Lincoln has been shot and killed.
Davis walks into Bates's house.
"I certainly have no special regard for Mr. Lincoln," Davis says to Confederate Navy Secretary Stephen Mallory. "But there are a great many men of whose end I would much rather have heard than his. I fear it will be disastrous for our people…"
Chuck McShane is a writer in Davidson and a frequent contributor to this magazine. Contact him at chuckmcshane@gmail.com. On Twitter: @chuckmcshane.