The Surprising Love Story Behind August June Desserts
In three years, Natosha Fleming got married, had a child, and filed for divorce. Now the desserts company founder and ex-husband Ryan are back together and taking their time, in business and in love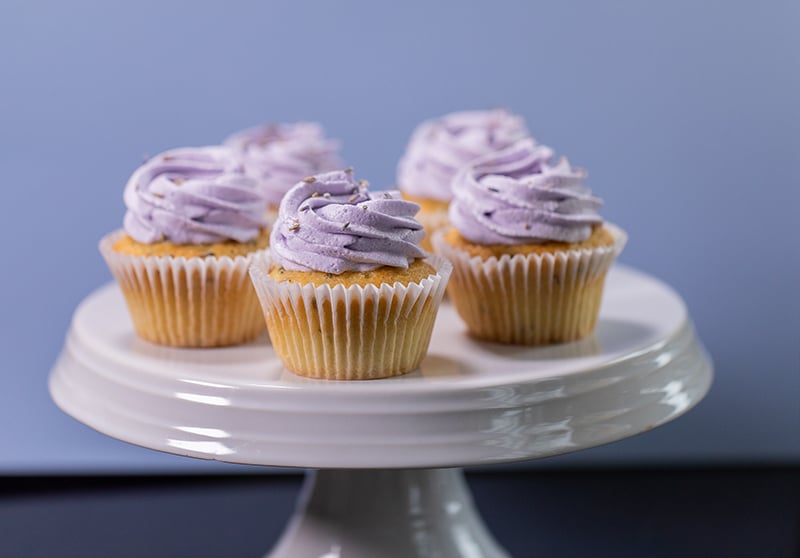 IT'S SUNDAY AFTERNOON, and Natosha and Ryan Fleming sit at a picnic table with their teenaged son, Ryan Jr., in Optimist Hall. It's been a long day, and their little band is tired.
"I didn't really sleep last night," Natosha confesses. She stayed up to make sample cakes for an appearance on a morning talk show, but the icing on one of the centerpieces refused to cooperate. Though tastier than traditional fondant, it was less pliable for designing. After several do-overs, she hand-painted a stained glass effect on the cake and headed to the TV station before the sun was up. Afterward, she took part in an expo, with Ryan and Ryan Jr. pitching in until late afternoon.
As they pause to enjoy some gelato, the couple relates the story of how they fell in love, lost each other and, with the help of her dessert studio, found the sweet spot in their relationship.
***
TWENTY-FIVE YEARS AGO, Natosha was a sophomore at Hampton University in Virginia. Just five feet tall, she cut a petite figure, with a youthful baby face. Her Bahamian father, "Crab," known for his culinary skills, had introduced Natosha to the kitchen. But she saw it as just a hobby and pursued a degree in marketing.
Ryan grew up in Alexandria, Virginia. His mother attended North Carolina Central University and wanted him to continue the legacy. His great-aunt also lived nearby and could keep an eye on him. "I didn't want that," he says with a chuckle, shooting a mischievous glance across the table at Natosha. Instead, he became a Hampton Pirate.
Though he and Natosha shared a major, they didn't meet until their sophomore year in an 8 a.m. calculus class that "everyone was failing," Ryan says. "I thought a pretty face could help me stay focused on the material, or at least motivate me to not embarrass myself." Natosha agreed to be his study buddy, and they became friends over late-night trips to the Burger King near campus. But they were never unattached at the same time, and after graduation in 2001, they lost touch. Natosha moved to Georgia for a job, and Ryan returned to Alexandria.
A few years later, they ran into each other at homecoming and exchanged phone numbers. This time, both were single, and their renewed friendship grew. "I'd go to Georgia or she'd come to Virginia," Ryan says, "or we'd split the difference and meet halfway in Charlotte." Their courtship lasted a year, and Ryan proposed over a Thanksgiving visit.
Six months later, they were married and living in Charlotte. Both worked for temp agencies until they found permanent jobs; they spent many nights eating hot dogs for dinner and watching Degrassi High. On the weekend of their one-year anniversary, Natosha and Ryan brought Ryan Jr. home from the hospital.
"We only knew a few people in Charlotte, and we didn't have a lot of family here," Natosha says. "We didn't see them often." With two full-time jobs, she and Ryan didn't see much of each other, either. Their relationship flatlined.
In 2014, Natosha asked for a divorce, and Ryan moved to Rock Hill to be closer to his job. "Regardless of what was happening between us, we knew we had to keep (Ryan Jr.) stable," he says. "There were a lot of hurt feelings," Natosha adds, "but Ryan's always been a great dad, always a provider and present. That didn't change."
***
DISAPPOINTED AND LOST, Natosha returned to her love of baking. She binged on cooking shows like Cupcake Wars and took cake-making and decorating classes. She began sharing small trifles and cakes with family and friends, and soon she was baking for weddings and private parties.
In 2010, she founded August June Desserts, which she named after her and Ryan Jr.'s birthday months. At first, she offered traditional Southern cakes: red velvet, lemon, and carrot. She researched ingredients and compared five or six different recipes to achieve the right texture and flavor. "Cake can make or break an event," she says. "It's a savory and visual experience. If the cake's not good, guests are going to remember."
By 2015, she had bought a new home with a larger kitchen where she could create more intricate custom cakes, like a turntable with a crate of records. Soon, her personal style emerged: minimalist, with unexpected flavor combinations and pops of whimsy.
She's also developed a line of signature flavors for both sweet and savory cupcakes. The most popular is her lavender-honey cupcake, with its delicate but decadent flavor. Savory flavors include rosemary, cilantro, and cheddar cupcakes topped with a cream cheese frosting, and her favorite, a wild mushroom and onion cake spiked with arugula and sage and topped with goat cheese. "These are a big hit at dinner parties for more adventurous clients and people trying to watch their sugar intake," she says.
Natosha just rolled out a strawberry crunch cake, an adult version of the Good Humor strawberry crunch ice cream popsicle. It's a vanilla cake with strawberry filling, iced with vanilla buttercream with strawberry crunches on the surface. "I would love to try a white cake with a goat cheese and blueberry or strawberry filling, iced with white chocolate buttercream," she says. "A little bit of sweet and savory."
With appearances on WBTV and WCCB, set collaborations with West Elm, and presentations at industry cake shows, August June Desserts continues to grow. In addition to private events and orders, Natosha does events like last fall's cupcake and beer pairing at Catawba Brewing Company. Through it all, Ryan has supported her in any way he can. Though not officially part of the business, he's always there to set up at trade shows, assist with marketing, and purchase equipment. "I tell him that he doesn't need to, but he does it anyway," Natosha says.
***
ON A SPRING DAY in 2017, Ryan asked Natosha to lunch. "She thought I was going to say I was moving back to Virginia," he says. Instead, he asked what he needed to do to get his family back.
It took two months for her to answer. Rather than press her about it, Ryan gave her space but, "ordered something for every event I was a part of," he says with a laugh.
Now reunited, the couple balances business with family and makes time for date nights. "My next plan is to consolidate holidays," Ryan says. "We're still spending some of them apart. Maybe Christmas?"
Natosha pauses. "We'll talk about it. It was easy to fall back into place, because we knew each other so well," she says. "But this time, we're taking things slow."
Emiene Wright is a Nigerian-born, Southern-raised journalist in Charlotte. When she's not digging deep into arts and culture, she's cooking the spiciest food imaginable. Follow her on Instagram @m_e_n_a_writes.