The Symphony & the City: 4 Takeaways from a Post-Concert Q&A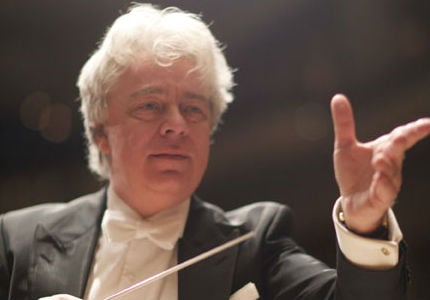 AFTER A ROUSING finish, each performance of Charlotte Symphony Orchestra's Mahler Symphony No. 5 ended with a Q&A last weekend. Conductor (and CSO music director) Christopher Warren-Green took questions from some of the group's most avid followers—and an arts writer from Charlotte magazine.
Mahler's "Symphony No. 5" was a bucket-list selection for Warren-Green, and putting on the 68-minute piece is a marathon for each of the orchestra's performers. Yet this conductor was still able to provide a snapshot of each season's planning process, a look at what's ahead, and some input on the city's evolution as a classical audience. Read four takeaways below:
1. ON CRAFTING A CLASSICS SEASON: "You have to have different kinds of things in your mind. I tend to use what I like, music that I believe in. Because you should never perform music you don't believe in. But I'll be honest with you, I've been leading the audience on a journey for the last five years to get more and more repertoire that has not been played here in Charlotte, like Shostakovich. I'm hoping now that you, our audience, who are most important to us, now have begun to trust me enough. Because I will be introducing new and modern works, 20th century and 21st century, into the programs. There's been fantastic new music written, but often if one sees a composer they don't recognize, [they stay home]. I'm just hoping that the journey is getting closer to where we want to be. I pander to all tastes, as well. These days, if you program in a way that no one shows up, then you've had it. We need the public; we need you to say to your neighbors, 'Come on! We're going to the symphony.'"
2. ON PREPARATION FOR LAST WEEKEND'S COMPLEX SHOW: "This symphony? Four rehearsals. Two at two hours; two at two-and-a-half hours. And a dress rehearsal. [Laughs.] Yeah, the musicians are good.
3. ON HIS EMOTIONAL CONNECTION TO PERFORMING MAHLER: "I'm surprised I can speak to you right now. I'm just emotionally wrung out. It's incredible, incredible music. I first played this as a boy, about 17 in London. I thank you all for supporting me, because the first time I performed a Mahler symphony, it didn't sell that well. If you spread the word and we get people to come, we can program more of these gargantuan works, which is how we want to hear our orchestra from to time. But I've always loved Mahler. It just transcends."
4. ON OTHER BUCKET-LIST PIECES: "If you just open the repertoire book: Well, all of it."