The Ties That Bind the Panthers and Bears
A coach wants to beat his former employer while one of his players is over it. Another is just excited to play against the team he used to love.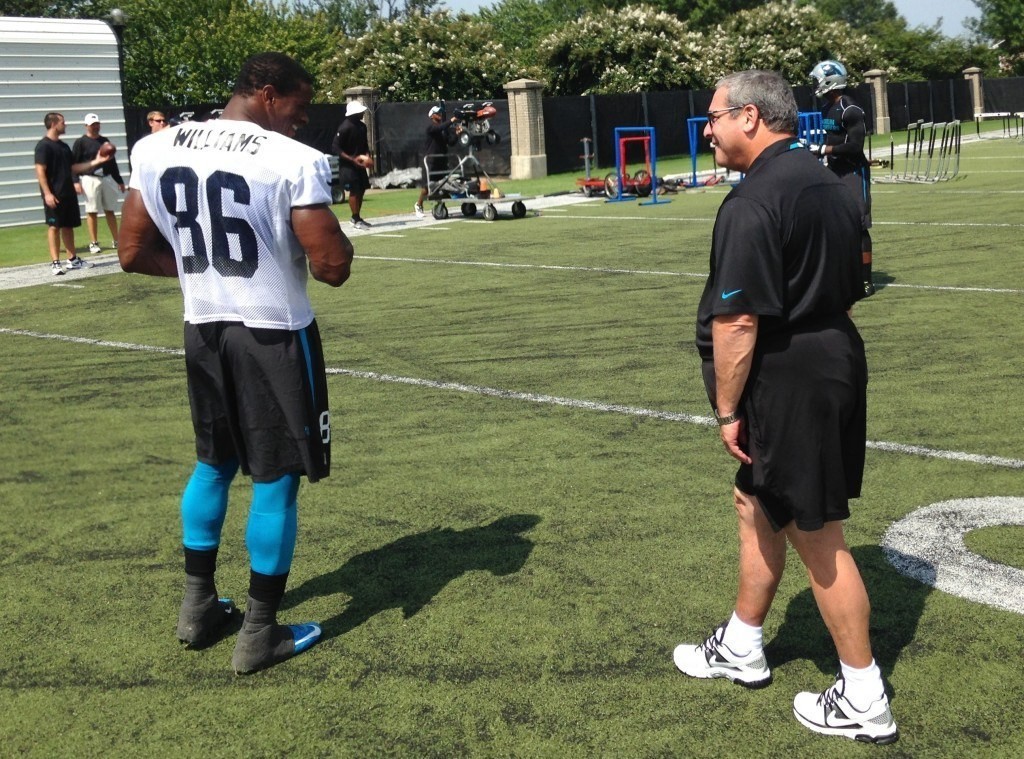 When Ron Rivera won the Super Bowl as a linebacker with the 1985 Bears, half the roster he now coaches wasn't born yet. That includes Panthers tight end Brandon Williams, a 26-year-old Chicago native.
Williams grew up 15 minutes from Solider Field, where Rivera played his home games for nine seasons, and then later started his coaching career.
This weekend, Rivera will face his former team for the third time since he came to Carolina. And Williams will get his first chance to play against the team he used to root for when he was younger.
"I wanted to be a Bear for the longest time," Williams said after Thursday's practice.
"A lot of my family doesn't get to see a lot of our games because they're in Chicago. My family gets to watch this game, and I have some family coming out, so it's definitely special."
Williams and Rivera are just two of a handful of connections between the Panthers and Bears organizations.
Another: Carolina tight end Greg Olsen was drafted in the first round of the 2007 NFL Draft by Chicago, who then traded him to the Panthers shortly before the start of the 2011 season.
"I was like, 'What are they doing?' I thought it was stupid," Williams said, recalling his reaction at the time as a Bears fan. "But it ended up working out in my favor because I've got a mentor — somebody to coach me up."
Through a made-for-TV journey that included two years out of football, and a brief stint as a bike security guard, Williams remarkably landed on the same roster as one of his favorite Bears' players.
But Olsen, 29, is over his time in Chicago. Or at least, the days he spent playing there.
"The first couple times we played them, I would say I had a special place. But this is a whole new regime, this is a whole new team," Olsen said. "I still have roots and connections. I still have family in Chicago. We go back a lot. The city of Chicago and their fans, obviously hold a place in my heart, but to be honest, I'm not preparing any more or less for this game than for any other game."
While Olsen has cut his emotional bonds to his former team, Rivera isn't able to do the same. And that's not surprising considering his deeply rooted ties.
"I spent 16 years with them, so it's hard for me to get over it," Rivera admitted. "I love the organization, but you do want to beat them. For me, it would be nice, and hopefully, we can get that done come Sunday."
Rivera has come close to beating the Bears, but he's fallen agonizingly short in both meetings. In 2011, the Panthers lost 34-29, and a year later, it was 23-22.
But each of those games was in Chicago. Sunday's matchup is at Bank of America Stadium, where a handful of Williams' family members will watch while rooting for the Bears.
"They obviously want me to see me do good, but some of them are kind of set in their ways," Williams said with a smile.
So he's buying the tickets, and playing for the Panthers, and they're rooting for the other team. They're not going to be wearing Bears jerseys, too, are they?
"No, definitely not," Williams answered. "You have to draw the line somewhere."