The Untold Story of Sonic Man, Charlotte's Superhero
Meet the woman behind the legend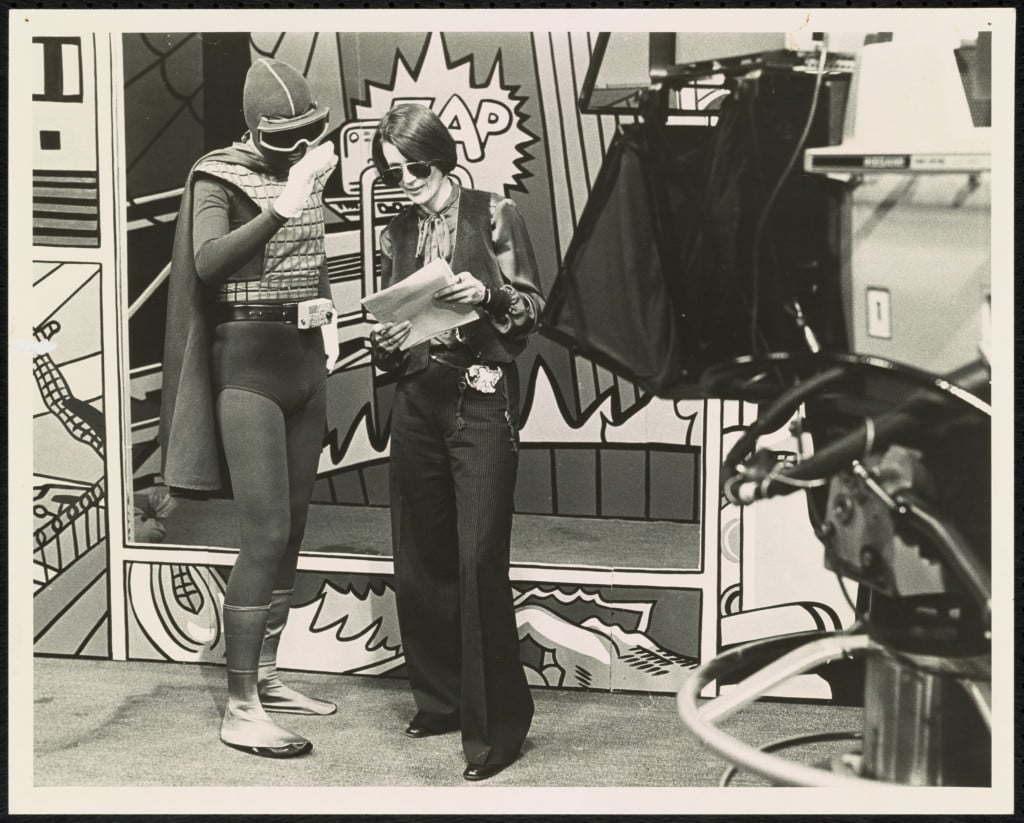 IN 1978, the Charlotte television station WCCB was in trouble. Until then, the station had been an ABC affiliate, but as ABC grew more popular than ever, executives wanted a bigger audience. When ABC switched its affiliation to WSOC, WCCB was suddenly independent. If the station couldn't fill its schedule, it would go dark.
WCCB bought a set of syndicated programming–old sitcoms, kids' shows, things like that. What it needed was a host to fill the spaces between the shows, the "bumpers and bridges." Spider-Man was new and popular; studio executives would adapt the character to host the afternoon block of children's programs. WCCB and its new promotion director, 39-year-old Lynnsy Logue, could breathe a sigh of relief: They had a plan.
But just a few days before the new afternoon block was set to air, WCCB executives found out that they couldn't get the rights to Spider-Man. The threat of going off the air loomed, but Logue didn't panic.
"I can do this," she thought.
From the age of five, Logue, who's gay, knew things would be different for her. Her brothers played sports while she washed dishes. They were both encouraged to complete college; Logue's parents allowed her to attend for only two years.
"So I never learned what I couldn't do," she says.
At 20 years old, with no experience, she began a 14-year career as one of the few women on staff at The Charlotte Observer. At 28, she designed her own house. Out on a dirt road in the middle of nowhere, the house had no electrical or plumbing lines, but it had a studio with a ceiling two stories high. Almost a perfect cube, the brightly painted, cavernous room was somehow also cozy. An enormous desk blanketed in papers sat near a brick fireplace. A decade later, soon after taking the job at WCCB, Logue would retreat to this studio when confronted with the news about Spider-Man. And it was here that she decided to create her own character.
Logue had always been interested in the sound and power of language. She would give her character a language of his own, and she would call him Sonic Man.
She called her friend, Larry Sprinkle, to see if he would be interested in playing the part. He was, despite being unenthusiastic about the tights he would have to wear. At WCCB, a close-knit team coalesced. A station engineer contributed a wacky device for Sonic Man to wear on his belt. Logue wasn't crazy about it, but the device stayed, because that's the kind of team it was. Producing Sonic Man was a collaborative effort, but the character remained essentially Logue's.
"It was Lynnsy's creative mind," Sprinkle says. "She was so passionate about what Sonic Man represented. It was all fundamentally a program of understanding, of appealing to a kid's sense of purpose and sense of goodness in the world. And that started with her."
Sonic Man was rooted in equality, justice, and respect. Logue was determined that the character would meet kids on their levels and be a figure they could both relate to and look up to. The show's principles–and hers–are neatly summed up in Sonic Man's Utorian Creed. Printed on a card that was sent to fans, the creed had 12 points, including, "Be of good will, avoid malevolence," and "Maintain the courage of your convictions."
Logue admits that she sounds naive, but nevertheless says, "I was seriously thinking this is a chance for world peace."
Above all, she was adamantly opposed to commercializing her creation. Using the character to sell merchandise or soda went against everything she and Sonic Man stood for.
"I would not compromise myself," Logue says.
Her resolve against commercialization would be tested: The show became more popular than anyone anticipated. Sonic Man sometimes hosted call-in segments, in which viewers could win prizes by answering questions. The first time one of these segments aired, the volume of calls jammed the phone lines enough to overwhelm three operators and impair telephone systems as far away as Atlanta. Logue recalls a prompt visit from law enforcement, demanding to know what was going on. Logue had to add a word to her character's growing vocabulary of Sonic words: amserx, which meant "stop."
Sonic Man's language was one of the hallmarks of the program. Here again, Logue infused herself into the show. She adapted the names and characteristics of people she loved to create a vocabulary. For instance, Logue explains, one of her best friends was Gene Payne, a Pulitzer Prize-winning editorial cartoonist at the Observer, and he was always happy. She adapted his name to create the word gepa, which meant "happy." The Sonic language would become common parlance among children wherever WCCB's signal reached.
At public appearances, children would greet Sonic Man with shouts of "Obon!"––the Sonic word for "hi." And Sonic Man made lots of public appearances. He showed up in hospitals and classrooms. He walked in parades and hosted events. Logue received letter after letter thanking her for sending Sonic Man and requesting more appearances. For Sprinkle, who acted as Sonic Man in some (but not all) of the character's public appearances, this was the best part of playing the character.
For both Logue and Sprinkle, one of the high points for Sonic Man was the 1978 Festival in the Park. There, with hundreds in the audience, Charlotte mayor Kenneth Harris presented Sonic Man with a key to the city. September 19, 1978 was declared Sonic Man Day by official proclamation.
Another peak was Thanksgiving of that year. At the time, Disney had only five official Mickey Mouses, who would travel around the country and appear on television. Logue requested that one come up to join Sonic Man in Charlotte's Thanksgiving parade. All of the Mickey Mouses were committed that day, came the reply. Logue persisted, sending Disney evidence of the show's popularity. On Thanksgiving, she picked up Mickey Mouse at the airport.
All the while, Logue's resolve against commercializing Sonic Man held. She fought against selling appearances. Sonic Man wouldn't endorse products or be used to sell junk food and cheap toys. Sonic Man T-shirts and posters would never be for sale: The only way to get a prize was to win it. Logue hated the idea of parents scraping together money to buy toys and costumes for their children. (Sonic Man always encouraged gifts of time over gifts of things.) Logue has a collection of mementos from the show, and she still treasures a photo of a boy dressed up as Sonic Man, using a towel as a cape.
Instead of competition, Sonic Man's run under Logue was characterized by community cooperation. With the help of a local teacher and illustrator, a publisher printed thousands of copies of a Sonic Man school workbook, even with the stipulation that its company name would be printed only in a small font on the back cover. The police used Sonic Man to promote traffic safety. Hasbro sent truckloads of toys to be given away in contests and at hospitals. Another show donated a spaceship studio for Sonic Man to use. Occasionally, Sonic Man was even invited as a guest on rival television stations. Logue sees this kind of unusual cooperation as a testament to the show's resonance.
"We were compatible with something," she says. "There was more than us at work."
In the North Carolina of the late 1970s, the principles underpinning Sonic Man verged on radical. At Christmastime, for example, the show ran segments exploring all of the world's major religions. Sonic Man asserted the value and equality of all people, regardless of color or creed. Behind the camera, though, as Sonic Man's popularity grew, Logue struggled to maintain her anti-commercialization stance and her creative ownership of the character.
She started to think about trademarking Sonic Man to protect her creation. She soon found out that her colleague, the late station manager Jim Thrash, had already filed for a trademark–in his name. She made a few attempts to gain back the legal rights to her character, but the ongoing struggle proved too expensive and time-consuming. Sonic Man didn't belong to her anymore.
Later, she accompanied Thrash to a toy factory to discuss a commercial partnership. In the past, companies had collaborated with Sonic Man simply because they wanted to be a part of the phenomenon, but at the meeting, Logue quickly figured out that this was different. She made clear, yet again, that she wasn't interested in commercialization.
According to Logue, Thrash cut her off, saying something to the effect of, "I'll handle this."
Logue described the meeting in her personal writing: "The men talked."
For Logue, that was the turning point. To this day, she's unsure whether she quit or was fired. What was clear was that she had to leave. On Monday, September 24, 1979, general manager Bob Larr sent Logue a memo requesting all of the Sonic Man scripts and materials by the end of the week. Over the course of the week, members of Logue's team risked their jobs to help her sneak the materials out of the station. On Friday, Logue handed Larr a Bible, telling him everything he wanted was there.
Larry Sprinkle followed Logue, opting to leave the show when she did.
"I work for you," Sprinkle recalls telling her. "You're the creator, and I stay with the creator."
Soon, Logue was on her way to Oklahoma, where she would attempt to recreate Sonic Man's success with a new character. In November 1979, just before Logue left town, Thrash transferred the rights to Sonic Man to WCCB owner Cy Bahakel. WCCB kept Sonic Man going for a while, ultimately taking him off air in the early 1980s, but Logue paid no attention. She didn't want to know what the station was doing. She never caused a flap about leaving, even though her departure still weighs on her.
"It's not a personal vendetta," she continues. Instead, it's about women's history––about women's creations and the roles women have behind the scenes. She's convinced that stories such as hers have value. Logue has challenged UNC Charlotte's LGBTQ Oral History Project to collect 99 stories of queer Charlotte women. If it succeeds, her story of Sonic Man and the impact her character had will be the hundredth.
Logue still lives in the house she built back in 1967. The city has grown since then: Today her address is in south Charlotte, and the home has electrical and plumbing lines, added long ago. The studio where Sonic Man was created is teal, and the desk is as cluttered as it always was. But at 78, and after a bout with throat cancer in 2009, Logue says she's winding down her life. She's bestowed her collection of Sonic Man memorabilia to the Special Collections at UNC Charlotte's library, where it will be archived. But she still wants people here to know what happened. In telling her story, she wants to claim ownership of Sonic Man once and for all.
"I want people to know that I didn't abandon them," she says.
ALLISON BRADEN is a writer based in Charlotte.