The wait is over: Abari Game Bar officially opens March 26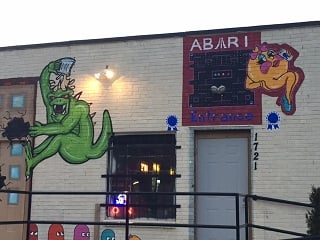 When I first walked into Abari Game Bar and took in the atmosphere as a whole, I couldn't help but think of James Earl Jones' famous speech in "Field of Dreams."
"People will come, Ray. They'll come to Iowa for reasons they can't even fathom. They'll turn into your driveway, not knowing for sure why they're doing it. They'll arrive at your door, as innocent as children, longing for the past."
Just like that special cornfield in Iowa, I expect people are going to come in droves to Abari –which holds a treasure of nostalgic pastimes while offering a full craft beer and liquor bar. Located on North Davidson Street just past the Parkwood Avenue intersection, you can't miss the spectacular welcoming art on the front of the building that features Lizzie from Rampage and Ms. Pac-Man.
Once inside, you're greeted by familiar faces of childhood, teenage and college years past. There are the old originals such as Donkey Kong, Galaga and Joust along with several pinball machines. Then you see a three-steering wheel Off Road; the fighting games (Street Fighter, Mortal Kombat, etc.) and sports games (NBA Jam, NFL Blitz). Finally, your eyes dart to the lounge area, where home video game systems (think Nintendo, Super Nintendo, Sega Genesis) of old are set up in front of couches – beckoning you to relive those countless hours of your youth playing GoldenEye and Super Mario Kart.
Abari's grand opening is March 26, and that date marks a culmination of owner Zach Pulliam's vision – one he's had dating back to his college years at UNC Charlotte.
"The whole point of this is to invoke that nostalgia upon anyone who walks in here," he says. "It doesn't matter what your age range is – I guarantee you can find a game you played as a child. We have games back from 1978 all the way to 2001, so there's a pretty good collection.
"Whether video games to you was playing games in the living room with your friends, or going to the mall arcade, or going to the bowling alley, I wanted to recreate that – but with booze, obviously."
Pulliam adds the concept came from a place he saw in Brooklyn more than a decade ago, Barcade (Since then, arcade bars have become the rage in many major cities, while Raleigh has a popular one, Boxcar, as well). After graduating college, Pulliam put his dream on hold while working in IT. Then in the summer of 2014, he made a now-or-never decision and "took the plunge," as he put it, getting a business plan drawn up as well as a small business loan.
Next up was finding a location, and Pulliam quickly honed in on the NoDa/Plaza Midwood area.
"It's got a good night scene," he says of the neighborhood. "When I think of my friends and going to a bar and our interests, it's pretty similar to this area. So I thought that it would all fit."
With a spot secured, the focus shifted to curating the arcade portion itself. Yes, there are change machines, and you can also buy rolls of quarters from the bar (Most games are either 25 cents or 50 cents. When it came to procuring the games, Pulliam scoured the Internet with a heavy focus on Craigslist.
"I knew I had to have the classics – the Jousts, the Pac-Mans," he says. "The six-player X-Men was one I thought I could never get but did end up with, so that was really exciting."
As everything seemingly was set and Abari looked ready to open last year, the bar then found itself stuck with a few slowdowns for various reasons. That caused the grand opening to continuously be pushed back – something Pulliam says was tough to deal with over the last several months, especially with the constant barrage of questions from people on social media.
"You think something's going to go as planned and then it's one curveball after another," he says. "It was awesome because we built a fanbase early on and a lot of them stuck with us because they were really anxious to come play games. But at the same time people get cruel and mean when they get behind a computer. I understand everyone was frustrated but take that and compound it by a million, and that's the frustration I was feeling.
"So to finally be on that homestretch and finally know that year of waiting for this to happen is over, all that stress is gone. But now it'll be a new stress bringing in all the customers," he adds, laughing.
Abari's bar features nine taps as well as domestic and craft cans, with a heavy emphasis on local. There's also a full liquor bar featuring craft cocktails and wine. And yes, each game has a dual beverage holder beside it. There's a table for your drinks at the lounge area, where you can also find a slew of VHS tapes (if you'd rather watch a movie instead of play a game), along with a full stack of old Nintendo Power magazines.
"We wanted to recreate the feel of playing video games with your friends and family at home – a living room-type area," Pulliam says. "Anyone is welcome to sit down and pick up a controller and play."
Going forward, look for Abari to begin a pinball league and other tournaments and team league play – Pulliam said he's especially excited about being the only location in the Southeast to have Killer Queen – a 10-player (five-on-five) strategy game. Abari will also be partnering with Charlotte Geeks and Heart Meter, a nonprofit that donates video games and systems to local hospitals for children to play during their stay.
You can find full details regarding Abari's grand opening celebration on its just-created Facebook event page. Following that, Abari's regular hours of operation will be as follows: Open 7 days a week, Monday-Friday 5 p.m. to 2 a.m., Saturday and Sunday noon to 2 a.m. Note that it has been classified as a private club, so you'll have to pay a one-time only membership fee of $1 upon your first visit.