The Waiting Game
On a quest for dates in Charlotte, I discover that waiting for my next text is more difficult than finding the next guy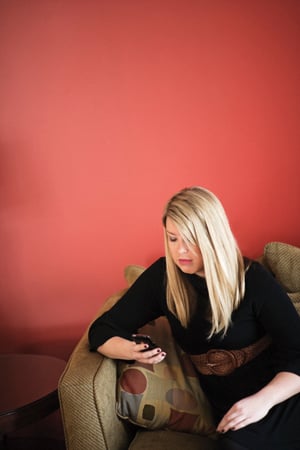 Wrapping my hands around a cup of warm coffee at Bruegger's Bagels on East Boulevard, I smile widely across the table at my date. His name is Todd Rose and he's an attractive single man in his thirties who prefers cold coffee drinks on sunny autumn days. That's all I know about him. That, and that he works for a local woman who calls herself the Date Doctor, and for the next hour he will assess my dating skills, appearance, and overall personality over one cup of decaf.
Kristin Johnson, the Charlotte Date Doctor, calls this rendezvous with Rose a "mock date," and she charges her clients $150 per hour, with a two-hour minimum, for it. Rose works with Johnson's female clients by behaving as if it were a real date; he calls, invites them out, and then creates a date. After the date Rose reports to Johnson, who then confers with her client on how to improve.
I barely make it an hour before I can't take the suspense any more. I have to know how I'm doing, and so I put aside all pretense and ask. Rose assures me that I'm doing well, and I breathe a sigh of relief. Then he goes on, pointing out that my hair and teeth look nice (thanks?). He says he likes my style, but wonders why I haven't taken off my scarf. I tell him that I always wear scarves. He says he thought maybe I was hiding something on my neck. I promise him I'm not. I'm suddenly concerned though, thinking back to dates when I've worn scarves. Rose is an expert. Could it be that I'm still single because of a scarf-wearing habit? One mock date and I'm looking at everything in a new light.
Writing an article on dating in Charlotte wasn't my idea. My editor approached me last summer, asking if I'd be interested in writing it. Later, when I explained to him that I didn't think I was the best choice for the job because I don't really date, he explained to me that I was the only single person on staff and therefore the only choice for the job.
After living here for almost a year and a half, I've heard plenty of complaining about the city's dating scene. I'm a twenty-seven-year-old single female, which in the South — even in 2010 — translates to spinster in training. My girl friends bemoan the lack of good guys and my guy friends complain about the lack of nice girls. Personally, I was patiently waiting for the moment when fate would intervene and Mr. Right would finally arrive — without any help from me and preferably in shining armor. Since I wasn't particularly interested in dating until it became mandatory for my employment, I just did a lot of listening. And from what I could tell, dating in Charlotte was a challenge.
As it turns out, it's not that hard to find a date in Charlotte, but it may be difficult to find a good one — as in someone you want to continue dating (and who wants to continue dating you). However, if you're willing to spend the time and the money, dating is possible, if not easy.
The money is an important part, though. The first day I search for dates I spend $53.97 signing up for Match.com, $134.85 enrolling on eHarmony.com, and $20 signing up for a local speed-dating event. Then I peruse the Date Doctor's site, where an initial in-person consultation costs $199, and check out a matchmaker who tells me that her services start at $5,000 annually. Dating, as it turns out, isn't for those with small wallets.
Of course, there is the traditional option of simply meeting someone, but there are times when that kind of simplicity seems like a myth created by generations past. I ask other friends about this method and find that in general there are three ways people in Charlotte meet dates: through mutual friends, through church, or at bars. My church is small and I got tired of meeting people in bars around the time I turned twenty-one. So the mutual-friend option seems like a good choice. A friend tells me that she might have someone for me. She e-mails me his photo and asks for photos from me. Apparently, even traditional methods use technology these days.
Eventually, I get an e-mail from him asking if I'd like to get drinks. I agree, and we decide on a rainy Wednesday in South End. As we sip Miller Lites we discover a mutual love of travel and spend the evening swapping stories. I talk about the time I was mugged on a beach in Thailand and he shares a story about paying off customs officials in Brazil. It's a fun date and, if I had the choice, I'd like for all my dates to be ones friends have set me up on. It's just so simple.
Dating Web sites, on the other hand, are anything but simple. They are, in fact, some of the most complicated and time-consuming things I've ever used. I start with Match.com because I'd seen commercials for it and fallen hard for its marketing ploy, with the beautiful couples on their first dates. The site's tagline is "Find Love. Guaranteed." How can you resist that?
For my profile I answer questions about myself and then write about what I'm looking for. I post numerous solo photos (strictly ones in which I am tan), hoping to lure suitors. After I've created my profile I begin to peruse others, which is when it occurs to me that I am a terrible, shallow person. I ignore most of the profiles based solely on their photos. There could be great men who would be perfect matches for me, but I ignore them because I don't like the shirt they're wearing.
If I do click on a profile and read a guy's information, I quickly become even shallower. Did he write "there" when it was supposed to be "their"? Next. Does he mention how frustrating girls have been to him in the past? I'm not a therapist. The thing that eliminates seemingly half of Charlotte's male Match users for me is that I refuse to start communication with someone who claims any Dan Brown book as the last thing he read. I liked The Da Vinci Code as much as the next girl, but seriously, you can't come up with something less pedestrian than that? And so my metamorphosis into the Internet's biggest snob is complete.
Next up is eHarmony. Match and eHarmony have the reputation of being slightly different from each other, with the stereotype being that Match users are often looking for sex or something casual and eHarmony's users are seeking serious relationships. The length of eHarmony's initial application certainly makes you believe that it's serious about weeding out its users. The questions — there are 436 of them — take hours, and by the time I'm deciding just how averse I am to dating someone with a criminal record, I'm starting to think maybe a permanent status as single doesn't sound so bad.
This is the first time I've ever used online dating and, to be honest, it makes me uncomfortable. For the first several days it takes all of my control (and my desire to keep my job) not to take down my profile immediately as I watch the number of times it's been viewed creep into the hundreds and then thousands. I get six e-mails from the same man touting his "boat on Lake Norman." He signs the e-mails with various nicknames, as if this might keep me from realizing it's the same person. (Does this ploy actually ever work?) I receive "winks" (Match's version of letting someone know you're interested without actually e-mailing them) from people with screen names like LonelyHeart and decide that online dating is making me depressed.
However, I do slowly start communicating with men who seem, well, kind of normal. The benefit of dating sites is that you can prolong the actual meeting long enough to decide if the person is creepy or not. I start e-mailing with one man whom I call Prom King because in one of his photos he's being crowned at a charity event. His profile is funny and his e-mails are even funnier, and so we start planning a meeting. All is going smoothly until Prom King texts me two nights in a row saying only, "Wanna make out?" Well, no, Prom King, no I don't. We've never met. And so I start looking for my next date. I do meet nice guys — and find myself pleasantly surprised to actually be having fun on dates.
Each person I meet looks similar to his photos and is as engaging in person as he was on e-mail. I keep waiting for the moment when the supposedly attractive twenty-eight-year-old businessman shows up as an obese and unemployed fifty-year-old, but it never happens. In fact, after several fun dates without any real sparks, I actually meet someone I want to see again.
This wasn't in my original plan. I wanted to check out the dating methods and then move on quickly. After all, anyone who has seen the movie How to Lose a Guy in 10 Days is well aware of how poorly things go when blond female journalists mix up their jobs and love lives. And because I'm not Kate Hudson, my love life doesn't end with Matthew McConaughey unable to part with me.
I am clicking around on Match one afternoon at work (yes, I am aware of how great my job is), when I come across a profile that looks interesting. He's a banker who loves food, unique beers, and music. I like his smile and I notice that he's "winked" at me. I "wink" back, hoping this might prompt an e-mail.
A week later I realize he hasn't e-mailed and so I quickly type a short message to him. His response comes back almost immediately, and it's perfect. My co-worker reads it over my shoulder. "His grammar is so good!" she says. "Look! He even correctly spelled 'aesthetically'!" (This, apparently, is what turns editors on.) I'm hooked. After a few more e-mails, we decide to meet for dinner in NoDa. Easy conversation at dinner leads to drinks and eventually a drag show. (Yes, you read that correctly.) Going to a drag show on your first date is tricky. I try my hardest to act nonchalant, as if I watch men in provocative women's clothing belt out Gloria Estefan tunes every weekend, but I suspect my J.Crew coat is giving it away. The date is fun, though, and I find myself laughing a lot and hoping to see him again.
However, if I've learned nothing else from this project, it is that when the date ends, the waiting begins. At first, I am confident I will hear from The Banker. Then forty-eight hours pass and I'm starting to wonder if I said something wrong. At sixty hours, I'm positive that he must have found me completely repulsive. At seventy-two hours he texts me, and my confidence level returns to that of a normal human being. Dating may be hard, but waiting is excruciating.
Meanwhile, I look into other ways of dating in Charlotte — some of those ways being very out of my budget. Laurie Berzack of Chai Expectations is a local matchmaker whose prices start at $5,000 annually. Berzack is a Jewish matchmaker and I'm not Jewish, but she tells me she's planning on expanding. On a brisk fall morning we meet in Dilworth so that she can show me how her methods work. Berzack is a petite brunette with a warm smile who immediately puts me at ease chatting about her business. As it turns out, her ability to make someone feel comfortable is important — the intensive interview process for her matchmaking feels like a therapy session as I share details about my dating history, my relationship hopes, and my fears.
In addition to having paying clients, Berzack also has a database of singles who are interested in being matched but are not purchasing her services. "Having my database of resources means that my clients have the opportunity to meet people who might not be paying," says Berzack. "I meet people all the time who I ask if I can put into my database." I tell her to please let me know as soon as she expands — I want to be in the database.
Berzack occasionally works with the Date Doctor, Kristin Johnson, by having her clients go to Johnson to prepare for dates. She claims it's helpful, and after meeting Johnson I believe it. Johnson is an exuberant blonde who smiles the entire time we speak and talks about her passion for dating. She actually has a PhD in premarital romantic communication, making her as close to an expert on dating as you'll find. She's straightforward and quickly gives me dating tips as we speak: wear my hair down (apparently guys like this), show off my waistline, have creative answers for what I do in my free time. The next step is my mock coffee date with Rose to get my full assessment.
On the date I decide to make use of Rose's expertise in the dating field and update him on my situation with The Banker. By this point The Banker and I have gone on a total of one date, but exchanged sporadic text messages for weeks. (Note: I could write an entire article on why I think texting is the worst thing that has ever happened to dating—and possibly the world. Using 160-character messages to start any form of relationship is a terrible idea.) I am stuck in a perpetual state of waiting, wondering, and wild speculation.
When I finish the story, Rose gives some important advice on dating in general and actually manages to refrain from quoting the title of He's Just Not That Into You — something my friends can't seem to help doing. He tells me to find other dates in order to feel less inclined to worry about the one seemingly failed date.
And so, thanks to the same despised technology, that's precisely what I do. Two hours later I line up two more dates — the Internet makes it that easy. I wish I could say that Rose's advice allows me to be less anxious while waiting for The Banker's next communication, but I've always been awful at following doctors' orders and find myself obsessively lunging for my phone each time it beeps. The dates, while fun, are fairly unremarkable — because, despite my best efforts, I can't help but focus on The Banker.
It takes a few more days, but eventually The Banker gets around to asking me on that second date, and it goes just as well as I'd imagined. He's charming and funny — and much easier to speak to without the aid of a digital communications device. We end the evening talking about seeing each other again soon.
Of course, that would require that he contact me, and sometime around hour 96 after the date I give up on that happening. And such is dating: highs that make you scribble hearts and pull petals off daisies mixed with lows that tempt you to change your screen name to LonelyHeart. In the end, I decide I have to move on — mostly because I can't simultaneously stare at the face of my phone and write this story.
Wait, did my phone just beep?
Sarah Crosland is associate editor of this magazine.
Email: sarah.crosland@charlottemagazine.com