The Week that Was: Bank of America's New Fee + Obama's Comments = Charlotte Headlines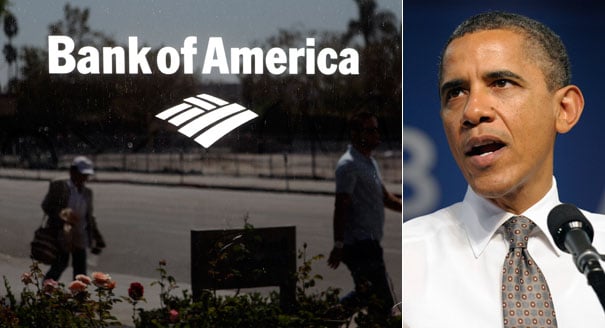 With the 2012 Democratic National Convention eleven months away, most of the news surrounding it as of late has been about the contract bidding processes and other planning and logistical aspects (in fact, representatives from fourteen state Democratic parties have been in Charlotte since yesterday and are spending today and tomorrow touring venues and hotels).
But last week was national headlines run amok, and all it took was for Bank of America to announce it would begin imposing a $5 monthly debit-card fee to customers. And for the president of the United States to comment during an interview that banks "don't have some inherent right just to, you know, get a certain amount of profit, if your customers are being mistreated."
It didn't take long for journalists, bloggers, and critics to analyze and assess that President Obama was challenging the bank whose headquarters is in the city where he'll accept his party's nomination next year.
Here's a video clip of Obama's remarks on Bank of America's new fee during an ABC News interview that sparked the debate.
Below, I've listed some examples of the related news coverage from the past few days:
Politico: "Has Obama found his inner populist?"
Key excerpt: Nearly half of the cash raised by [Obama's] bundlers for 2012 has come from the banking and securities sector, $11.8 million in much-needed cash, according to the nonpartisan Center for Responsive Politics. Bank of America employees alone pitched in more than $250,000 to his 2008 campaign. And where will Obama be feted as the Democratic nominee next year? In Charlotte, N.C. — a city whose dominant corporation is none other than the country's biggest bank by deposits, BofA, which is likely to play a major support role in the convention despite Obama's ban on corporate contributions to the event's organizing committee. Click here to read.
The Charlotte Observer: "Obama and Bank of America on rocky road to 2012"
Key excerpt: The September gathering will be held in the shadow of the bank's corporate headquarters, and nearby Bank of America Stadium could be a venue for his Sept. 12 acceptance speech. The bank pays $7 million each year for naming rights to the stadium, which is seen by millions on NFL telecasts and other events. Convention organizers have not announced where Obama will speak. But in 2008, he spoke at the Denver football stadium, then known as Invesco Field. Click here to read.
CNBC: "BofA CEO: $5 Fee Needed to Pay for Dodd-Frank"
Key excerpt: "I have an inherent duty as a CEO of a publicly held company to get a return for my shareholders," said Bank of America CEO Brian Moynihan. "At the same time, I have an inherent duty to do a great job for my customers." Click here to read.
The Washington Times: "Steve Jobs could teach Bank of America and Washington a thing or two"
Key excerpt: President Obama is trying to pass a jobs bill. Bank of America says it has a right to make a profit. Steve Jobs succumbed to cancer. While it is tempting to tackle the three hot news stories of the day separately, they share an interesting connection. Looking at these stories in more detail, we see that our President is trying to create jobs by, in part, taxing the wealthy. If you're wealthy enough to have money invested in Bank of America, then you have a "right" to make a profit. And the only person with enough creative vision to possibly come up with a solution to this conundrum is now gone. Click here to read.
The Charlotte Observer (Editorial): "Stoking the furor over debit card fee"
Key excerpt: That could be troubling, if it's accompanied by politicians giving into the populist temptation of demonizing profit. The tea party has taught us how paralyzed a government can become when half of it is handcuffed by rigid and divisive ideology. So we should be wary of blurring revenue and greed, and we should be careful – especially our president – of treating a fee as anything more than a fee. Click here to read.
CNN: "Why 'Obama the populist' is not a winning re-election theme"
Key excerpt: President Obama's 2012 campaign is gradually starting to take shape. Rather than focusing on the record from his first term and his competence as the commander in chief, the president is promoting himself as a revived populist, anti-establishment Democrat fighting for the unfulfilled goals of his 2008 campaign. Referring to the announcement that Bank of America would charge a debit card fee, the president argued that this justified the need for a consumer bureau. Click here to read.