The Week's Inanity: Cam Newton Is Not Impressed, Ricky Berens Photobombs Michael Phelps, Stand-in Babies, Some Dude Is Building an Ark, and Shallow Critiques of Political Ads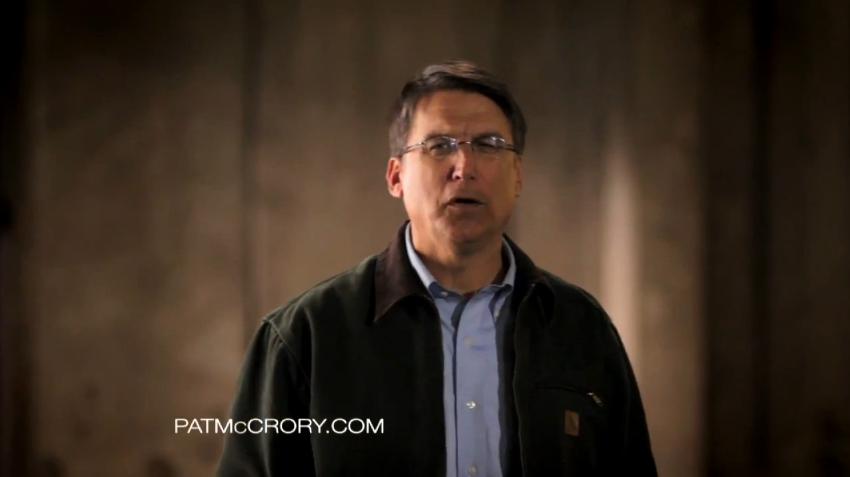 If political ads are a window into a candidate's heart, it is possible to watch Pat McCrory's latest spot and conclude that he has poor circulation. There he is, smack dab in the heat of summer, inside what appears to be a dark, damp and musty warehouse, walking toward us slowly, bundled up in a Carhartt jacket. McCrory hasn't talked about climate change much during this campaign, which is odd, because global warming may be the only thing that will ever allow him to walk outside in short sleeves.
Sure, journalists can fact check the negative ads. That's easy. They're full of facts. Does Walter Dalton have a garage door-obsessed brother named Wayne? He does not. Does Pat McCrory hold a daily tea party with his porcelain doll collection? Not that we know of.
But when the ad is positive and mostly fact free, trying to portray a candidate as a regular fella instead of a guy who sleeps with his tie on, what do we do then? We become no longer the arbiters of truth and instead try to decipher the mise-en-scène. Take Rep. Sue Myrick's son Dan Forest, who's running for lieutenant governor. In one ad, he gathered up his family and had them silently stare at the camera and smile while he explained what he stood for. A reporter for the Raleigh News & Observer pointed out a subtle change from the wide shot to the close up. On the tight shot, somebody added a bible to the bookshelf behind Mr. Forest that wasn't there in the shot before.
The candidate pounced. "I am not ashamed of my faith, nor should I be," he said in a post on his website. The reporter, John Frank, replied by saying that he wasn't questioning Forest's religious beliefs, but rather the continuity of his set design.
So this is what happens when you give us happy ads, politicians. You make us into catty Project Runway judges. That's why we've gone to the trouble to grabbing screen shots of positive commercials, and then judging them in the shallowest way possible. You're welcome, North Carolina.
Pat McCrory – "Fix"
In this spot, Pat McCrory wears a farm jacket. He is inside an empty warehouse. He is walking slowly. Interpretation: Charlotte's former mayor is runnin' for governor. But he's also preparin' to start drivin' a forklift and balin' that hay. Look guys, things are tough. So tough, in fact, that McCrory is conservative, even in his gait. And forget the bickering between parties. Nothing says apolitical like an out-of-focus background of Olan Mills brown.
—
Walter Dalton – "Great Jobs"
North Carolina's current lieutenant governor is running to become the state's top executive on a platform of syncopation. The theme of this ad: when people see Walter Dalton, they stop and shout his name at him. Even kids, who apparently seem to be staring at the commercial's off-camera production assistant, waiting for their cue to say, in unison, "WALTER DALTON!" This begs the question, if you say "Walter Dalton" three times, does he suddenly appear and cause mischief, like Beetlejuice?
—
Robert Pittenger – "Cookie"
This congressional candidate calls himself a principled conservative. That shirt is not conservative.
—
Jennifer Roberts – "?"
This is a tough one. Pittenger's opponent, a current Mecklenburg County Commissioner, doesn't have any campaign ads yet. So let's use stupid logic. Former Bank of America CEO Hugh McColl endorsed Roberts this week. McColl used to have an ownership stake in Bojangles', along with Panthers owner Jerry Richardson. Some Panthers were in a Dukes of Hazzard-themed Bojangles' ad a few years ago. Therefore, according to Jake Delhomme, It's Ro Time.
—
Need more? We Storified it:
—
This woman lives in Charlotte. She doesn't use air conditioning. She is fighting the sun, one venetian blind at a time.
"They needed a stand-in baby. The woman that was based here in Charlotte normally babysat and that baby was out of town and they just needed another baby and I had one." PERFECTLY NORMAL.
Cam Newton, like McKayla Maroney, is not impressed.
DeAngelo Williams is asking his Facebook followers to help him come up with an endzone dance. This one's sure to make Panthers fans happy on the island of Mypos.
Here is a topically creepy thing somebody found in an attic in Charlotte.
What Kayne West would say about the Democratic National Convention and the MTV Video Music Awards happening at the same time.
Police and the Secret Service told us about their DNC security plan this week. You know what they're not talking about? Terrorists on hoverboards. It's almost 2015, people.
Charlotte native Ricky Berens, who won two Olympic medals in swimming, photobombs Michael Phelps.
The Charlotte Bobcats. Your 2031 NBA world champions. It has been foretold.
The North Carolina General Assembly passed a law downplaying climate change's role on sea level rise. At least nobody's worried enough about global warming to build an ar– UH OH.
Jeremy Markovich (@deftlyinane) is a regular contributor to Charlotte magazine, and a producer at NewsChannel 36 in Charlotte. He also blogs at deftlyinane.com.