The Week's Inanity: No Road for Cam, Bachelormeh, Billy Graham, Chik-Fil-A, and So Much More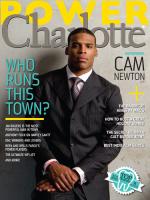 No man is an island. Some men are roads.
This week, Cam Newton came THIS CLOSE to having a street named after him in suburban Atlanta. Not just any street, mind you, but the road in College Park, Ga. where his parents still live. A Fulton County commissioner thought it would be just a lovely idea to call it Cam Newton Drive.
The locals were not pleased.
Many of them packed a public meeting Tuesday night to say why the Heisman Trophy winner turned Panthers quarterback should not be immortalized on a street sign that some Panthers/Auburn fanboy would probably have ended up stealing anyway. The gist, according to this TV report, was that Cam is a young man, and we don't know how his career will turn out.
Even Cam's mother and grandmother were at the meeting. Grandma, pardon the grammar, voiced her thoughts:
"Cam could care less."
Oh.
So Georgia doesn't get Cam Newton Drive. But that got us to thinking: What's a guy gotta do to get a street named after him around here?
I called Linda Durrett with the Charlotte Department of Transportation. Any change, she said, needs to come with a formal application to the city. Sixty percent of the people who live on that road need to approve before the city will even consider it. Also, you probably can't use profanity.
"So, I could petition to get my street renamed Jeremy is Awesome Boulevard," I said.
Linda pretended like she didn't hear me.
This area has plenty of roads named for people. Tom Short. Sam Wilson. Margaret Wallace. The Belk. The Brookshire. In 2007, Concord renamed Speedway Boulevard to Bruton Smith Boulevard when the Charlotte Motor Speedway owner threw a fit and threatened to leave (the city, county and state also gave him a pile of money).
But what's it like to actually have a street named for you? For that, I asked Paul Schadt, the morning man at 96.9 The Kat. He's been on the radio in Charlotte for more than 30 years. He has a mustache that would make Burt Reynolds weep.
Sometime around 1990, Schadt hosted a charity auction for the Cystic Fibrosis Foundation. At the end, the organizers gave him a gift — his very own street. He was thrilled. And so, more than two decades later, Paul Schadt Lane is still there on the map in Mint Hill. There are eleven houses on it. Cul-de-sacs on either end.
Paul Schadt does not live there.
The guy who taught Paul Schadt's son in kindergarten lives on Paul Schadt Lane. Schadt himself used to live nearby. Sometimes, people will dig into their wallets and fish out their drivers' licenses. And there in the address is his name, staring back at him.
"It's very cool," he told me via text message (he was on a plane, and his phone was malfunctioning). "But after you take your mom and dad up and down the street a few hundred times, the neighbors start to get annoyed."
There you have it. If the police ever bust anyone for cruising on Paul Schadt Lane, it will most likely be Paul Schadt.
Just remember, even if you think it'd be pretty cool to have your name up on a street sign, others might not agree. In 1997, Mecklenburg County commissioners heard the pleas of six people who lived on what's now called Cowboy Lane: A dead end street off Beatties Ford Road. People kept stealing the road sign, making it hard for ambulances, fire trucks, police cars and everybody else to find it. The people who lived there, according to Creative Loafing, were tired of the riducule. A man whose family provided the name for the road pleaded his case. He lost. And so, by a 7-2 vote, commissioners changed the name of Dick Road.
—
Ryan Kalil will win Super Bowl XLVII with sentence fragments. Great victory.
Otah. Oh no.
The Democratic National Convention, the "most open and accessible" convention, holds another closed meeting, sends press release afterward.
At the RNC, one strip club is bringing in a Sarah Palin lookalike. Uptown Cabaret, don't you dare think about hiring dancers that look like Janet Reno.
I remember when I was a freshman in college, roaming from party to party, trying to get in. Eventually, somebody would ask you who you knew. Oh, I know Dave or John or Mike or something. He lives here. He said it was cool if I came in. If it worked, I stayed. If not, I left and tried another house. I plan on using that strategy during the DNC. Except, instead of keggers, the hosts are bringing in cigar rollers, croquet and potato knishes. PARTY.
A woman from Charlotte missed the Olympics by 4/100ths of a second.
Eastland Mall could be a movie studio. Maybe. Or, it could end up being this.
Somebody in Charlotte needs your help kicking a guy in the nuts and getting it on video.
Bank of America and Wells Fargo might eff up Charlotte's white-as-the-virgin-snow credit rating.
Bachelormeh: This Jef guy already looks like he's wearing a thick set of EpiCentre camouflage so you can't pick him out of a crowd at Whisky River.
The first pics of the SouthPark Mall roof collapse came from a teenage Twitter user named @Cassholeee who swears like an adorable sailor.
If Lowe's has its way, SkyNet will turn on your blender.
New On YouTube: What should I do if a dog bites me? SUE SUE SUE.
Next week on Monroe Police Reports: Calvin Coolidge and Phil Donahue have it out over a lawn gnome.
Set aside the debate over business and traditional marriage, gay rights and crowdsourced Facebook anger. Let's forget, for a moment, the teachings of the Bible and the interpretation of a few archaic verses and how they fit in with the overall message of The Good Book. Put your feelings about religion aside for a second. Billy Graham is 92. And after decades of crusades, presidential meetings and preaching, there's a chance that his last public appearance may involve him woofing down a chicken sandwich at Chik-Fil-A.
—
Jeremy Markovich (@deftlyinane) is a regular contributor to Charlotte magazine, and a producer at NewsChannel 36 in Charlotte. He also blogs at deftlyinane.com. This week's entry: KITTY CATS!