The Week's Inanity, Sep. 28: Cornhole Doppelganger, Making It Rain and Hello Cammie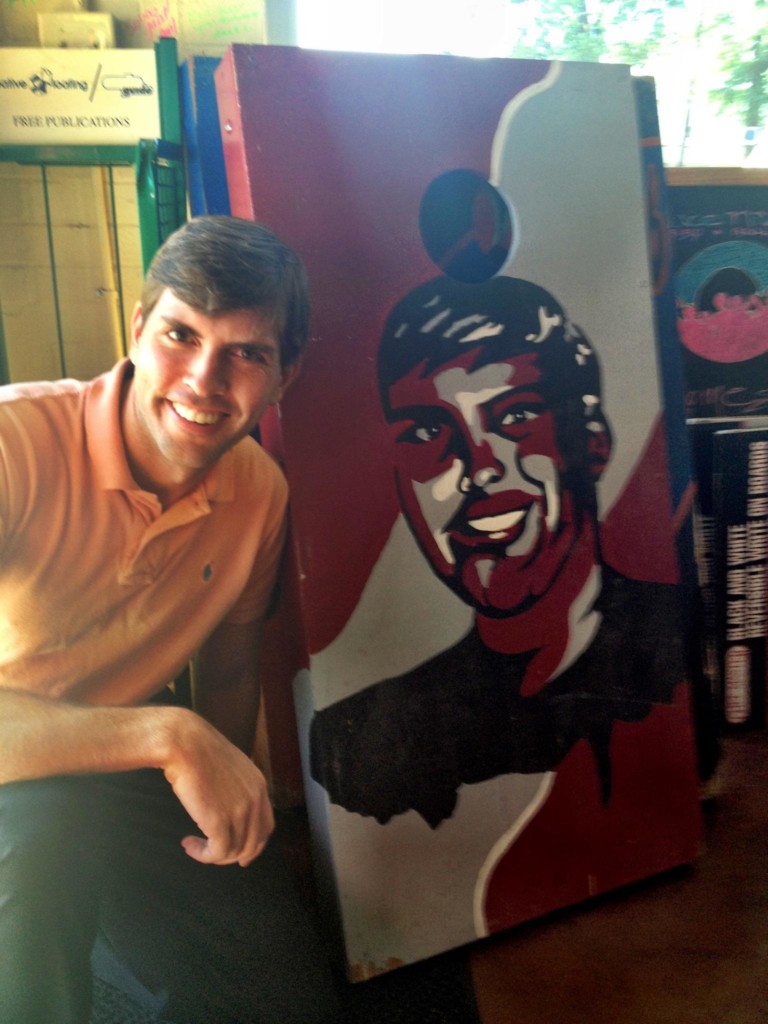 Attention cornhole board artists: if you are going to paint my face on one of your cornhole boards, you have ceased to care about your anonymity. I will find you.
A week ago, I was having lunch at Sauceman's BBQ at the corner of West Boulevard and S. Tryon. My lunch partner kept glancing over my shoulder the whole time. Finally, she just asked me to turn around.
And there it was. Me. Staring back at me. My face. Painted on a cornhole board.
(Cornhole, if you don't know, is a team game played with four people who toss corn-filled bags at a wooden board. A bag that lands on the board is worth one point. One that goes into a hole is worth three. If you're going to Google the rules, just make sure your SafeSearch is on.)
I don't want to sound like I've got a big head here, but this is not my first random connection with other people's creative output. A teenage girl once used my name as a character in her online novel (I was a rich and handsome CEO with a private jet. The prophecy has been foretold). Last year, a graphic artist named Nikki Mueller used one of my tweets to make a poster. The tweet was about sex, batons and a marching band.
This was different. I've seen enough episodes of The Simpsons to know about what Homer did when he found his face on a discarded box of Japanese dishwasher detergent. He went looking for answers. And so did I.
First, I called Sauceman's. The boards weren't theirs, but they knew who made them, a man named Brian Kolchak. I sent him an email. He didn't write back at first. The trail became cold.
Then he responded. "I knew sooner or later you would stop into Sauceman's and see the gift I have left you," he wrote.
Brian, you see, is a cornhole board artist.
By day, he's a marketer for a local construction company. By night, he creates works of art on sheets of plywood. His mother painted, and gave him and his three brothers pads so they could sketch. He first took up cornhole board painting after a friend asked him to spruce up his set. "You're an artist," he told Brian. "You can do this."
Now, Brian has turned his hobby into a business, creating custom cornhole boards that go for around $400 a set. He gets orders from all over the country. He's shipped his creations to Maine, Florida and the Bahamas. It's weird. "I'm painting cornhole boards," he says. "People are throwing bags on it, spilling beer on it, but they want them custom made." He builds the boards himself from plywood he buys at Lowe's. He mostly paints nautical scenes. Mahi mahi is popular. So are boats, sailfish and marlins. He rarely does portraits.
A while back, the owners of Sauceman's asked him if he could paint a portrait of Zach Goodyear, a partner in the business, and one of the guys who cooks the pigs. They gave Brian a couple of pictures, and he went to work, creating a piece of art that looks like Zach, and, frighteningly, me. The boards happened to be in Sauceman's that day because Brian is getting ready for a charity cornhole tournament at Sauceman's on Sunday. When I reached him last night, he was busy making five more sets of boards. "I come home, have a beer, and paint," he says.
In all, Brian has created about 75 or 80 sets of custom boards. He doesn't repeat his designs, which is unfortunate for me, because it effectively kills my dream of having a game where you can throw a beanbag on my face, and then laugh at the absurdity of it all, because, I mean, if you don't get it, say this sentence out loud. Brian says Zach himself laughed when he saw the board. I haven't met the guy, but I've seen pictures. Sorry Zach, but this thing looks just like me. Give me the boards.
And there's your answer, fish-bulb.
—
Here's the video you've been asking for: Former Bobcat Steven Jackson eating ribs in slow motion (h/t Sammy Eanes):

I swear, every time there's a vacant piece of land around here, it's always movie studio or NASCAR, movie studio or NASCAR.
The highest point in Charlotte, appropriately, is at the end of a cul-de-sac.
Holy Crap: According to this ad, if Pat McCrory is elected governor, and if his effort displeases Wayne Gay, WAYNE GAY WILL BRUTALLY ATTACK PAT MCCRORY:

One of the NFL's replacement refs is a banker at Bank of America. I knew I should have bought some credit default swaps on the Packers this week.
I swear, if I ever interview Cam Newton, I'm going to use a Lisa Frank Trapper Keeper as my notebook, and write with a My Little Pony pen. We'll see how many questions I get in.
"He said his wife offered to divorce him 'on the spot' for the sake of his political career, but he said no."
Oh I totally hear you, Banner Elk Golfer Extolling the Virtues of Private Jets.
A stripper from Charlotte, shot on stage in Columbia, will not be getting workers' comp. The decision hinges on an argument over whether LeAndra Lewis was an employee or an independent contractor. To save you the time of reading through the whole decision, I've pulled the following passages from the court's decision:
"The clubs where Lewis worked are commonly referred to as strip clubs. Lewis's role as a dancer in these clubs is what most people would call being a stripper."

"She argues that the club furnished equipment, such as the stage for dancing; poles to assist the dancers; private rooms for V.I.P. dances; tables, chairs, and couches for the customers; and even glasses in which the bartenders poured their drinks."

"We compliment Lewis's counsel for this creative presentation."

"There is no practical possibility that an exotic dancer might bring her own stage, poles, chairs, couches, or bar glasses."

"Rather, the record indicates the club had nothing to say as to how Lewis should dance."

"The club's only involvement in the customers paying money to the dancers was to keep a large quantity of one dollar bills on hand so that a customer could 'make it rain.'"
Also, the name of the club is the Boom Boom Room.
Jeremy Markovich (@deftlyinane) is a regular contributor to Charlotte magazine, and a producer at NBC Charlotte. He also blogs at deftlyinane.com.