The Weird, Wacky Ways Charlotte's Beers Get Their Names
Brewers scrape the tank for distinctive beer titles they hope remain untapped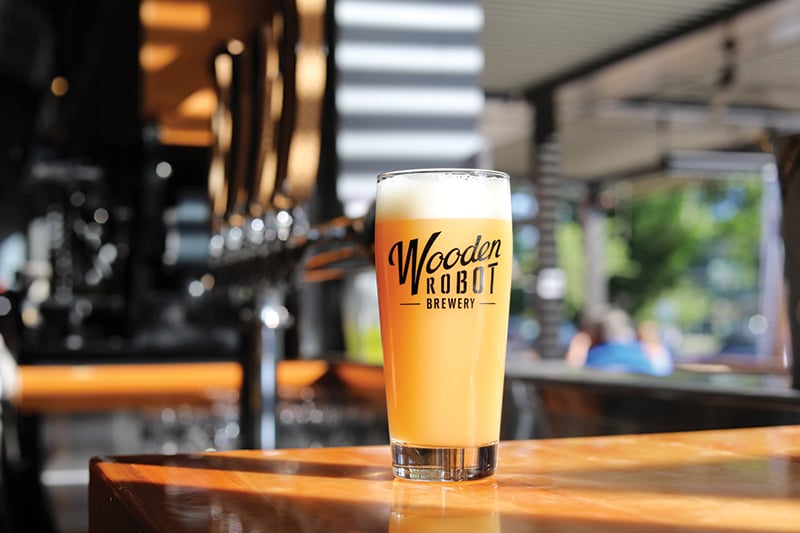 The craft beer revolution has inspired brewers in search of appropriate names for their creations to reject the simple and direct—Bud, Lite, PBR—for the winking and obscurantist. Small-batch beverages lend themselves to small-batch cultural references, like favorite song titles and movie quotes. Saint Paul Brewing Company in Minnesota sells Cygnus X-1, a porter named after a late-'70s Rush prog-rock opus, itself named after a black hole. Launch Pad Brewery in Aurora, Colorado, a Denver suburb, pours a lemon meringue milkshake IPA (?!) with an equally absurdist name: The Sun Is Closer Than the Clouds. (Duuuude.) Closer to home, Heist Brewery in NoDa serves a New England double IPA named You Can't Triple Stamp a Double Stamp, perhaps an implication that too many might make you Dumb or Dumber.
Options are, sadly, beginning to dry up. "Naming beers has only gotten more challenging as we've gotten over 8,500 breweries in this country," says Brian Quinn, head brewer at Town Brewing in FreeMoreWest, "and they're all putting out a lot of beers."
Catawba Brewing Co., the Morganton-based brewery with a Charlotte location in the Belmont neighborhood, uses a rough naming system: Brewers concoct the beer, then tell the sales and marketing team to "go drink a couple of beers and see what you can come up with," says Ashley Stevens, the company's sales manager. They check their choices on Untappd to see if anyone else uses the name. Sometimes, someone does. If Catawba plans a tap-only brew, and if the brewery using the name is on the West Coast or another far-flung locale, "it's usually OK," Stevens says. If it's in the South, or Catawba wants to distribute it? Sales and marketing starts over. It's trickier than it seems.
Just for fun, we decided to check in with Town Brewing, Catawba, and a couple of other Charlotte brewers for the backstories of some of their more intriguingly christened offerings.
Lenny Boy Brewing Co.
Tangerine Dreamz
Head brewer John Watkins infuses Tangerine Dreamz with lactose and notes of tangerine, which induce a "pillowy, dreamlike" sensation often associated with Belgian-style witbiers, says co-owner Nathan Villaume. (The similarity to the name of the venerable German electronica group Tangerine Dream is apparently coincidental.)
Wooden Robot Brewery
Pettifogging
Co-founder and head brewer Dan Wade: "We named that beer after the term 'pettifogging' was revived in January 2020 by (U.S. Supreme Court) Chief Justice John Roberts. We happened to have a hazy session IPA in the tank that needed a name. The definition of pettifogging is 'placing undue emphasis on petty details,' or in other words, being clouded by small things. This seemed perfect for a small, cloudy beer."
Town Brewing Co.
Breksta
This coffee Baltic porter derives its name from the goddess of twilight and dreams in Baltic paganism, the polytheistic faith practiced in Europe's last pagan state, Lithuania, until its Christianization in 1387. Seriously. Brian Quinn, the head brewer, found the name deep down a Google rabbit hole; he knew he wanted a name that alluded to the Baltic region, and as the holder of a master's in history from Virginia Tech, he was used to burrowing into the past.
"I just kind of stumbled on it: 'This is great, and it's not too hard to pronounce,'" Quinn says. He aims to brew the cold-weather porter again in winter, although the beer itself seems almost incidental. "It's almost more about the story you can tell than the product you produce," he says. "The great thing about brewing is that you can tell a story with every pint."
Catawba Brewing Co.
El Gato Mariachi
Right. A cat, clad in a charro suit and sombrero, playing an acoustic guitar. That's him on the label of this horchata white ale. His name is Taco, and Stevens, his owner, reports that he's a spoiled, "slightly chunky" housecat who eats her plants. Catawba brewers developed the beer as an homage to the traditional Mexican rice drink, which made them think it'd be a perfect complement to tacos, which made Stevens think of how she'd always wanted to name a cat "Taco" because "taco cat" is a palindrome. ("Go drink a couple of beers and see what you can come up with.") Stevens provided the design agency Owen Graffix of Statesville with the concept and photos of Taco, "and they just ran with it."