The Wheels Stay On: Life of a Charlotte Bus Rider
The city keeps adding new public transit, but CATS buses remain vital to getting Charlotteans where they need to go. Just ask someone who rides them every day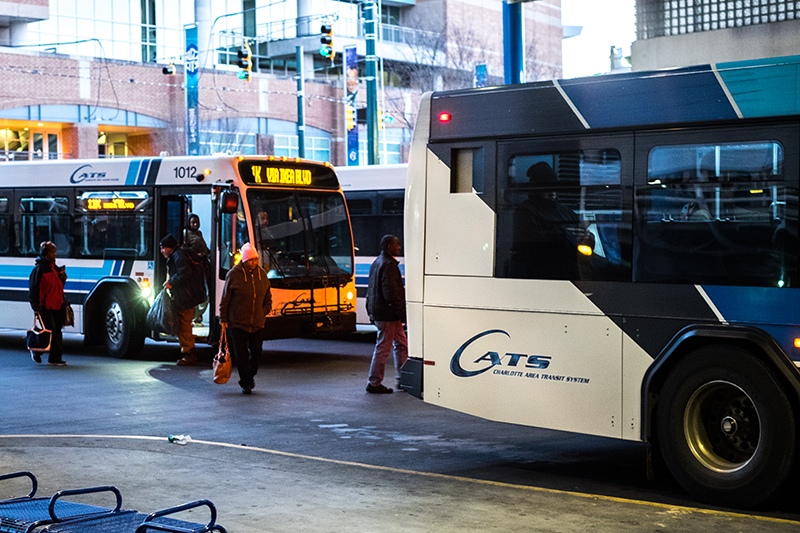 HIS WORDS BEAT my apology by half a second.
"You stepped on my shoe, man," he says. He's in his 60s, and the wrinkles on his face pull inward as he inspects the damage. He licks his thumb and rubs off marks left by my snow-soaked boot. "Geez… "
As the Route 9 bus barrels down Central Avenue on a frigid Wednesday afternoon in January, I try to explain myself before muttering a sincere, "I'm really sorry about that, sir."
We're sitting perpendicular to one another, our seats nearly overlapping in vertical and horizontal rows fixed in an "L" shape. I suspect our proximity is one reason he takes mercy on me. "You know, don't even worry about it, man," he continues, waving a hand in dismissal. "These are sturdy. They're from Macy's. And I probably had my foot out too far for you, anyway."
On a light-rail train or a shared taxi, this interaction would have been unpleasant, but at least it would've been quick. The story would've been short: I accidentally stepped on a guy's shoe. He wasn't happy about it. Most awkward 10-minute commute so far this week. But on a Charlotte Area Transit System bus, rides can take a long time. Some conversations evaporate into the hum of the engine; others grow deeper and garner more passion. The time spent sitting so close to so many people can make frustrating situations more frustrating. A child's cry is more piercing on a bus; a drunk's howl is more uncomfortable. Out on the streets of Charlotte, we don't share this much time with strangers. Here, an experience either gets more awkward or more interesting.
The next 15 minutes prove that point.
The man whose shoe I've stomped tells me everything I could want to know about his life. How he can't get home fast enough from his restaurant job. How his other shoes at home are even more durable than this pair from Macy's, which were, he reminds me, at least sturdy enough to handle my infraction. Then, without prompting, he tells me that he wears panty hose for extra warmth during the winter months.
"Just take 'em from your wife's drawer, pull 'em up past your belly, and boom!"
When my stop comes, he's still selling me on it. His tone turns angry again. I tell him that I will try it out. Promise.
As I exit the bus, I realize we've traveled across the city and I never got the man's name. Our brief friendship even had a complete arc to it, from those tense first moments to his pleading with me to take his hard-earned advice. He really seemed to care.
I've been riding the bus my entire adult life, for a variety of reasons. I like the idea of being environmentally friendly. I like saving money. But it really started with a diagnosis in high school: I was told I had clinical anxiety, and although I do occasionally drive, it's never without fear of an attack.
Through the years, I've collected hundreds of stories and crazy interactions with strangers. Usually, my wife's the only one who hears about them, and usually, it's when I'm removing my headphones and coat at the front door after an evening out in Charlotte. I'm an arts journalist. I visit galleries, museums, concert venues, and shops around the city each week. Leaving my north Charlotte house for two exhibition openings means five or six different bus rides in one evening. With 25.2 million passenger trips made by CATS buses last year, my number seems like nothing. There are hundreds of millions of potential stories.
But "You'll Find Great Stories on the Bus" isn't a headline that sells people on public transit. Although it seems many Charlotteans now embrace light-rail projects and streetcars, there's still a stigma attached to a city bus. When I type "riding the bus" in a Google search, the next word suggested is "embarrassing." One time, in uptown, I heard a businesswoman say, with a laugh, "Let's get on the bus! Just kidding. Ew."
Those are superficial complaints. As bus-riders, we have our own, more pressing problems. So let's get this out of the way: No, the bus doesn't smell. But the construction of new apartments and new modes of transportation has sure interrupted our regular routes. The technology that helps us ride the bus is antiquated, forcing us to wait in lines to get a physical ticket. (Charlotte builds something new every day, but its city-bus fare collection system is about 18 years old. Sometimes, drivers will wave you aboard the bus to avoid messing with it altogether.) Some buses are often overcrowded, which is odd, considering that CATS recently reported a drop in ridership.
After three years in Charlotte, I can appreciate, and in some ways romanticize, how I get around every day. But I still have concerns. Where do bus riders fit into the future of a city that's growing in population and wealth? With the rise of Uber, Lyft, and rail transit, it's harder to convince others to board an outdated vessel for long durations. Yet, of the 82,000 weekday trips, only about 23 percent is done by light rail or streetcar. More than 63,000 people ride the bus every day. Simply put: What are they going to do with us?
***
AT THE CHARLOTTE TRANSPORTATION CENTER, commotion and chatter fill the high ceilings at midday. CTC is its own ecosystem, hidden inside the shiny, khakied shell of uptown. Inside this place, a customer's average salary is $26,323. The average age of a CATS customer is 35, but somehow this spot is always flush with teenagers. This is the place where every route begins and ends in Charlotte. From here, I can get anywhere in the city, for just $2.20. It may just take me 45 minutes to get there.
It's a noisy place, with a mix of mingling riders, overhead announcements, nearby street preachers, and, of course, the buses. They filter in and out of the bays as riders walk between them. Long lines extend from the ticket station windows. Small crowds are separated by the bus bays; people chatting, checking their phones for the time, waiting to get to that next place. Several people cock their heads sideways to read the LED schedule posted in the heart of the hub. They file in and out of the restaurants lining the interior of the CTC—Burger King, Bojangles', and one of my personal favorites, China Shuttle.
Also here are bus drivers, waiting for their shifts. They stop to talk to some of the patrons. Some seem like old friends. Even if I keep a strict schedule, I never seem to see the same driver two days in row. These bonds form over months, over several routes. I've seen CATS bus drivers do amazing things. I've seen them fit 40-foot Gillig buses through unthinkably narrow spaces. I've been a passenger in every type of weather—and I've seen saintly patience from drivers as they navigate torrential downpours while the crowd grows restless. I've heard them indulge the chattiest, most over-sharing passengers with the kindest "Oh, really?" imaginable.
But I've also seen outliers. I've witnessed drivers flirt, argue, ignore, and threaten to punch passengers, and I've seen the roles reversed. These situations don't come up often, but they stay with you. And they're typical of most road-rage situations, no different from when taxi drivers yell at patrons or when two car owners are shouting at each other at a busy intersection. We have a good thing, the miracle of modern transportation, and it constantly evolves into a more convenient version of itself, yet still the ages-old instinct in every human takes over. We want to reach the next watering hole, by any means. Traffic makes everyone insane.
CATS officials work to keep the outliers to a minimum. City buses traveled 11.6 million miles last year, and in a 2011 survey, riders gave drivers a score of about 87 out of 100 in the "driver courteousness" category. This is a departure from 2009, when WCNC TV went through thousands of customer complaints that had been filed through CATS. The most common? Drivers being rude.
Generally, I'd say last year's numbers seem right. I'd give mostly high marks, with a dozen or so footnotes. But CATS has 316 buses with 72 routes. Although each of my trips may seem like the most important one of that day for me, I'm one of thousands.
***
AN ENORMOUS, silver CATS insignia glistens on a wall at the transportation system's offices in uptown. The mission statement hovers below in Papyrus font: "To improve the quality of life for everyone in the greater Charlotte region by providing outstanding community-wide public transportation services while proactively contributing to focused growth and sustainable regional development."
John Lewis, CEO of CATS, gives a shorter version of the charge: "We get people where they need to go."
Lewis moved to Charlotte in September to take the CEO position after working in transportation in Richmond, Orlando, and Baltimore.
He has a story about Baltimore. "Within one week of my becoming deputy director of bus operations in Baltimore, we started having wheels fall off our buses," Lewis says. "There were 22 incidents of dual-rear wheels completely separating from our vehicles. Everybody above me got fired over a six-month time frame."
One morning during that period, Lewis was in a gym when a news report aired detailing Baltimore's transit woes. He could hear other people in the room laugh. But he overheard one man, a retired lieutenant colonel who was second-in-command at Aberdeen Proving Ground, give an unexpected reaction: "I bet if they wouldn't mind giving us a couple of their vehicles, we could fix their problem," the lieutenant colonel told a friend. Lewis quickly introduced himself. Within two days, the man's team at Aberdeen identified the problem—an outdated mechanical part needed to be removed—and it was solved.
"I will take luck over skill at any time," Lewis says. "If I had not been willing to prostrate myself in front of this gentleman, who knows where I would be now? You have got to be willing to trust the people who are around you and not be afraid to ask for assistance."
Sixteen years after that first year working in Baltimore, Lewis entered Charlotte's system as a transit veteran. After a few months of examination, he believes there are two reasons for the drop in CATS bus ridership. The first is the fare boxes, the antiquated ticketing machines located at the front of the bus. Lewis recommended replacing those within the next year in his recent budget proposal to the Metropolitan Transit Commission, the policy board in Charlotte that oversees CATS. That would ensure that all passengers are at least counted, not just given a free pass while a driver waits for a maintenance worker to fix the ticketing machine on the next go-round. The move would also be a step toward mobile ticketing and smart cards, technology that removes the process of sifting through pockets for a paper ticket or dollar bills and change.
Shared economy transportation, such as Uber and Lyft, has also brought down ridership. So have low gas prices. Inside Charlotte, more and more folks are mixing light rail and buses. They're making all modes of transportation work for them. But Lewis knows CATS isn't always going to be the right choice for every Charlottean, and that's OK.
"Oftentimes, transit systems will look at themselves as the only solution," Lewis says. "That's not the case. What we do very well is that we move large numbers of people along corridors. What brings transit to the forefront is that it's sustainable, and it's cheaper, but it's also mostly time. Commuting patterns are changing; where people are living is changing. I think the confluence of millennials and baby boomers is changing. We've got to look at different means of providing mobility options based on that."
Buses can fit into the places that streetcars can't. Lewis says one of the most important spaces for a public transportation official is the space between a rider's front door and the rail line. He calls the bus "the crux and the foundation" of how CATS moves forward. Meanwhile, CATS is talking to third-party providers about possible partnerships. "Looking into my magic ball, I see a system that's concentrating on major corridors with our rail and buses," Lewis says. "But going into neighborhoods and communities, we need to have different options. Some of that can be private, with other providers. Some could be different types of neighborhood shuttles. We need to get away from that cookie-cutter approach that the 40-foot bus is the solution to everyone's mobility option."
Buses are a vital part of the transit system's future, Lewis says. They may not be the only option, but they have their strengths. And they'll continue to play a role in getting Charlotteans where they need to go. It just may not work for all of us.
***
I OFTEN THINK about a late-night bus trip I took six months ago. After two gallery openings and a brief stop at a Plaza Midwood punk show, it was after midnight when I started to head home. Google Maps told me that a CATS bus, which would take me down Central Avenue, up Eastway Drive, and drop me off half a mile from my house, was just a few minutes away. I was so tired that I seemed to float to a sign that read "Route 39" and onto a vessel that glistened in the rain.
I slunk into a seat at the front, catching my reflection in a window on the opposite side of the bus. I've gotten fat. I need to work out more. A good self-deprecation party seemed like enough to occupy a 30-minute ride home, but then a flash of color drew my eyes to a nearby passenger's lap. He was carefully shading a tree with colored pencils in a sketch pad, layering on bursts of green. My tired eyes became mesmerized.
Something in his sketching process galvanized me, and I felt awake. I remembered to introduce myself this time. His name was Bryan, but friends call him "Flip." He's a coach at Charlotte Extreme Cheerleading, an athletic facility near Carowinds. In his spare time, he draws.
I shouldn't have really wanted to talk about art right then, or talk to anyone at all, really. But that's what happens on a CATS bus. I had talked to several artists that day, but that 20-minute conversation with Flip on the bus was the one I remember.
A couple of months later, I finally did the numbers: I found that my daily commute would be simpler with a mix of Bus 39 and Uber. Those first few trips nearly felt like a betrayal of the way I had traveled for more than a decade in multiple states. But this is what works for me right now; it costs a little more money, but saves much more time. Still, I make it a point to ask my Uber drivers what kinds of things they see out in Charlotte. After all these years, the city bus has spoiled me with stories.
My transit woes will never go away, no matter the configuration. There will be a new pitfall, something else to complain about to my wife. But transportation enriches my life, whether it's getting me where I need to go, or something I learned from a fellow traveler. Like how to stay warm. With panty hose.
Andy Smith covers the arts and serves as web editor for this magazine. His work also appears in Hi-Fructose Magazine, Back Issue, and Outreach Magazine, among others. As you read this, he's probably somewhere in Charlotte, holding onto a rail in a big, moving machine.