The Whiskey Room opens at Ri Ra
40 Irish whiskeys available for tasting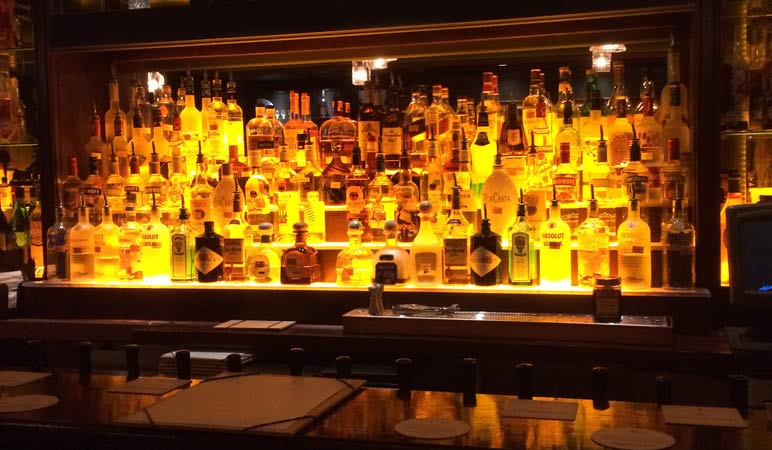 Translated literally, the Gaelic words for whiskey, uisge beatha, mean "water of life." So, at first glance, it isn't particularly surprising to see the English words "whiskey room" stenciled onto the front window of an Irish pub instead. A closer look inside the new Whiskey Room, on the second floor of Uptown restaurant Ri Ra, reveals an intimate, unintimidating space.
Owners Ciaran Sheehan and David Kelly unveiled the bar last night, emphasizing their desire to make Irish whiskey accessible to everyone, from first-timers to aficionados. "Whiskey can be stuffy and a bit intimidating to be honest," Sheehan says, in his thick Irish brogue. "We wanted to make a space that, while it's plush and comfortable, it's not pretentious or hoity-toity."
The 1,200-square-foot space is dark and clubby, lit by bulbs housed in crystal whiskey decanters. Black leather booths line the walls and, like much of Ri Ra's downstairs, most of the decor came directly from Ireland. Copper table- and bar-tops, tin ceiling tiles, and antique mirrors were all restored in Wicklow, a town about an hour south of Dublin.
The Whiskey Room serves 40 types of Irish whiskey, which is generally smoother than other types of whiskey and has none of Scotch's peaty smoke or bourbon's bite. In addition to ordering them neat, visitors can order bottle-aged cocktails and four types of whiskey punch, served individually, for three or six people.
"They're communal," Sheehan says. "Share, enjoy the punch, learn about the whiskey, learn about each other." One, for example, is made with Tullamore Dew whiskey, muddled raspberries and hibiscus, with notes of lemon and nutmeg. It's raspberry red and deliciously sweet without completely overwhelming the taste of the whiskey.
Ri Ra will serve a separate food menu upstairs, made up of small plates designed to complement the whiskey. Many of the dishes also highlight North Carolina ingredients, including bratwursts braised in Highland Gaelic Ale from Asheville ($10), and sweet potato-shrimp fritters ($9) made with shrimp from the coast.
Since a fire gutted Ri Ra back in 2009, forcing a total renovation that kept the pub closed for 10 months, Sheehan and Kelley sought a better experience for the second floor. "We always felt upstairs needed character," Sheehan says. "It needed a story to tell." He pauses for a minute, and looks at the crowd of people pushed up to the copper-clad bar, listening intently to a description of a particular whiskey.
"We could talk for weeks about whiskey if you'd let us," he says with a laugh. "It's in our DNA."