The Word on Window Treatments
Designer Catherine Boardman helps us discern which types of window treatments are best for different types of spaces.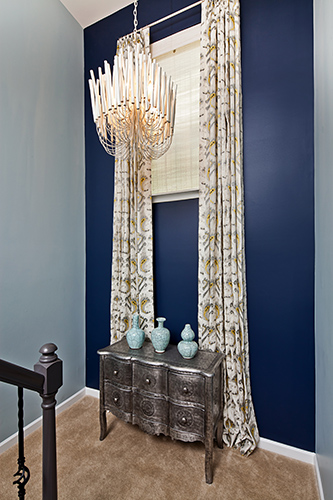 You've got the couch. You had to search far and wide for eye-catching wall décor, but you've finally got that too. And, oh, that rug looks fabulous! Now you're just missing one thing… Window treatments.
Whether forgotten or simply avoided, picking out window treatments for a room can oft be the bane of a homeowner's existence. You find yourself questioning your entire style profile: Am I blinds person or are drapes more my fare? What about shutters and shades? Do I really even like that blue color I chose for the walls? What did I have for breakfast? Who am I?
As you can imagine, choosing something like window treatments can catapult any confident homeowner into a self-doubting tizzy. That's where we come in. We asked local designer Catherine Boardman for the word on window treatments to help you decide just what type of window treatment would suit your room the best. Here's what we've come up with:
Drapes or blinds?
"Drapery does what no other window treatment can, and that is pulling together a well-designed room beautifully," Boardman says. But if you are like Boardman and prefer a more casual style, you may want to enlist the services of woven blinds and shades. These materials have a much more natural look. Boardman also says that woven blinds make a great first layer for drapery or valances.
If you have a traditional interior and like a polished look, opt for gorgeously dramatic drapes on rods that frame the window moldings. For a more natural or casual style, woven blinds and shades will do the trick.
About bathrooms
"Bathrooms require moisture resistant materials, and sometimes window tinting can be all that's required," Boardman says. However, privacy is another defining factor for bathroom window treatments, so you should assess whether or not your window is giving a peep show to the neighbors. For a peace of mind, try bottom-up shades or half-curtains to provide privacy while still letting in light.
For modern homes
If contemporary and minimalist designs are your cornerstones, then consider nixing window treatments. According to Boardman, less-is-more for these types of spaces: "Painting sashes and trim black can provide all the framing you need for the beautiful outdoors. When the need for privacy exists, wall-to-wall sheers and ceiling track-mounted drapery is also a gorgeous look for modern interiors."
Remember personality
When you still can't decide on a window treatment, Boardman reminds us not to fuss too much. As long as your personal style is represented, sometimes you can go against the grain. Boardman concludes, "I think it's so important to let the home and also its owner shine through in my interiors, so conscious rule-breaking is allowed." Who doesn't love permission to break the rules?