The Write Touch: Laura Casey's Style
The interior designer relies on an old-fashioned source for her best ideas: pen and paper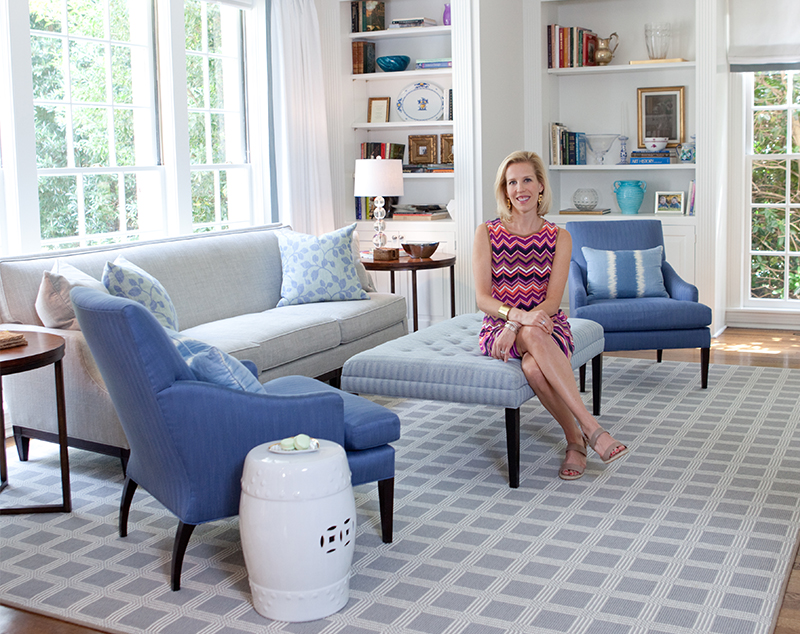 YOU'D THINK A WOMAN WHO has worked in New York for big design names such as Victoria Hagan—and who now runs her own company— would be a tech junkie. How else could she keep up with so many projects and people? Not to mention new product lines, home gadgets, and trade news. But Laura Casey, 38, does not live and die by computer screens. She prefers paper.
"There are a couple of reasons why I like a paper medium better for writing and reading," she says, choosing her words thoughtfully. A colorful stack of slender notebooks sits nearby on the kitchen table. "I read and understand content better when it's on paper. My thoughts are more together when I write on paper." She thinks. "My lists are more accurate." A pause. "And I'm not as distracted."
With a husband who works in finance (they met on her first day at Vanderbilt University) and two sons in elementary school, she has plenty of distractions. She's perfected a simple interior design style that wards off clutter. Her projects and advice have a national audience; a home she designed was recently featured in Better Homes and Gardens.
Her rooms sparkle with a fresh combination of light, good furniture, and space. She uses color, but not too much; family pieces, but with restraint; and symmetry. Of course, there's also the occasional bookshelf for those objects that are still made with paper.
---
LOCAL JEWELS // Bright cabochon gemstones dominate the gold-plated brass jewelry by Addison Weeks. Charlottean Kat Mulford and her friend Lee Lesley launched the company in 2012 (its name combines their middle names). Their jewelry, along with gemstone-studded clutches and homedécor items, is available in area boutiques.
---
SILK SCARVES // The vintage Gucci scarf was a gift from Casey's mother, artist Jean Campbell. Warm yet light, it's a versatile accessory. The signature design of different flowers was commissioned in the 1960s as a gift for Princess Grace Kelly. Since then it's had many iterations, including on Gucci blouses and handbags.
---
SCRUMPTIOUS TREATS // Casey turns to Alice Neumann, owner of Sugarbomb Sweets, for smallbatch cookies, pastries, and cupcakes. Her caramelapple hand pies, made with Honeycrisp apples, salted caramel, and an all-butter pastry dough, are just right for fall.
MOLESKINE NOTEBOOKS // Colorful bindings make these luxury notebooks easy to find in a big purse. Casey uses a separate one for each client and has personal ones in an array of sizes and colors.
---
CLASSY TABLEWARE // This Wedgwood bowl with a Chinese Tigers pattern does double duty. When not decorating a bookshelf, it's on the dining table filled with salad or fruit.
---
This article appears in the November 2015 issue of Charlotte Magazine
Did you like what you read here? Subscribe to Charlotte Magazine »
---