The Year Ahead: What to watch for in Charlotte's craft beer scene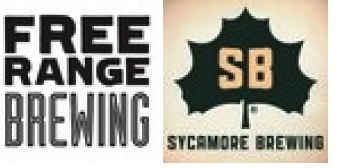 Happy New Year to all the faithful On Tap readers. Hopefully you escaped the ordinary and celebrated with a great bottle (or two) of craft beer instead of champagne. As we enter 2014, it's a chance to look ahead at what to expect on the local beer front.
I've already written about what an incredible year 2013 was for the Charlotte craft beer community. And this year is shaping up to be more of the same. Here's a primer:
New breweries
Two new breweries are already in the works for Charlotte in 2014: Free Range Brewing and Sycamore Brewing. Free Range will be located in NoDa, while Sycamore's residence is in the SouthEnd district, right along the light rail. Both secured brewery space in the latter half of 2013 and are currently working on all the necessary requirements to open.
Sycamore co-owners Justin and Sarah Brigham posted on their blog last week that they've completed the licensure paperwork and are currently working on designing the brewhouse. The included blueprint has me even more excited about what Sycamore will be offering. If everything goes as planned, Sycamore Brewing should be up and running by the early summer.
As for Free Range, brothers Jason and Jeff Alexander have a brewhouse already, and have also applied for their license. No date has been given for Free Range's opening in 2014, but they'll be pouring at this year's Queen City Brewers Festival Feb. 1 if you want to get a sneak peek/taste (and trust me, you do).
There are also two other potential breweries on the horizon. DukBone Brewing has been looking for space in Charlotte for some time now and continues to do so, according to their latest blog post. And a new brewery will be taking over the current space occupied by The Olde Mecklenburg Brewery at some point this year, from what I'm told. Speaking of which …
Brewery expansion
Since its groundbreaking in September, construction has been steady for OMB's new location (which is just down the road from the brewery's current spot). A bigger biergarten, one of the largest brewhouses in North Carolina and tons of green space are among the highlights of the almost nine-acre property. And more space means more beer that can be produced, which is never a bad thing. Look for the "new" Olde Mecklenburg Brewery to open sometime this spring.
Bottle shop expansion
Brawley's Beverage is undergoing a transformation as we speak, as owner Michael Brawley continues to work on adding a tasting room complete with several taps to his longstanding Park Road establishment. The building is coming along and should debut at some point in the next several months.
Fill it up
Once the expanded growler law passed in October, it opened up options for licensed establishments. Good Bottle Co. was the first to offer growlers, followed by Growlers Pourhouse. Salud Beer Shop posted a picture of their official branded growler last month and said they'd be offering fills at some point after the new year. Healthy Home Market, which is moving from its current South Boulevard location to Plaza Midwood tentatively this summer, will have a growler station at its new residence. And a growler-specific shop is in the works for Charlotte as well. The Beer Growler has several locations already in Georgia, and is currently searching for a spot to expand locally.
More local beers
NoDa Brewing will be canning Coco Loco, along with bringing back Midnight Madness and a yet-to-be-announced beer from its Top Shelf Series. Unknown Brewing is set to begin rolling its beers out to the local marketplace. From its new bottling line, Triple C has just released 3C IPA and Smoked Amber. And let's not forget about all of the weekly small batches at Charlotte's breweries. I'm sure there'll be a few surprises along the way as well.
More places to get local craft beer
The Queen City already has a bountiful list of options where you can purchase and drink craft beer, and more look to be on the way. Pint Central, located in Plaza Midwood, has steadily been working this winter on opening its doors. The restaurant/bar was interviewing for wait staff and bartenders a couple of weeks ago, so I'd expect them to start up at some point in the next month or so.
Joining Charlotte's beer festival list is All Ale to the Queen, which is the official closer of Charlotte Craft Beer Week. Details are just beginning to leak out about this March 22 event at the N.C. Music Factory, but so far Unknown Brewing, Lenny Boy Kombucha, Ass Clown Brewing and D9 Brewing are representing the local front, along with several N.C. breweries, including Wicked Weed and Burial Beer Co.
And this spring will see the opening of BB&T Ballpark in uptown Charlotte, home to the AAA Knights. The Knights were supporters of local craft beer in Fort Mill, and a couple of local breweries have already signed on to the new location. One more thing: I don't know if it'll happen in 2014, but bet on a craft beer festival here at some point.
The unknown
Not the brewery. This is a more expanded unknown. Back when 2013 began, who knew that Charlotte would get, well, Unknown Brewing? Or Free Range/Sycamore? Or that Olde Mecklenburg would be expanding? Or NoDa would start canning? Or new bottles from Birdsong and Triple C? Or several new breweries and bottle shops in the expanded Charlotte area? Or that you would be able to fill a growler of any beer on tap in North Carolina?
That's the great thing about this local beer scene. You never know what's next. I'm almost as excited about what I don't know than what I do when it comes to Charlotte craft beer in 2014.