The Year in Charlotte Beer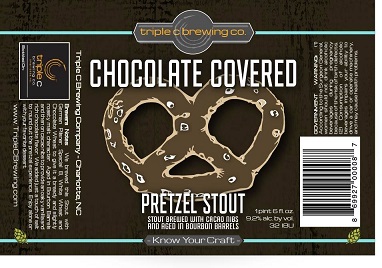 Expansions, openings, releases, awards, festivals … 2015 had it all as far as Charlotte craft beer is concerned. The growth of local beer produced in the Queen City continues to grow by leaps and bounds, as does the popularity. While many pinpoint Asheville as the Craft Beer Capital of the South, Charlotte is making a strong argument for that title, and you need to look no further than what took place over the past 12 months. Here's a recap:
January
—Olde Mecklenburg's BBA Fat Boy releases, with a Fat Boy breakfast to boot: This is how you start the year off right. OMB took its esteemed Fat Boy Baltic Porter, aged it in Four Roses bourbon barrels and threw an awesome party at the Brauhaus that featured a spread fit for a king. The beer was fantastic, the food top-notch and to top it all off, there was also a great bottle share to begin the morning. If you missed out, tickets for this year's BBA Fat Boy event have just gone on sale.
—Sugar Creek releases its first bottle: It didn't take long for Sugar Creek to establish itself as an up-and-coming brewery, and the flagship Belgian Dubbel was its first bottle release. That beer would also later go on to win a silver medal at the 2015 U.S. Open Beer Championship. Sugar Creek followed up with a few more bottles over the year, including its Pale Ale, now widely available in 6-packs.
—Queen City Brewers Festival stars at Bojangles Coliseum: As craft beer in Charlotte grows, so does its namesake festival. The 2015 QCBF featured nearly 50 breweries, bottle shops and other local craft beer exhibitors. And yes, it's on the move yet again, with this year's event at The Fillmore (tickets on sale now). But no matter where this festival is, it has shown to be one of the premier gatherings for Charlotte's craft beer community.
February
—NoDa ups its seasonal can game: After surprising many in December 2014 with the release of the outstanding Hoppy Holidays in cans, NoDa Brewing took a local favorite, Hop Cakes and put that in cans as well. Brewed with Vermont maple syrup, this long-popular double IPA was snatched up quickly but have no fear: Hop Cakes will be back in 2016, all part of NoDa's seasonal can a month release.
—Heist's Cataclysm II wows: Heist Brewery has gone through a few changes since opening in 2012, and it was last year when everything fell into place, led by one of the best beers of the year: Cataclysm II, a Russian Imperial Stout with local coffee from Magnolia Coffee Co. Heist's Eric Johnson and Alexa Long (who has since moved to Legion Brewing) absolutely nailed it with this beer and when Heist had its first bottle release, barrel-aged Cataclysm II, in December, the line formed well before the brewery opened and bottles were sold out within a few hours. Heist's unique beer styles continue to impress, and I'm looking forward to more in 2016.
—Triple C's barrel program keeps churning out phenomenal beers: Triple C and head brewer Scott Kimball are absolutely dialed in with the brewery's barrel-aging program. Having already produced solid bottles in BBA Up All Night, The Force and The Dude Imbibes, one of my favorites last year was Chocolate Covered Pretzel Stout. If you didn't get to try it, the beer is as amazing as it sounds, hitting all the flavors and characters (even down to tasting the salt). Later in the year, Triple C released Eyes of the World, a smoked porter aged in bourbon barrels, to just as much fanfare. There's more to come with this program this year, and I can't wait to see what's next.
–Unknown celebrates turning 1 the only way Unknown knows how: Nothing is off the table with Unknown Brewing, and the brewery's one-year party didn't hold back. The entire interior of the massive brewery was filled with people, food trucks and a stage that featured a number of bands. Oh, and of course, some great beer as well. A few months later, Unknown released its first sour bottle, 1.5ish, which was supposed to be ready for the anniversary but took a bit longer. That's just the way Unknown does things.
March
—Duckworth's makes its mark uptown: Already covering Montford, Ballantyne and Huntersville with some incredible craft beer bars, Rob Duckworth made his biggest investment yet, taking over the old Fox and Hound location on North Tryon Street. It's the biggest Duckworth's of the five, featuring 150 taps, a plethora of TVs and a three-level setup that provides plenty of room. The new Duckworth's was a pleasant addition to an Uptown Charlotte scene that needs more craft beer destinations. Oh, and that third level? That would be The Cellar. More on that in a bit.
—Black & Blue shows off yet again: What more can you say about this festival that hasn't been said already? Brawley's annual event at the Visulite brings out the best beers that local and regional breweries have to offer. You never leave disappointed, though you may leave trying to remember all of the great beers you had (always tough). B&B has also been a local launching pad of late, with Sycamore debuting a few years back with a terrific Porch Swing Bourbon Pecan Porter. This year it was Wooden Robot that knocked everyone's socks off with its Hop Rocks sour IPA. That beer quickly put Wooden Robot on the map and set the brewery up for a great debut (see a bit below for more).
—Year Six of Charlotte Craft Beer Week: This "week" has now grown to eight days, and could likely be two weeks with all of the breweries, bottle shops and other craft beer establishments' events. My personal highlights of CCBW this past year were the Lost Founders event at The Liberty (CBS!), Salud's 3-year anniversary party, Olde Mecklenburg's six-year anniversary celebration and Duckworth's annual cask festival. We're not too far off from another splendid week; I'm looking forward to this year's lineup.
—Salud Beer Shop introduces the Crowler to Charlotte: Growlers are so 2014. All the cool kids are using Crowlers! Well, it's maybe not that cut and dry but while the growler law finally passed in Charlotte, the cleaning and (more importantly) the enforcement of the cleaning grew tiresome for some shops. Enter the Crowler – a simple, 32-ounce can that is simple to fill and seal and is for a one-time use, lessening hassle. Salud was the first establishment to use Crowlers, and it will be interesting to see if other places follow suit in 2016.
April
—Birdsong flies high with its new location: It's a good problem to have when you need more space to satisfy your customers. Such was the case with Birdsong, which quickly outgrew its original NoDa location and moved up the road to a 17,000 square-foot facility. The move allowed Birdsong a bigger taproom with expanded outdoor space, as well as a canning and bottling line. It didn't take long for Jalapeno Pale Ale cans to make it to the marketplace, much to my happiness and that of others.
—Moo and Brew Fest makes its mark among Charlotte beer festivals: Putting burgers and craft beer together for a spring festival was such a good idea; it's amazing no one had thought of it before. In this day and age where it's pretty easy to throw a "craft beer" festival (seriously, there are too many imposters right now), it was refreshing to see the time, detail and effort put into this inaugural event at the N.C. Music Factory. The beer was well-curated, and attendees enjoyed delicious burgers that had some unique toppings. Throw in a live performance by Langhorne Slim (there was even a marriage proposal during the set!), and we're already anticipating what Moo & Brew 2 has in store at its new location in Plaza Midwood.
—Politics puts limits on local growth: There's a feud brewing (no pun intended) regarding self-distribution for local breweries, and we're quickly seeing casualties. The current law allows breweries to self-distribute up to 25,000 barrels and after that, they are forced to sign with a third-party distributor, meaning turning over marketing, sales and other items related to product. Unsurprisingly, this is something breweries are not in favor of, as they'd like to control their own product. With the rapid growth and expansion, this is already affecting Olde Mecklenburg and NoDa (along with other N.C. breweries such as Wicked Weed), who have been forced to limit production even though there is high demand for its beers (case in point: OMB had to pull out of the Triad area in order to stay below the current limit). There's a huge movement afoot to educate people about the situation, and I would expect to hear a lot from Craft Freedom this year. It's inevitable another bill will be put before the N.C. House and Senate to try and raise the barrel cap, and you can also bet on Big Beer to pull out all the stops to try and prevent this. Who will prevail? Stay tuned …
June
—N.C. Craft Brewers Guild takes over BB&T Ballpark: Another inaugural festival done the right way, set amidst an incredible place to have the event. Thousands congregated into where the Knights play uptown to enjoy beers from more than 50 North Carolina breweries and brewpubs. One of the highlights from the N.C. Brewers Celebration was the collaboration beer that came about from 10 statewide breweries getting together at NoDa to brew a red IPA. Hopefully this festival will be a staple for years to come, as it was the perfect location and atmosphere.
July
—Charlotte welcomes Free Range and Wooden Robot to the brewery neighborhood: We got a double-dose of great craft beer when these two breweries opened. After winning a number of awards and appearing at numerous festivals over the last four years, Free Range finally found a home in NoDa for its brewery. The craftsmanship in this new brewery shone through, and kudos for the childrens' play area. It's great to see brothers Jason and Jeff Alexander finally calling a place their own, as their unique beer styles and ingredients should have people flocking to Free Range for years to come. Wooden Robot, meanwhile, seemingly wrote a book on how to draw interest to your brewery, starting with surprising everyone with a spectacular beer at one of the best festivals in the Southeast. Once anyone had Hop Rocks at Black & Blue, they couldn't wait for Wooden Robot to open in South End. The place was packed for the grand opening and owners Dan Wade and Josh Patton quickly showed they belonged in the local craft beer community with such favorites as Good Morning Vietnam, vanilla blonde coffee ale.
—Red Clay gives the Queen City its first cidery: The popularity of hard cider has risen dramatically in the last few years. It's a refreshing alternative to those who may not be a craft beer fan, and you'll always get a good local flavor with fresh apples. Red Clay opened to much fanfare in the South End neighborhood and has already partnered with some local breweries, including a well-done Jalapacider featuring Birdsong's Jalapeno Pale Ale.
—The Cellar sets a benchmark for craft beer establishments: This is what the hardcore craft beer lover has been waiting for. A speakeasy-style spot with an ambiance that makes you feel special (complete with general manager Charles Read making it a point to stop and talk with every table), with a taplist/bottle selection that screams "Take my money now!" And that's not all: the food is fantastic and the mixologists know what they're doing behind the bar. Rob Duckworth and his staff carefully constructed every detail of The Cellar (including a fact-finding trip to New York City), and it shows mightily.
August
—Charlotte breweries team up with New Belgium for a super-collaboration: When multiple breweries join forces with one of the top sour programs in the U.S., we all win. That was the case when Birdsong, Free Range, Heist and NoDa (along with Fonta Flora) got together with New Belgium for Yours and Mine, followed by Mine and Yours. The two beers were inspired by the Beers Made by Walking series, where brewers go on nature walks for ingredient ideas. Both beers featured unique items from Colorado and North Carolina, including sugar beets, grapes and local malts. This collaboration was one of several this year among Charlotte and N.C. breweries, including Hop Rocks (Wooden Robot and Durham's Fullsteam), Bird on a Wire (Birdsong and Asheville's Hi-Wire) and Boozehound (Sycamore and Triple C). Here's to many more of these collabs in 2016.
September
–Sycamore, Triple C medal at GABF: More accolades abound for Charlotte breweries, as Sycamore and Triple C became the latest to win medals at the Great American Beer Festival, joining NoDa and Olde Mecklenburg from previous years. Triple C took bronze in the Strong American Pale Ale category for 3C IPA (a beer that is better than it's ever been right now), while Sycamore's Southern Girl Lager won a bronze in the American Style Light Lager category (not bad for your first year, eh?). And I wouldn't be a bit surprised to see the medal trend continue in 2017 – there's too much good craft beer in Charlotte that's deserving.
October
—NoDa Brewing takes over North End: What was once a building used to house vinegar production is now NoDa's newest location. The brewery took over the old Fleischmann's Vinegar factory for its second location and in the matter of months, turned it into a huge taproom and production facility. The expansion allows for more space overall, whether it's to enjoy your favorite NoDa pint or for the brewery to can/bottle additional beers. Expect a huge rollout of new cans this year. The best part? The original NoDa is staying put and will feature a sour and barrel-aging program that has already started.
—Charlotte Oktoberfest still going strong in its 17th year: You know what you're getting at Charlotte's longest-running craft beer festival, and that's a good thing. Each year, Oktoberfest seemingly breaks the record for number of breweries (more than 100 in 2015), which allows for the giant crowd to try numerous beers with short lines. Although there was hurricane-like weather the night before that caused for some soggy footing, Charlotte Oktoberfest was enjoyed by all – a common theme year after year.
—Sycamore brews 100 beers in one year: It was quite an undertaking, but when it was all said and done, brewing 100 (actually 102) beers in a 365-day span proved quite an impressive feat for Sycamore. Nothing of that magnitude had ever been done before. From Countryside IPA to Bear in the Woods Brown to Salty Red Coconut Ale to Blood Orange Creamsicle, Sycamore offered something for almost everyone in 2015. And there's no rest in 2016, with Sycamore cans in the future, along with more bottles and a huge expansion to welcome in the news that the brewery will be one of the new sites for Food Truck Friday.
November
—Olde Mecklenburg conquers Europe, takes gold for Mecktoberfest: This was a big deal, and proved OMB can hang with the original stars when it comes to brewing German-style beer. Mecktoberfest was a well-deserved winner of the gold medal at the European Beer Star competition. Being one of just two N.C. breweries to medal is impressive enough, but to be the first U.S. brewery to win any medal in the Marzen category in five years? That's an accomplishment like no other. Take a victory lap, OMB – you all have earned it with this award.
—Three Spirits throws open its doors: Is there a doctor in the house? Yes, and he brews beer too. Former ER physician Tabu Terrell left the scrubs and surgical tools behind for suds and tanks. Highlights so far include Southern Bliss, a golden ale brewed with apricots. It's a beer like this that sets you apart and will bring people back. And then there's arguably the best beer name of the year: Three Spirit's Ain't No Hop Steppin' IPA.
December
—Legion Brewing gives Plaza Midwood the brewery it's needed for some time: It's been nothing short of a mystery why one of the most diverse, eclectic and overall hopping neighborhoods didn't have a brewery of its own. Finally, Legion Brewing solved that problem. Opening with an impressive lineup of 10 tasty beers featuring varied styles, Legion wasted no time in becoming a hotspot for craft beer lovers. Head brewer Alexa Long is one to watch; she's done wonders in her time at Heist and has proved ready to oversee her own recipes.
—
Finally, here's a quick personal recap of my year in Charlotte beer and what I'm looking forward to in 2016:
Favorite Event of 2015: Brawley's Black & Blue
Favorite Reoccurring Event of 2015: Good Morning Breakfasts at Good Bottle Co.
Favorite Event I Finally Got to Attend: Salud Beer Shop's Release the Funk 3: Funkonia
Favorite New Beers of 2015
–Heist's Cataclysm II
–Triple C's Chocolate Covered Pretzel Stout
–Wooden Robot's Hop Rocks Sour IPA
Longtime Favorite Beers of 2015 (also known as my answer to: You're on a marooned desert island and only have 3 beers to choose for the rest of your life)
–Birdsong's Jalapeno Pale Ale
–NoDa's NoDaRyeZ'd
–Olde Mecklenburg's Mecktoberfest
Biggest Mistake of 2015
Getting caught up in the hard root beer craze: For two weeks, I couldn't get enough of Not Your Father's Root Beer (I even wrote about it). It was a beer you could drink three or four of and not even blink an eye. Then I realized maybe all that sugar isn't a good thing for my body if I wanted to live life without a permanent insulin pump and to be honest, it just became less and less appealing, more like a quick phase. Some will argue that it's no different than drinking a Mike's Hard Lemonade or even Zima (yikes). Whatever the case, since the summer I've seen four new hard root beers pop up (including a Budweiser-driven one) and now there's hard ginger ale. What have we started?
Biggest Story to Keep an Eye on in 2016
How local breweries plan to fight back in order to self-distribute their own way: I mentioned this above, but the "Raise the Barrel" movement is starting to grow steam. The challenge is to get a politician with some clout to back raising the self-distribution cap from 25,000 barrels to 100,000 barrels. There are already a number of state representatives who get donations from some of the bigger beer companies, so it's not too hard to read between the lines and know a long road is ahead for the little guys. But the local voices are starting to rise just as much as local breweries are, and this might be one of the few times where money for once loses out to common sense and solidarity amongst craft breweries large and small.
Three Things to Look Forward to in 2016
–Abari Game Bar opening: Craft Beer! Arcade games! Together in one spot! (Please open soon)
–Blue Blaze coming online: Charlotte's next brewery on deck will be in the "FreeMoreWest" area. It's exciting to see breweries pop up in different neighborhoods – no offense NoDa and South End, just want to see the love spread around
–Continued expansion of breweries: Sycamore and Triple C are planning to get even bigger this year, and that's a good thing for us all.