The Year in Charlotte Craft Beer: A Look Back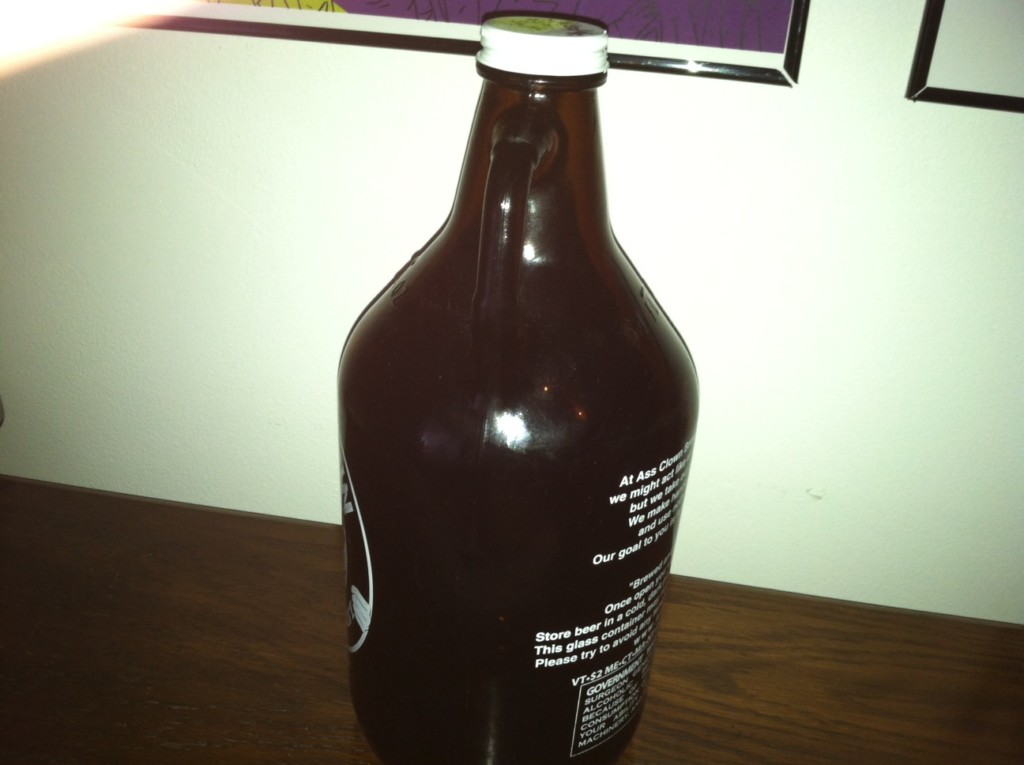 When Charlotte Magazine editor (and now publisher) Rick Thurmond approached me with the idea of doing a craft beer blog, I hesitated, but only for a second. I had just finished up an article detailing Charlotte's exploding craft beer scene, one that took me three months to research (yeah, I know, tough job) and write.
In those three months, I talked to a number of major players in the local craft community, and was left with one main takeaway:
"Wow, this has only just begun."
My mission was to figure out whether the city of Charlotte could have its identity as craft beer, and what I've discovered over the last eight months is that the answer is a resounding yes to that question. And that identity continues to grow in the Queen City, thanks to a couple of new laws and amendments.
So I knew trying to keep up with it all would be tough, but honestly, it has been incredible writing about this city and craft beer. Hearing stories, listening to visions/dreams and then watching it turn into a reality—all in the name of great beer.
Here's a look back at the news and events (descending from when they took place over the year) that shaped Charlotte's beer scene in 2013. And coming next week, be on the lookout for my best and worst in Charlotte beer for 2013.
"Smile, We Get to Make Beer" films
For almost more than a year, filmmaker Ryan Heefner has been embedded at NoDa Brewing, whether it's a big event or someone simply brewing beer in the late night/early morning. The end result will be the documentary, "Smile, We Get to Make Beer," named after an unofficial mantra at NoDa.
Thanks to a late push, the film was able to reach its Kickstarter goal in November, which will go to general costs. Heefner recently posted on Facebook that he's roughly 75 percent of the way through the first cut of the film. The goal was to release the film at some point in February, and I'll have more information in the new year as it becomes available.
Microbrewery text amendment paves the way for new breweries
One of the problems with trying to open a brewery in Charlotte was the zoning restriction. Originally, the city's zoning ordinance required breweries to be in light industrial (I-1) and general/heavy industrial zones (I-2), which heavily limited potential locations.
But thanks to a text amendment that was passed in two parts in March and May, the restrictions were relaxed and now allow breweries to open in a number of districts, including urban industrial and mixed-use development. This was huge for the potential Charlotte breweries that were currently looking for locations (more on that as we continue).
"Charlotte Beer: A History of Brewing in the Queen City" goes on sale
Daniel Hartis paved the way for writing about beer in the Queen City with his blog, CharlotteBeer.com and then took that one step further with his first book. "Charlotte Beer" takes a look at the city's brewing history and culture, from the early 1900s all the way to the aforementioned burgeoning craft scene. It's a great book if you haven't read it, and I really enjoyed learning about how far Charlotte has come.
Then in June, Daniel announced he's writing ANOTHER book, this one stepping out of the city and covering the breweries, beer scenes and craft communities in North and South Carolina. "Beer Lover's The Carolinas" is due out in January. Is this man crazy? Nope, just a damn good writer.
Charlotte Craft Beer Week/Brawley's Black & Blue marks another great time
March is a great month for Charlotte beer, as that's when one of the top festivals in Black & Blue (put on by Michael Brawley of Brawley's Beverage) and Charlotte Craft Beer Week took place. Once again, B&B didn't disappoint, with a number of rare kegs enjoyed by the 250 lucky people who got a ticket. And CCBW had several events going on each day in all parts of the city, allowing everyone to enjoy the festivities. I'm already looking forward to see what both have to offer in 2014.
Bulldog Beer & Wine opens, so does Ultimate Ales
Rob Johnson opened his second Bulldog (the original is in Boone) on Park Road near the Dilworth district, giving Charlotte craft beer fans another location to shop and/or enjoy beers at the bar. Not long after Bulldog, Ultimate Ales opened in Mooresville. The Charlotte area now boasts 12 bottle shops, and that's not counting the big box stores or grocery stores. It's a great sight to see.
Olde Mecklenburg Brewery announces new, expanded location
John Marrino's focus ever since opening Olde Mecklenburg Brewery in 2009 has focused on one main aspect: being local. As one of the first breweries ushering in the current craft craze, OMB beers can be found almost anywhere in the Queen City. As the demand grew, Marrino knew a production expansion was necessary. So in a proactive move, Marrino announced in April that Olde Mecklenburg would be relocating to a larger location.
The good news is the OMB didn't have to look far, as the new brewery will be located about 200 yards from its current location. Slated to open in spring 2014, Olde Meck will now be housed in a 25,000 square-foot brewery, giving the brewers the ability to keep producing beers that Charlotteans love, along with adding some permanent beers to the lineup.
Michael Brawley is one of the pioneers of Charlotte's beer scene, as Brawley's Beverage has long been the go-to for any local craft aficionado or those visiting from out of town. And in honor of his store celebrating its 10th anniversary, NoDa Brewing and New Belgium Brewing collaborated on Funkaversary, a Belgian-style sour ale. The beer was a hit, and next up for Brawley is a planned expansion of the store, which will include taps and a tasting room.
Charlotte Beer on the road and radio
With the influx of breweries in the Queen City, the idea was born to offer weekly tours where beer lovers could be driven around and sample numerous craft beers while learning about the brewing process. Charlotte Brew Tours came on the scene in April, with Charlotte Brews Cruise following about a month later.
And as the Charlotte craft beer chatter increased, two podcasts were formed where local and non-local beer is discussed, along with various topics drawing interest to the craft community. Cheers Charlotte and Charlotte Beercast are entertaining and educational listening for craft beer fans.
Carolina Beer Temple opens
The town of Matthews received a craft beer boost in the early summer with the addition of Carolina Beer Temple, a bottle shop that features 16 taps along with a plethora of craft options. Carolina Beer Temple has a host of local and North Carolina beers, and also focuses on a number of Belgian beers that can be hard to find elsewhere. The inviting, relaxing atmosphere (complete with couches, where you can read one of the beer books CBT has for sale) has made this a must-stop shop for those living in south Charlotte, Matthews and Union County.
Better late than never: Growler sales in North Carolina
Who would have thought that when starting a craft beer blog, the topic you'd write most about involved ABC regulations and politics? But thanks to House Bill 829, that's exactly what happened this past summer. It started with me writing about the introduced bill (presented in April), which allowed growler fills in bars, bottle shops and other establishments in North Carolina. And then I kept writing. And kept writing. And kept writing.
When it was all said and done, the law was finally enacted shortly before Halloween. In Charlotte, growler fills are still in its infancy, but one shop that immediately embraced it is Good Bottle Co., where owner Chris Hunt said it has been a hit with his customers. Look for more bottle shops, stores and even restaurants to offer growler fills in the new year.
Birdsong releases 1st bottle, later introduces Duckworthy Series
Joining Olde Mecklenburg, NoDa Brewing and Triple C, Birdsong announced its first bottle release, Squirrels on Geese, in May. The beer, Birdsong's Higher Ground IPA aged in chardonnay barrels, was later followed by a release of Puppies on Penguins (Birdsong's The Abbey Ale aged in red wine barrels) as part of the brewery's second anniversary.
Birdsong also partnered with Duckworth's Grill and Taphouse for its Duckworthy Series Session IPA, which was offered exclusively at the popular local craft beer spot. The Session IPA was scheduled to be the first of several offerings brewed solely for Duckworth's, so stay tuned for future beers.
Inaugural Charlotte Brewers Festival held
With all of the festivals that go on in Charlotte and surrounding areas, the local breweries are often running around to promote their beers and establishments at said events. But in June, everyone got together for a home game, which took place at Olde Mecklenburg Brewery. The Charlotte Brewers Festival featured a number of good beers, and allowed a little rest for these breweries. And they've already announced the date for the second annual CBF: May 17. Plan accordingly.
Unknown Brewing Company breaks ground
Thanks to the aforementioned microbrewery text amendment, Unknown was able to lock down its location on South Mint Street, just a few blocks from Bank of America Stadium. Those who were lucky enough to be invited to the groundbreaking discovered a huge location and the invitation for Charlotte to drink the unknown and "live without boundaries."
Several months later, the brewery officially opened to tremendous fanfare. Lines snaked out the door to the point where a "one in, one out" rule was created. With a number of specialty beers being released every hour, it was no wonder why nobody wanted to leave. Look for Unknown's beers to begin hitting local distribution early in 2014.
Before all of the new breweries came into Charlotte, Hops had provided a number of craft beer for those who flocked to the restaurant chain's location in Matthews. And the local location boasted one of the top brewers, John Bradford, who fought for better ingredients and an increased variety of beers.
As has been the case with many chains (Fox and Hound is the latest example), things started to go south for Hops in recent years, and the local establishment closed its doors this summer. At one point, Hops had more than 75 locations but is now relegated to just a handful. And the closing of the Hops in Matthews came quickly, with employees barely given any notice and even police having to show up to escort customers out of the building. Bradford still brews at home, for now.
Charlotte Oktoberfest, Queen City Brewers Festival announce move to N.C. Music Factory
Two of Charlotte's more popular beer festivals were on the move, and for good reason. With respect to the Metrolina Fairgrounds, the 2012 Oktoberfest was a muddy mess and far away for many in the city. This year's event, held beyond the parking lots at the N.C. Music Factory, presented better organization along with a more central location.
And frankly, the popularity of Queen City Brewers Festival (which has taken off for such a new festival) had it bursting at the seams in Neighborhood Theatre. I'm excited to see what's in store at the new site, Silver Hammer Studios at the N.C. Music Factory. The additional space will allow for additional craft beer-involved establishments such as restaurants and bottle shops to have tables.
NoDa Brewing cans Hop, Drop 'n Roll and Jam Session
Once merely an afterthought, craft beer in cans is becoming more and more popular. NoDa was the first local brewery to capitalize on this surging interest, canning its Jam Session and Hop, Drop 'n Roll. It's safe to say that decision has been a success, as it seems local shops can't keep enough on the shelves. In just over two months, NoDa had already produced 100,000 cans, with more to come, including Coco Loco, in 2014.
Lenny Boy brings the 'booch and beer
Kombucha, fermented tea with organic ingredients and filtered water, grew in popularity this year thanks to its immune-boosting properties and exotic flavors. Lenny Boy opened in Charlotte last year, but became an official North Carolina brewery in September. Now, you can get spiked 'booch, and the folks at Lenny Boy took it a step further a couple of weeks ago when it was announced that it would be brewing craft beer as well. In 2014, you'll be able to get the best of both worlds.
Brewz Music and Arts Festival/SourFest debut
Two new festivals were introduced to the local craft scene in October, and both came away as a success. Brewz Music & Arts Festival had an impressive inaugural lineup, both in music (including The Whigs, Kool A.D. of Das Racist and Of Montreal, among others) and local beer (all of Charlotte's breweries were represented). Two weeks later, Salud Beer Shop owner Jason Glunt, the Charlotte champion of sour beers, put on the first annual Release the Funk SourFest. A number of rare sours and wild ales were offered, along with the obligatory table of Tums.
Free Range and Sycamore find homes
Area craft beer aficionados will have two new breweries to look forward to in 2014. After brewing in small batches to enormous accolades at several local festivals the past two years, brothers Jason and Jeff Alexander finally were able to sign a lease for Free Range Brewing. The brewery will be located on North Davidson Street, right across from NoDa and Birdsong in what's being referred to as "Brewer's Alley."
In the SouthEnd district, Justin and Sarah Brigham plan to open Sycamore Brewing sometime in the early summer. Sycamore recently hired Jordy Smith as head brewer, and the brewery will be heavily focused on fresh ingredients in its beer.
Craft beer garden opens at TWC Arena
Call me a nostalgic Hornets fan, but I'll take this kind of buzz over any old name or logo. Time Warner Cable Arena unveiled a first-of-its-kind craft beer garden in November, and it has provided a host of choices while also supporting local and North Carolina breweries. A great move by those involved answering the demand for better beer, and with all of the concerts (along with Checkers games) at TWCA, a likely profitable one as well.
D9 Brewery, others open up north
Those who make the trek every day from Huntersville/Cornelius/Mooresville to Charlotte and back can now ease the pain of sitting in that I-77 traffic, as a number of craft beer options are now available on the north side. Along with the previously mentioned Ultimate Ales, there is now Crafty Beer Guys to go along with Davidson Beverage Company for your shopping and drinking needs.
And while Ass Clown Brewing has operated in a Cornelius office park for a couple years, it got a new neighbor in November when District 9 Brewing opened a few doors down the way. Finally, Lake Norman Brewing Company began distributing its beers to a few northern local establishments in August, with a tap room scheduled to open in the next couple months.
Triple C's new bottling line produces two new bombers
With Up All Night its flagship release, Triple C put in a new bottling line this winter that will increase production and allow for other beers to be bottled. The first bottle, 3C IPA, just rolled out into stores last week, soon to be followed by the brewery's Smoked Amber.