The Zoodle
Use that zucchini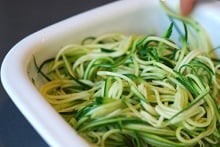 This weekend, upon searching for a way to use up the several zucchini I bought, I was struck with the idea to make zucchini noodles, which have become extremely stylish in the food world recently.
However, I do not have a mandolin or a spiralizer. I also was not interested in buying one. Luckily, I found that a box grater will do the trick.
To get started, simply lay the grater on its side, and using the largest grate, gently slide the zucchini to create long ribbons. Then, you can either quickly boil the "zoodles" or saute them in a little olive oil and fresh garlic — whichever you prefer. In either case, the zoodles are done when they're just cooked and more pliable.
I topped mine with fresh pesto, toasted pine nuts, and a few fresh shavings of parmesan. These make a fantastic main dish and are super healthy — obviously. Also, they're paleo, if anyone out there is trying out that particular diet.
Don't want to make your own? Head over to Luna's Living Kitchen on South Blvd. for a all vegan and raw "lasagna", featuring fresh zoodles, sun dried tomato sauce, and mushrooms.