Their Canvas Is A Beer Can
Meet the artists who turn Charlotte-area breweries' 16-ounce aluminum cylinders into journeys all their own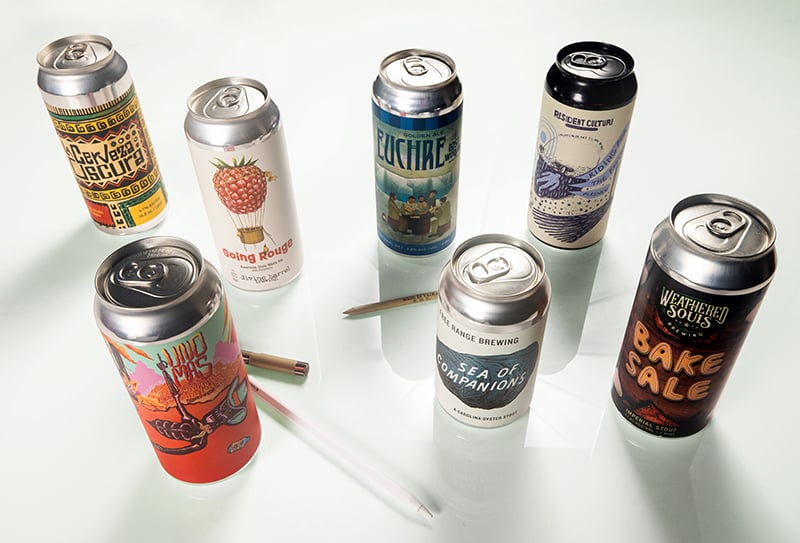 For decades, brewers cared far more about what they put in the can than on it. Can labels reflected the values and necessities of mass production. They were replicable, identifiable, simple—usually the company logo, sometimes the company name in cursive, perhaps a ribbon of one color or another—and applied to beers throughout the brand.
Then arose the frothing head of the Great American Craft Brewing Revolution of the 2000s, followed by the Great North Carolina equivalent that started in the 2010s and has not stopped. In the artisanal world of independent breweries, mass production is a sin. It's craft brewing, where individuals produce distinctive beers and unique designs for the vessels that contain them.
That attitude has opened up new worlds—and, just as important, new sources of revenue—for artists and graphic designers. A brace of talented artists live in Charlotte, or live elsewhere but showcase their designs on the cans of Charlotte-area breweries. We checked in with a few and discovered they're a fun bunch to have beers with, especially when you lift their artwork to your mouth with every swig.
---
Christen Lucas
Lenny Boy Brewing Co.
She doesn't care much for beer, and until last year, the thought of designing can labels had never occurred to her. The 37-year-old Salisbury native had specialized in photography and what she calls "book cover" illustrations, small digital pieces for individuals and families. Lenny Boy co-owner Nathan Villaume ran across Lucas' work on Instagram and, he says, "loved the attention to detail in her illustrations and thought-provoking storytelling style."
They met in February 2022, and Lucas soon began working on glass bottle labels, then cans, which Lenny Boy officially released in February 2023. Her style is quirky, even slightly twisted, which belies her Independent Baptist upbringing. (Her husband is a youth pastor.) She points to the first can label of hers that the brewery used, for Uno Mas, a Mexican-style lager. "It's almost like I'm letting you in on a joke, and I don't want to spoon-feed you," she says. "I want you asking, like, 'What's the meaning behind this?'"
---
Dustin Harbin
Free Range Brewing
Harbin, 48, worked for years at Heroes Aren't Hard to Find, the Elizabeth comics shop, and met Free Range founder Jason Alexander in 2014. Alexander liked Harbin's style and asked him to contribute T-shirt and other designs for his new brewery. Once Free Range opened the next year, he also hired Harbin to tend bar.
Harbin's boss is a former art director who rushed to can his beer when COVID forced him to in 2020. Once Harbin began to design labels, the two established a solid but slightly contentious working relationship. "We're both very fussy. From that first job, we'd butt heads about little details and direction and so forth," Harbin says. "And we're friends, so it isn't nasty, but we're both …" He pauses. Alexander's sitting next to him. "'Bitches' is the scientific term. Just like, 'No, not that way! My way!'"
They muddled through enough designs and redesigns to provide Harbin with another much-needed income stream. His labels reflect a 1950s print-ad sensibility that, Harbin says, doesn't reflect his usual style. "I'd be much happier designing what looks coolest," he says. "But that doesn't necessarily work as well for a product you want someone to buy."
---
Dave Kaminsky
Heist Brewery and Divine Barrel Brewing
Kaminsky, the longtime design director at WSOC-TV, began to create labels for Heist in 2016 through a friend who knew Eric Mitchell, then the head brewer. Kaminsky still designs labels for Heist, but he's done all of Divine Barrel's since its founding in 2018.
"For Divine, the theme is always one object," he says. It's often a hop cone, "with a twist on it, but it always has a little bit of realism." Heist, he says, is "a little weirder."
Kaminsky, 47, has lived in Charlotte since 1989 but was born in Tbilisi, Georgia—the country, not the state—when it was part of the Soviet Union. His parents, both engineers, moved to the United States in 1979 under a Carter-administration deal with the USSR that allowed Soviet Jews to emigrate to the West. Lately, he says, he's felt an urge to visit the land of his birth, but he's happy where he is and working for the two breweries on the side: "I want to explore different styles. That's exciting to me."
---
Maryssa Pickett
Resident Culture Brewing Co.
Pickett, 28, knows she's in an unusual position for someone who designs beer can labels: She works full-time for the brewery. "It's wild, because my plan after graduating was just jumping into freelance, which is tough just out of school," she says at Resident Culture's Plaza Midwood location, which hired her around the time it opened in September 2017.
Someone from the Resident Culture team saw a sticker of hers on a laptop and emailed her. Pickett was still a student at Savannah College of Art and Design, where she earned a degree in illustration. She had never been to Charlotte or a brewery. But she designed a label for Free Skate, a New England hazy IPA. Its dominant image is a green, Bigfoot-like cryptid that wears sunglasses and roller skates—"and they're like, 'Yeah, that's pretty much what we're looking for,'" she says. "And I was like, 'No way. … well, then, y'all are my people.'"
Pickett has been Resident Culture's illustrator ever since, although she does the occasional freelance project. Her style, she says, is a blend of "fun/psychedelic" with "grotesque" elements, like cheesy '50s horror-movie icons with a hint of R. Crumb. "Here, they give me, like, total creative freedom. So it's for sure the best situation I could have asked for out of school," she says. "It's not like there haven't been stressful times. But I didn't have to go through hell to get to a point like this."
---
Kevin Dyer
(out-of-state designer)
Weathered Souls Brewing
Dyer got the call from Marcus Baskerville, the founder of Weathered Souls Brewing, when he was on his way to go tubing, a favorite hot-weather activity in Texas. It was summer 2020, the season of COVID and post-George Floyd protests, and Baskerville had decided to brew an imperial stout called Black is Beautiful to highlight racial injustice and direct money from sales to police reform and legal defense organizations. The can needed a label.
Dyer, who turns 46 this month, had designed labels for San Antonio-based Weathered Souls for two years, but, he says, "I felt kind of odd." He's white. But any uneasiness disappeared with his design: interlocking puzzle pieces in shades of brown, a reflection of the diversity of Black people. Dyer, Baskerville says, did "an excellent job of creating a label that we feel places the correct symbolism to the project."
Dyer lives in Columbus, Texas, about midway between Houston and Austin. But Charlotteans can appreciate his work at Weathered Souls' second location, which opened on Clanton Road last year. As of May, it was Charlotte's only Black-owned brewery. After almost 20 years working for Balfour—the class ring manufacturer, which laid him off in March—Dyer says he's happy to work on can labels and other projects. "I am a freelance artist now, 100%. I will not turn you down," he says. "When you called me, I was working on a welding logo for a guy who wants it to look like his German shepherd."
---
Michelle Quin
(out-of-state designer)
Lost Worlds Brewing
"Remember a long long time ago, when it was a dream for artists and designers to do album covers?" Quinn asks. "For me to be able to fully immerse myself in this, it's just delightful. I think that level of engagement and joy comes through in the images that we're creating."
We're on a Zoom call. The 56-year-old designer speaks from her studio, a former grocery store in Milwaukee, the largest city in her native state. How'd she come to be the label artist for a brewery in Cornelius? Lost Worlds' brand and social media manager, Sherri Johnson, used to live in Milwaukee. In 2019, she reached out on behalf of brewery founders Dave and Allison Hamme to see if Quinn could do some architectural renderings for the brewery space. (It opened the next year.) Quinn loved Lost Worlds' unique approach—stories of historical adventure, reflected in the beer and labels. As of May, she'd designed 15 can labels, including for the brewery's initial six flagship, or "Basecamp," beers.
"I love that everything's based on something real," she says. Her guiding principle: "have a really beautiful and interesting presentation of a juicy story. You're having an experience with a label that makes you want to know more, usually. It does for me."