These Charlotte Bathrooms Will Inspire You To Remodel ASAP
See inside five beautiful powder rooms across Charlotte.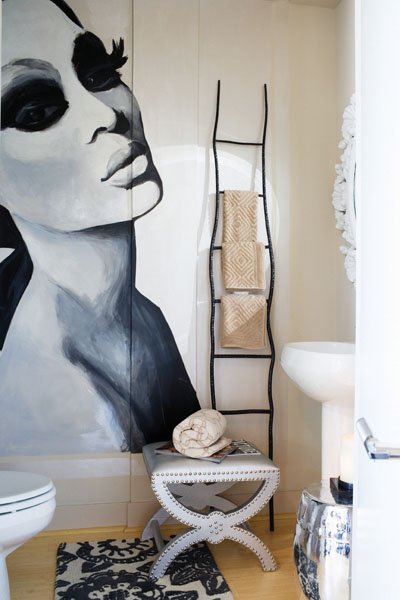 For some, the bathroom is just a place to do private business. For others, opening the door to the powder room is entering an intimate setting where you can relax and reset. And because I'm all about maximum relaxation, I prefer to side with the latter opinion.
Bathrooms are often an afterthought for people decorating their homes, especially when materials and money run short after overhauling the bigger rooms. But don't forget about punching up your powder room, too, because with the right eye and aesthetic, this small space can easily become your favorite place to escape, even if it's just for three short minutes. (Hey, we've all had a screaming kid drive us into the closet at least once in our lives, right?)
To honor the oft-forgotten room that deserves some light sprucing, we decided to show you some of our favorite powder rooms in homes around Charlotte. Whether they're boldly decorated or decadently spa-like, these small spaces have made a big impression, and this is their moment to shine.
Here's to you, you beautiful, little rooms.

The powder room is a great place to get creative. Because it's not a large gathering place, you're able to veer from your home's overall style if you're feeling boxed in with your current furnishings. This specific restroom in a modern condo at The Vue is a great example of using texture and tonal accents to create a cohesive look without feeling clunky. Because busy wallpapers like this geometric one can easily become overwhelming, the space is balanced out by consistent, clean lines and just one complementary color, a cool cerulean. See the rest of the contemporary condo here.

Though it's not pictured, this master bath in The McNinch House in uptown has a crystal chandelier that sets the scene for a luxurious spa-like respite in the 1892 Queen Anne-style home. The clawfoot bathtub and ornate mirror just further accent the space's historical elements and overall elegant feel. The live plant in the corner is also fantastic Feng Shui—inspiring life, clean air, and relaxation. See the rest of the home here.

If you're not sure what to do with a looming white wall in the powder room, take a clue from this midtown Met Loft masterpiece. To match the grayscale portrait painted on the wall, the rest of the furnishings follow a monochrome color scheme. The glamorous bench is a silver patent leather (with fun studs) and the curvy black iron ladder by Oly not only serves as a traditional towel rack, but it also balances out the tall wall mural and keeps the eye moving. See the rest of the home here.

Inhabiting a coveted spot on Lake Norman, this home's master bathroom was originally dim with an off-center window. To remedy that, the owner stripped the space to the studs and brought a large, rectangular window to the rescue. The modern, porcelain soaking tub beneath it begs for someone to come relax for a while, and the soft colors accenting it create a private spa feel. The opposite wall bears a glass-walled shower for the ultimate powder room experience. See the rest of the home here.

Let's face it (pun intended), what's not to love here? The light pink textured walls, glam lamps, fresh flowers, old Hollywood-style mirror, Cole & Son face-print wallpaper—all of it bears personality and chicness. This powder room is a prime example of the risks you can take in these tiny rooms. Staying with a simple color palette of pink, black, and gold finishes, this restroom doesn't become overbearing even though it has so many eye-catching elements. It's a reminder not to shy away from color or the pieces you love because bathrooms can be unexpected places where creative design shines. See the rest of the home here.